A huge bowl of warm pasta is one of the ultimate comfort foods, especially on a chilly, hectic day.
Should I be eating so many carbs? Definitely not.
Enter Spaghetti Squash. There are so many recipes and articles telling us to use it as a substitute for spaghetti noodles and cover it with a marinara or meat sauce. I've tried that over the years, and I'm sorry but it just cannot take the place of pasta. Covered even in a really, really good spaghetti sauce, it still tastes like squash with spaghetti sauce. Eating it like that makes you crave real pasta very quickly.
I think it's just better to eat it for what it is– spaghetti squash. Sauteed garlic spaghetti squash.  I can definitely eat a big bowl of this.
Slice a medium sized spaghetti squash in half lengthwise.
Remove the seeds and rinse out each half.
Place them cut side down in a baking pan filled with about a half an inch of water. Bake for 30-40 minutes, then cool them enough to handle.
Turn them over and use a fork to scrape out those beautiful strands.
They should be soft, but still a little crunchy, which is good because we'll be stir frying them in a bit.
My squash was about three pounds and gave me about 6 cups of squash strands.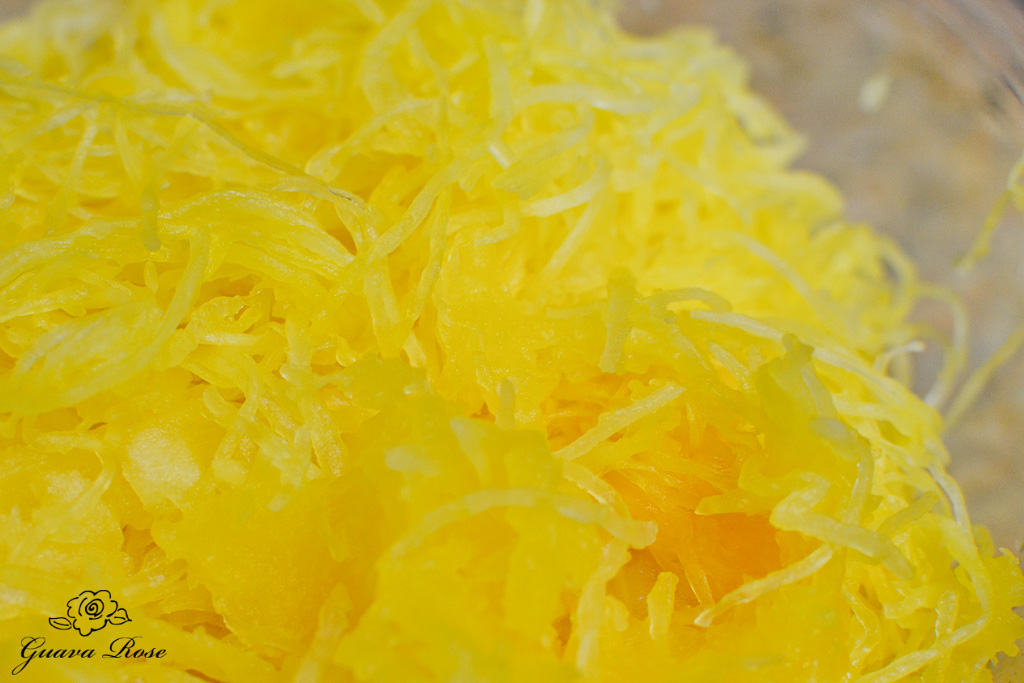 Heat up some olive oil or grapeseed oil in a non-stick skillet.  Add some fresh, minced garlic and stir it around for about 30 seconds before mixing in the spaghetti squash. Season with a few bouillon cubes dissolved in hot water.
I use chopsticks in one hand and a silicone spatula in my other hand stir fry the mixture. It only takes a couple of minutes for all the liquid to be absorbed. Cook a little longer if you like it softer.
Sprinkle on some chopped parsley, cilantro and/or crushed red chilies for a little kick.
Twirl it on your fork and dig in!
I served it with some yummy turkey potstickers (tofu potstickers for Quill).

Sauteed Garlic Spaghetti Squash
Strands of spaghetti squash sauteed in garlic and oil.
Ingredients
1 medium sized Spaghetti Squash (about 3 lbs.)
3 T. Olive oil or Grapeseed oil
2 large cloves garlic, minced
3 chicken bouillon cubes
1 c. very hot water
Chopped parsley or cilantro (optional)
Crushed red chili peppers (optional)
Instructions
Preheat oven to 375 degrees. Cut squash in half lengthwise and remove seeds. Rinse out and place cutside down onto a baking pan filled with ½" of water. Bake 30-40 minutes until soft. Remove from oven and cool slightly. Scrape out squash strands with a fork.
Heat oil in a non stick pan on medium high heat. Add garlic and stir for about 30 seconds. Add squash. Use chopsticks in one hand and a heat resistant spatula in the other hand to mix in the garlic and stir fry for about 3 minutes. Dissolve the bouillon cubes the the hot water and add it to the pan. Continue cooking and mixing 3-4 minutes until all the liquid is absorbed. Cook longer if a softer texture is desired.
Optional: garnish with chopped parsley, cilantro and/or crushed red chili peppers