Mushrooms + Barley = simple, hearty winter food.
Eat it steaming hot on a cold day to warm you up.
Any kind of fresh mushrooms will do. Here we have a frilly oyster mushroom relaxing atop some shiitakes.
Slice up the mushrooms.
Pluck the leaves off a few sprigs of fresh thyme.
Heat some oil and butter up in a pot.
I love using my Le Creuset enamel covered cast iron dutch oven for this. It was one of our wedding gifts, and I use it a lot.
Add the mushrooms and thyme. After stirring and cooking for about ten minutes, the mushrooms will be soft.
Add some chicken or vegetable broth and bring it to a boil.
Now for the barley. Japanese pressed barley.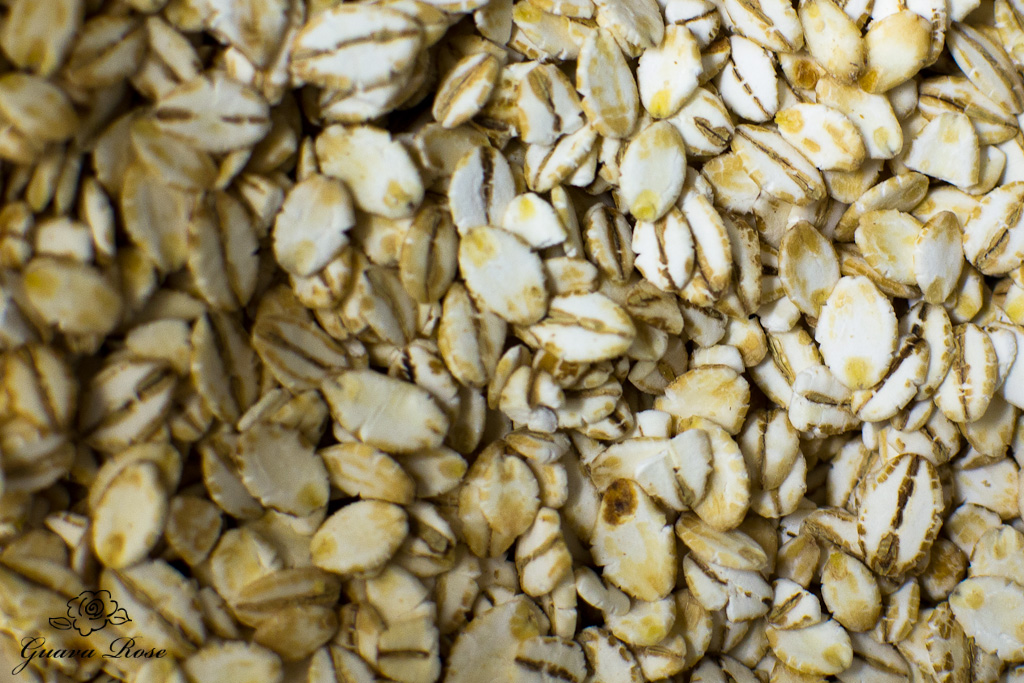 It looks a lot like rolled oats.
We just need a cup of it.
Make sure the mushrooms and broth are bubbling.
Add in the pressed barley, stirring it in. Cover the pot and turn the heat down to low.
Let it simmer about 25 minutes, stirring occasionally.
This is fast and easy to prepare. If you can only find and use pearl barley, the cooking time will double to 50 minutes.
Most asian stores carry pressed barley (oshi mugi), and you can definitely find it at a lot of places online.
It looks so similar to rolled oats that I think that would work also. I'll probably try oats next time just to see. Quill would probably like it, as she likes her oatmeal savory, seasoned with salt, pepper and butter. Umm, no mushrooms though–she's still the last holdout of the family to not like mushrooms. So what would that make it without the mushrooms and without the barley? Oat pilaf I guess. She likes onions. I'd have to replace the mushrooms with onions, to make an Onion Oat Pilaf–that would be a whole new recipe!
Some quick homey fare during the rush before Christmas. Pick up a rotisserie chicken (or roast your own if you have time), along with some bagged greens for a simple tossed salad.
Next time I'll show you how to use the leftovers to make a thick and comforting soup.

Sauteed mushrooms simmered with thyme and pressed barley make a quick pilaf.
Ingredients
4 c. sliced fresh mushrooms (oyster, shiitake, button)
1 T. olive or grapeseed oil
2 T. butter
2 T. fresh thyme leaves
3 c. chicken or vegetable broth
1 c. pressed barley
Instructions
Melt butter and oil in a medium sized pot on medium high heat. Add mushrooms and thyme. Stir and cook about ten minutes until the mushrooms are soft.
Add broth. Turn heat up to high and bring to a boil. Stir in barley. Cover and turn heat down to low. Simmer about 25 minutes, stirring occasionally until barley is tender and all the liquid has been absorbed.
Yields about 4-1/2 cups.