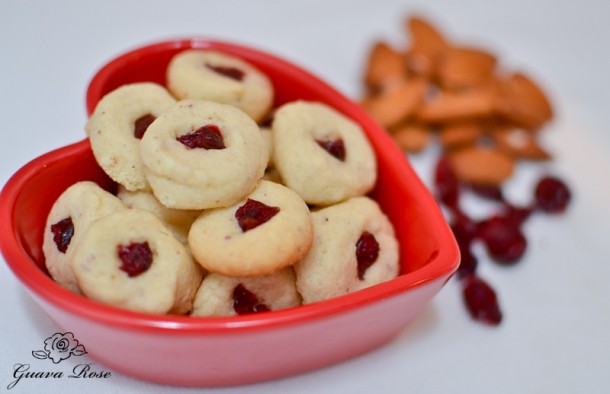 Tiny almond cookie bites crowned with bits of cherries. I made some of these earlier for my Chinese Candy Box.
Usually Chinese almond cookies are topped with a dot of red food coloring, or a blanched almond. As I'm always trying to find alternatives to artificial food colorings, I thought I'd try to use a dried cherry in place of the red dot.
I ended up using Craisins (dried cranberries) infused with cherry juice, called Cherry Craisins. The cherry and almond flavors pair so well together.
Look what Kallie did.  A perfect way to say "I love you!"

Cherry Almond Cookie Bites
Tiny cherry almond cookie bites.
Serves:
80-90 mini cookies
Ingredients
½ c. Butter, softened
½ c. Sugar
1 Egg
2 tsp. Almond extract
1-1/2 c. Flour
¼ c. Ground almonds
½ tsp. Baking powder
20-30 Cherry flavored cranberries or Dried sweet cherries
Instructions
Preheat oven to 325 degrees.
Cream butter and sugar. Mix in egg and almond extract. Add flour, ground almonds, and baking powder and mix until well blended.
Cut dough into 8 equal sections. On a floured surface, roll each section into log having a diameter of about ¾", and then cut the log into ½" pieces.
Place each piece, cut side down on a cookie sheet rounding out the shape. Cut the cherry cranberries or cherries into halves or quarters, depending upon the initial size, and press a piece into the middle of each cookie.
Bake for 15-18 minutes until the bottoms are lightly browned.