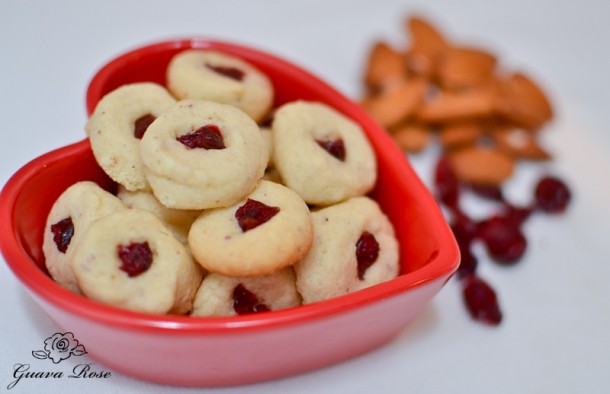 Cherry Almond Cookie Bites
Author: Guava Rose
Tiny cherry almond cookie bites.
½ c. Butter, softened
½ c. Sugar
1 Egg
2 tsp. Almond extract
1-1/2 c. Flour
¼ c. Ground almonds
½ tsp. Baking powder
20-30 Cherry flavored cranberries or Dried sweet cherries
Preheat oven to 325 degrees.
Cream butter and sugar. Mix in egg and almond extract. Add flour, ground almonds, and baking powder and mix until well blended.
Cut dough into 8 equal sections. On a floured surface, roll each section into log having a diameter of about ¾", and then cut the log into ½" pieces.
Place each piece, cut side down on a cookie sheet rounding out the shape. Cut the cherry cranberries or cherries into halves or quarters, depending upon the initial size, and press a piece into the middle of each cookie.
Bake for 15-18 minutes until the bottoms are lightly browned.
Recipe by
Guava Rose
at https://www.guavarose.com/2012/02/cherry-almond-cookie-bites/