What better comfort on a cold, dreary day than a cup of homemade soup. I've been thinking about wild rice and leeks, and this is what I made. Saute sliced leeks and mushrooms (I used one big portobello here) in a little butter and olive oil. Add sea salt and thyme. Let it cook until...
This version of a creamy soup uses no cream or milk at all. Remember our mushroom barley pilaf? The one pictured above was made using white button mushrooms and pearl barley. Just blend up a half cup of pilaf with a cup of strong bouillon for the simplest, lowfat creamy soup. Normally when I cook,...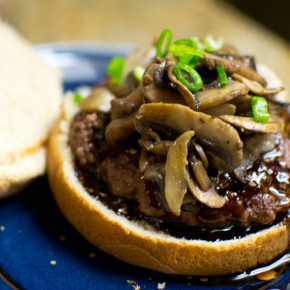 We love burgers. Something about warm weather and sunshine screams "Teri Burgers!"