We love burgers. Something about warm weather and sunshine screams "Teri Burgers!" Bison is a great alternative to ground beef.  It's much leaner and only has about 3 grams of fat per ounce,which is more on par with lean poultry.  So you get a nice, juicy beef flavor, but without all the extra fat.
Traditionally the teriyaki seasonings are mixed into the meat, then formed into patties and cooked.
Over the years though, I found that making the burgers and then a separate sauce worked better for my family. When we had toddlers and kids and teenagers together, this was really important, as inevitably someone didn't want some seasoning or some part of the meal. Doing things this way allowed everyone to have what they wanted, without complaints.
Complaints?  Yes, those mushrooms!
In the beginning, the Blue Dinosaur and I were the only ones in the house who enjoyed and would eat the sauteed mushrooms.  An offering of a spoonful would elicit mighty protests.
Now I can't seem to make enough of these tasty morsels.  As the kids grew and continue to grow up, they started to like them–really, really like them.
Well, except for the youngest, Quill- she still looks at them with disgust.
The older three though, if the Blue Dinosaur and I aren't quick enough, they will polish them off before we barely even get a few.
Sauteed in olive oil with a little sea salt and white wine.
I actually have to make twice the amount listed in the recipe below to make sure everyone meets their mushroom quota and is happy.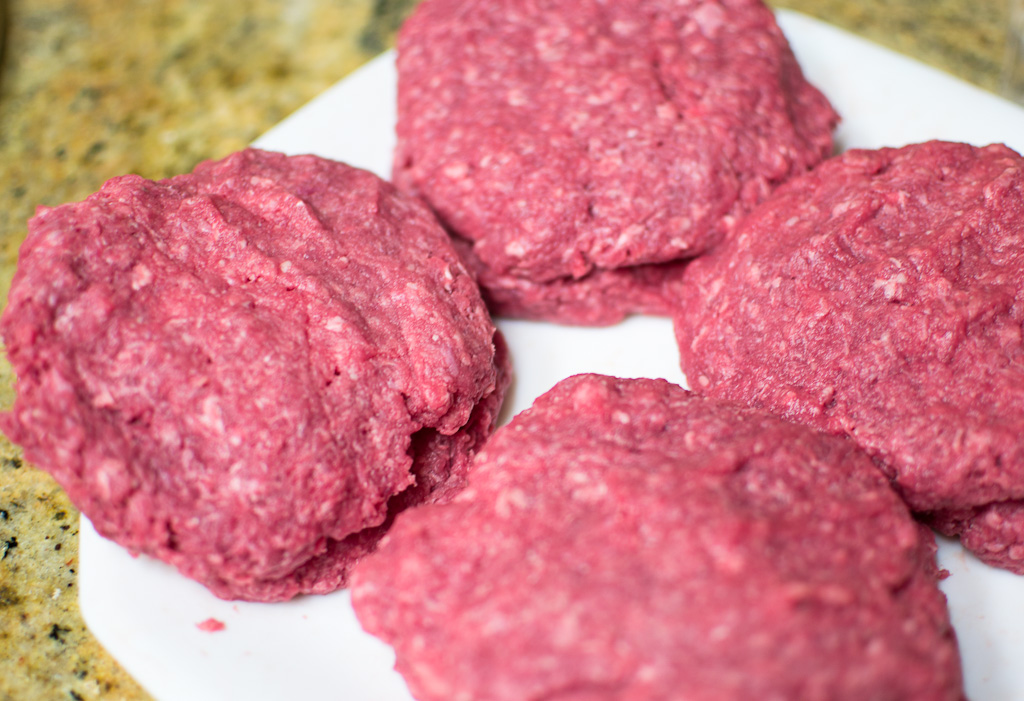 I quickly shape the ground bison into patties.  No need to add anything, or season.  Simply the meat.
The sauce will add all the flavor you need.
Use a non-stick skillet on medium high heat.  Cook to medium doneness for a juicy burger.
They can be grilled too, but I think they can overcook quite easily and become dry on the grill if you don't watch them carefully.  I like cooking them in a skillet because it's quicker for me.
Also, sometimes it's just too hot or too cold to be outside grilling, because we like to eat these year round.  Great in the summer, and fantastic in the dead of winter when we're wishing for warm sunshine and a little bit of summer.
While the burgers are cooking, start the sauce.
Sugar, soy sauce, ginger, sesame seeds and sesame oil. Thicken with a little cornstarch.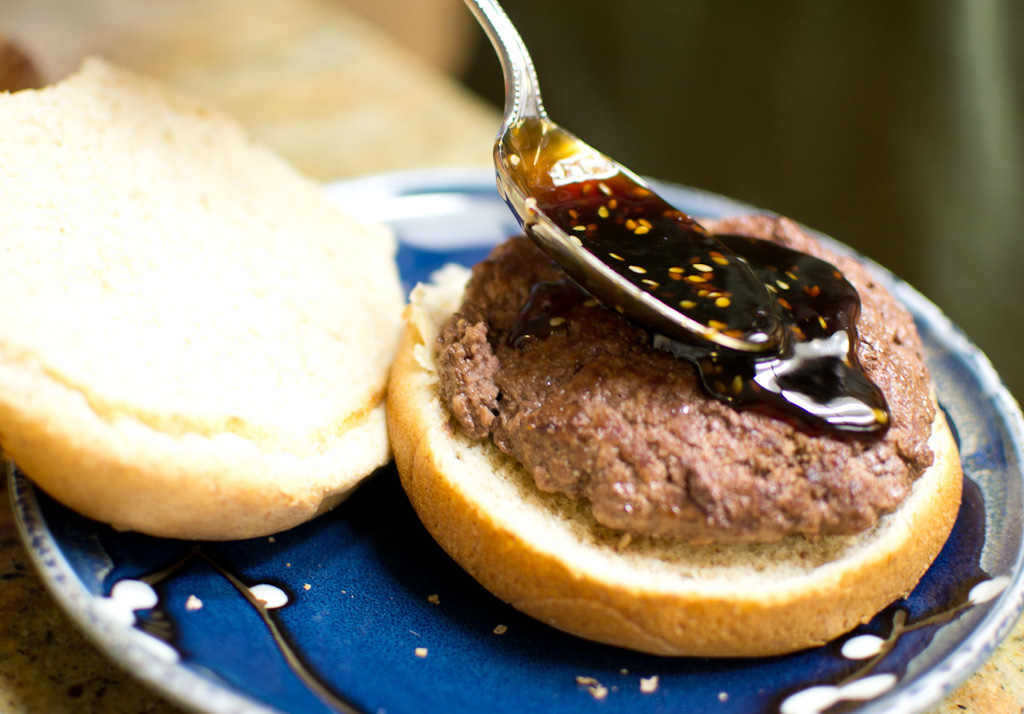 Spoon as much sauce as you want over each burger, or not.
Some wiseguy will always want to have just ketchup and mustard when you're serving teriyaki burgers.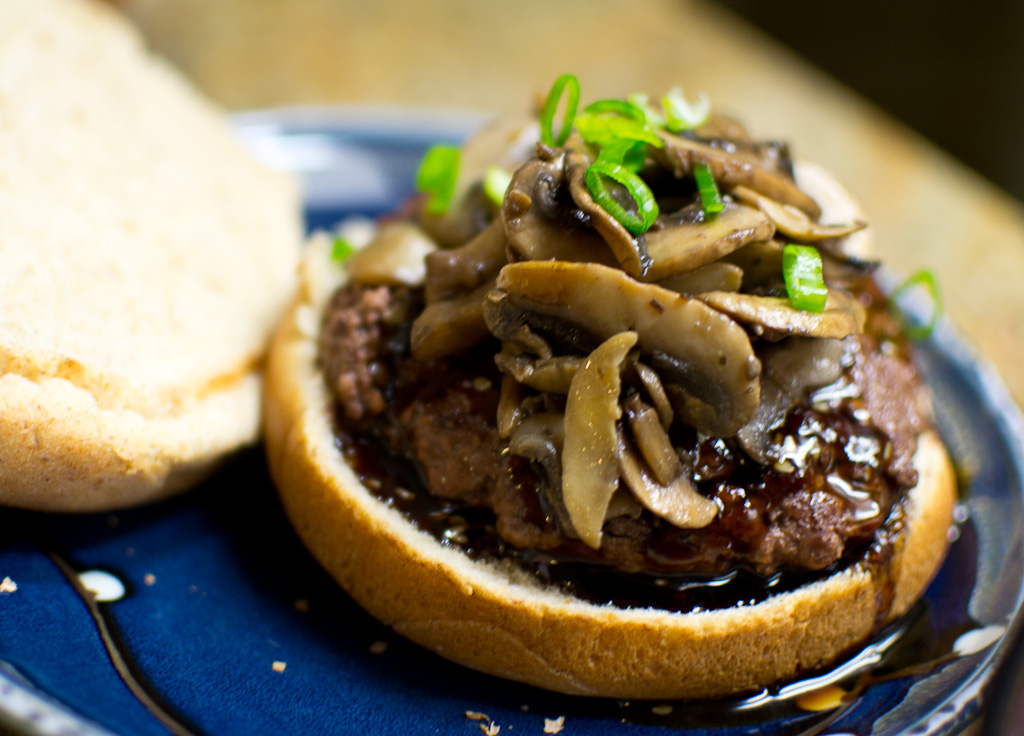 Pile on the golden mushrooms, sprinkle a few green onions, add some lettuce and tomatoes if you want, and you have one scrumptious burger.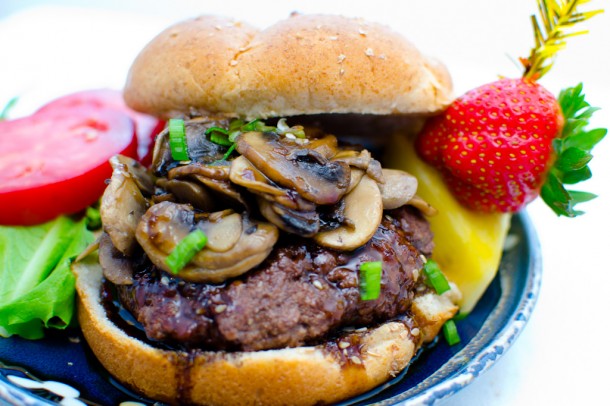 Teriyaki Mushroom Bison Burgers
Lean bison burgers with flavorful teriyaki sauce and sauteed mushrooms are crowd pleasers.
Ingredients
2 lbs. ground bison
8 hamburger buns
8 tomato slices
8 lettuce leaves
Chopped green onions
Sauteed Mushrooms:
1 lb. mushrooms
2 T. olive oil
½ c. white or red wine
Sea salt and pepper to taste
Teriyaki Sauce:
½ c. soy sauce
½ c. sugar
¼ c. water
2 tsp. cornstarch
4 tsp. grated ginger root
1 T. toasted sesame seeds
2 tsp. sesame oil
Instructions
Saute mushrooms in oil in a non-stick frying pan for 3 minutes on medium high heat. Add wine. Turn heat down to medium. Stir occasionally and cook until wine and mushroom juices have evaporated and mushrooms have browned. Add salt and pepper to taste. Place in a bowl and cover to keep warm.
Shape meat into eight patties. Panfry in a non-stick skillet to desired doneness.
While burgers are cooking, whisk together sauce ingredients in a small saucepan and cook over medium high heat until bubbling and thickened. Set aside and cover to keep warm.
Assemble burgers in this order: bottom bun, lettuce leaf, bison patty, 1 T. sauce, tomato slice, mushrooms, sprinkle of green onions, and top bun.