'Tis the season to think about making  Holiday Sherbet Punch for our New Year's celebration. This year, the standard punch formula of (juice + soda + sherbet) will be slightly different, but still very delicious.
Unfortunately, as the years add up, my digestion just isn't what it used to be. One thing I've found that has helped me are Good Belly Probiotics. I usually drink the Straight Shots to avoid the extra calories and sugar in the juice drinks, but their juice drinks taste really, really good. Although the juice drinks only contain 30% fruit juice, organic fruit juices/purees and organic sugar are used, along with coloring derived from only fruit and vegetable juices. Those factors, along with the probiotic benefits make this juice a good choice.
Using Zevia stevia sweetened ginger ale will also help to cut the sugar content of the punch down.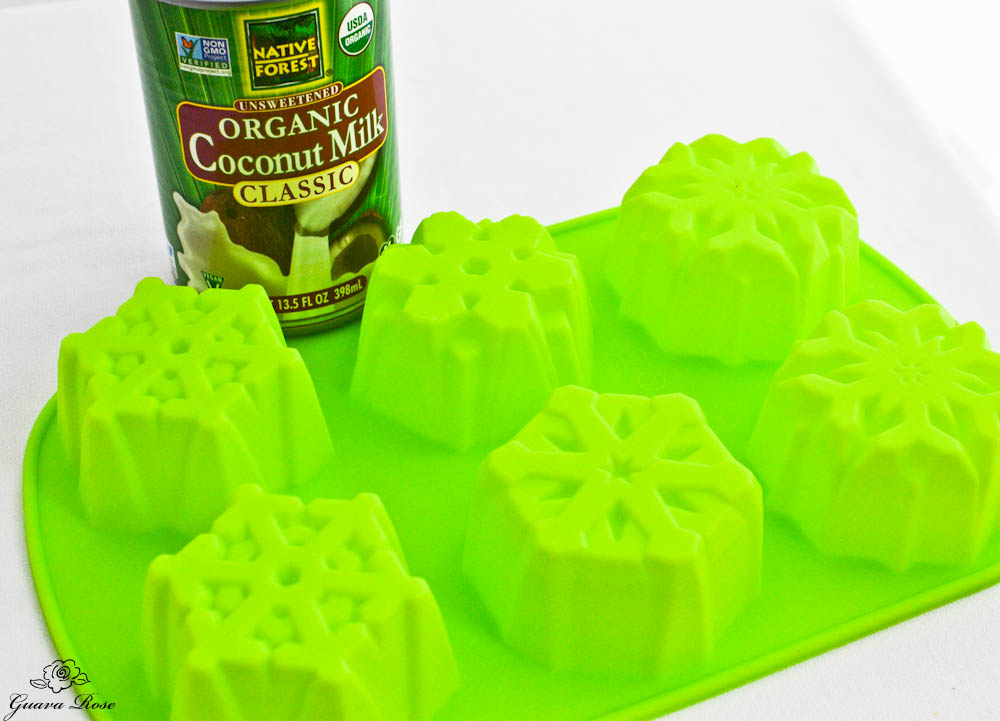 I've also found that dairy has become sometimes problematic for me, especially dairy + sugar together.
So instead of sherbet, I thought I'd try to make some snowflake ice cubes out of coconut milk, to give the punch some creaminess.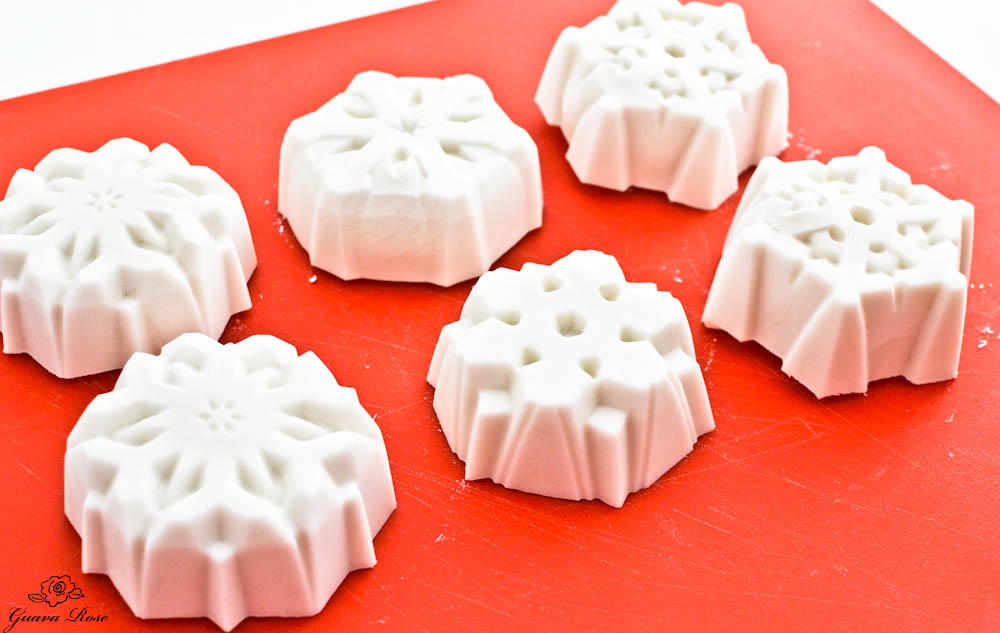 They turned out great!
I simply added a little water to a can of coconut milk to make 2 cups total, then filled the silicone snowflake molds. Each mold was about 1/3 cup, so I filled each of the 6 molds not quite full and stuck it in the freezer overnight.
Using molds that were silicone made removing the snowflakes so easy– just peeled the mold off each frozen snowflake.


For the punch base, place 1 quart of Good Belly Juice Drink and 3 c. of Zevia ginger ale into a punch bowl. If desired, pour in 2-4  Straight Shots to increase the probiotic count.
Add the coconut milk snowflakes.


They'll slowly start to melt.
You can stir it up a bit.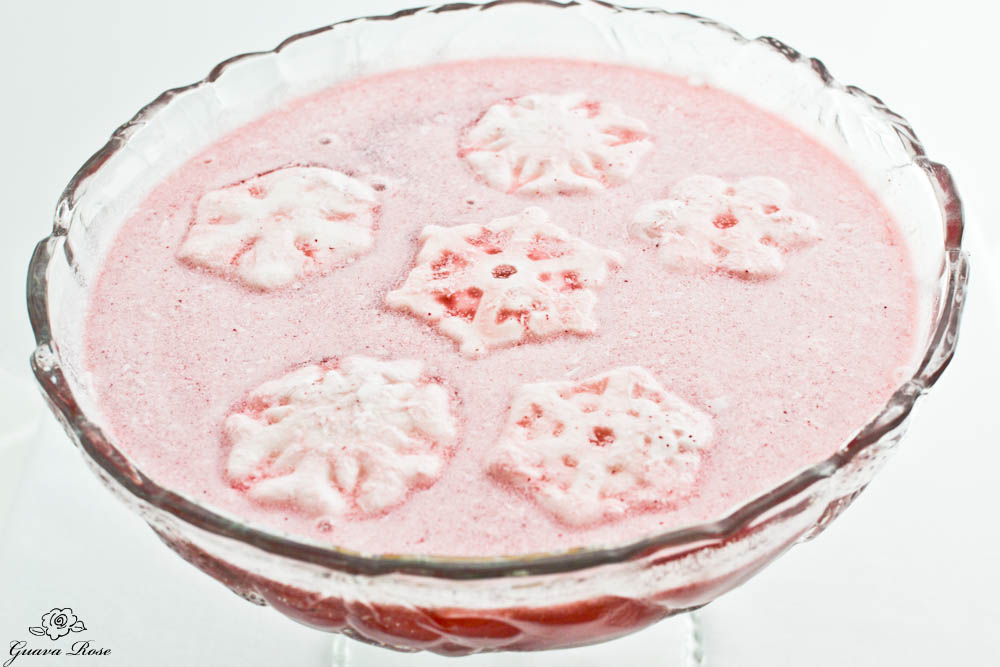 Soon, the top will be covered with flakes of melted coconut ice.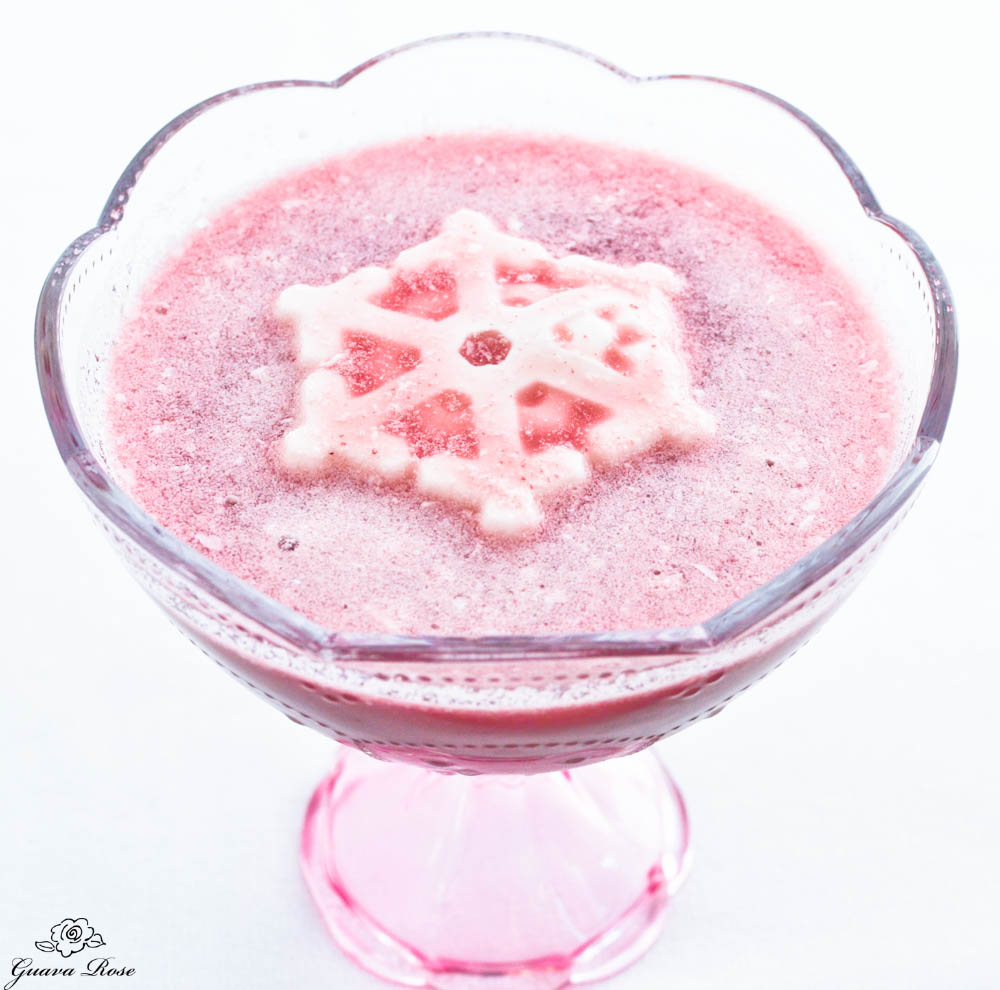 If you don't have a punch bowl, you could just pour the juice and soda into individual glasses and give each person their own frozen snowflake.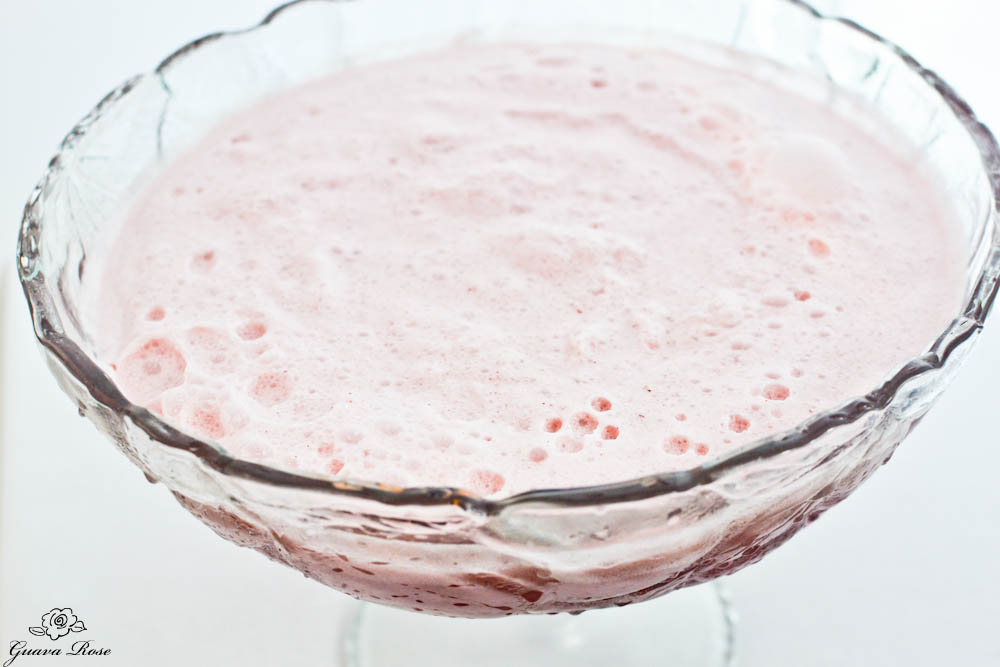 Blenderized Probiotic Punch
I have to warn you though, that once the snowflakes have melted, the coconut milk doesn't look very pretty because it doesn't blend completely with the juice and soda.
If you or your kids (especially little ones) are bothered by it, simply run the punch in your blender, and you'll get some nice foam on top (see pic above).
The mom in me says let each kid get their own cup of punch with a frozen snowflake in it. Once they're done poking and watching their snowflake melt, have them bring their cup up to the blender to be blended. Then they get the best of both ways.
Happy New Year!

Probiotic Punch with Coconut Milk Snowflakes
Ingredients
4 c. Good Belly Probiotic Juice Drink
2-4 ea Good Belly Straight Shots (optional)
3 c. Zevia Ginger Ale
1 (14 oz.) can Coconut Milk
1 (6 cavity- approx ⅓ c. ea) silicone snowflakes mold
Instructions
Add water to coconut milk to make 2 cups. Pour equally into snowflake silicone molds. Freeze until solid.
Pour probiotic juice drink, additional probiotic shots (if using), and ginger ale into a small punch bowl. Unmold frozen coconut snowflakes and place into punch.
Variations:
No need to make snowflake ice-- just blend chilled coconut milk with punch ingredients in the blender until smooth and frothy.
Let kids each have their own glass with punch and one frozen snowflake. Once they are done poking and watching the snowflake melt, let them drink it as is (a little choppy looking because coconut milk does not fully mix in with the juice and soda) or mix in the blender for them. You may want to make a larger quantity of smaller sized frozen snowflakes to decrease the serving size of punch for little ones.