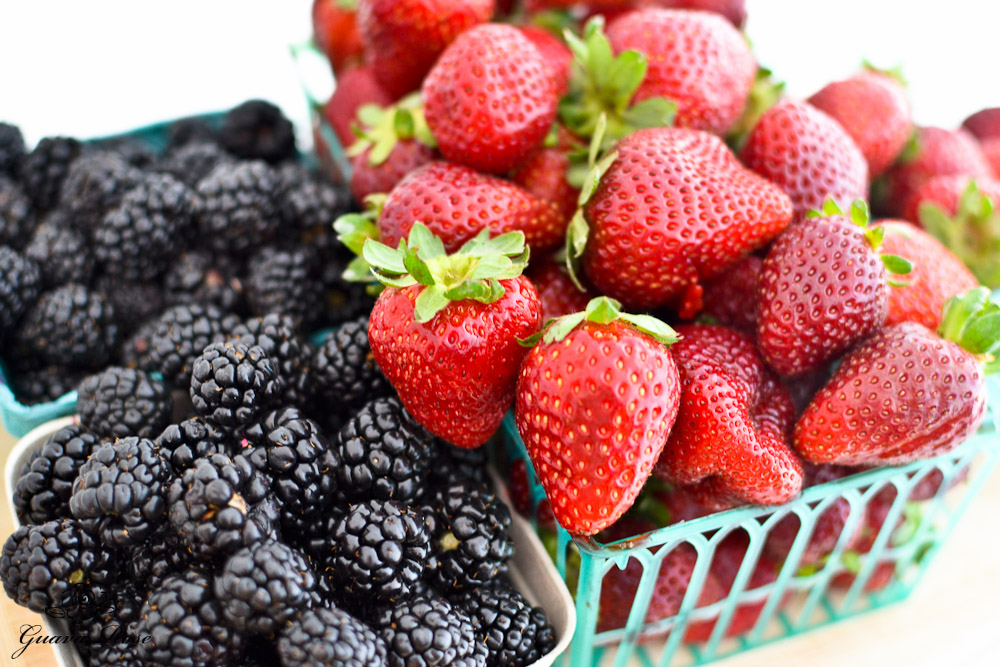 The farmers markets are brimming with berries this time of summer.
The other day, I picked up some blackberries and strawberries that were so sweet and juicy.
On my way home, I was thinking about what I could make with them, when I was struck by the greatest idea–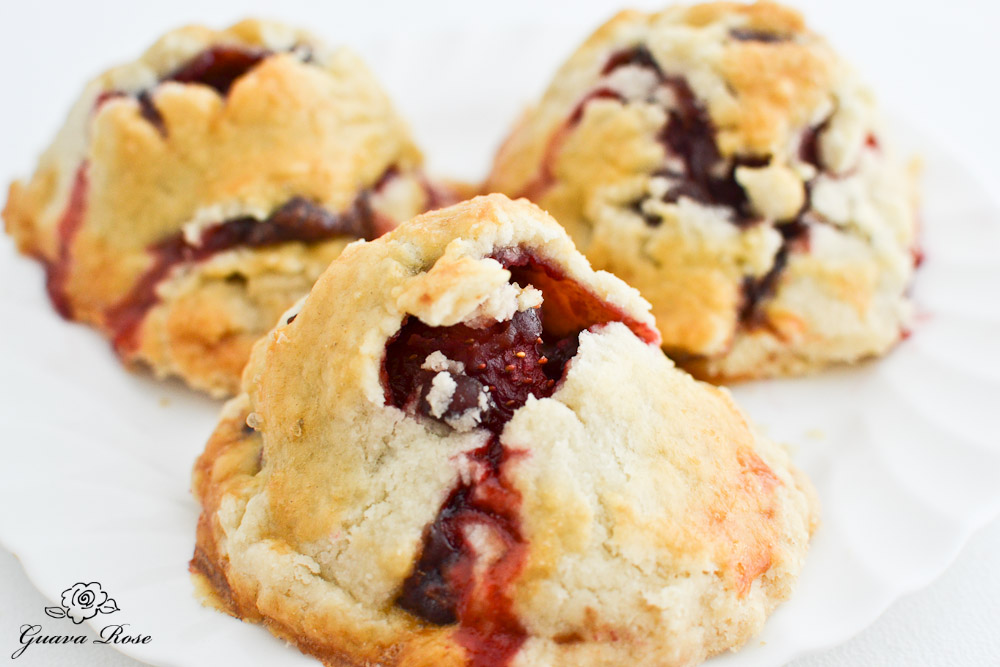 A whole fresh strawberry tucked and baked into each crispy manju
What would happen if I made some manju and put a whole fresh strawberry in each one?
Manju is traditionally a Japanese soft cake-like pastry or mochi dough wrapped around a sweet red bean (adzuki) filling.
In Hawaii, a crispy version made using a pie crust-like dough is very popular. Probably the oldest and most well known manju is from Home Maid Bakery on Maui. Menehune Food Mart on Kauai is also popular for their crispy style manju. Anytime friends or relatives made a trip to an outer island, you could always count on them bringing some back for omiyage.
Dried adzuki beans, and Sweet Red Bean Paste (bagged and canned)
The filling is simple–sweet red bean paste, tsubuan, just adzuki beans cooked in water and sweetened with sugar.
You could make your own filling by soaking the beans overnight, cooking for an hour or more, then finally sweetening with sugar, but it's so easy to just buy it already made.
Most of the premade fillings have only red beans, sugar, water, and sometimes a little salt as ingredients. I bought my filling locally here at Oto's Marketplace, but it is easily found in most Asian grocery stores or online. (The Marukai e-store is cheaper than Amazon.)
Start out with a simple oil based pie crust dough. I like using walnut oil. Macadamia nut oil would be nice too, though any mild tasting oil will do.
Scoop it out onto the baking pan just like cookie dough, in 2T. balls.
Flatten and press each ball into a rectangular shape, a little bigger than the size of a playing card (~3″ x 3.5″).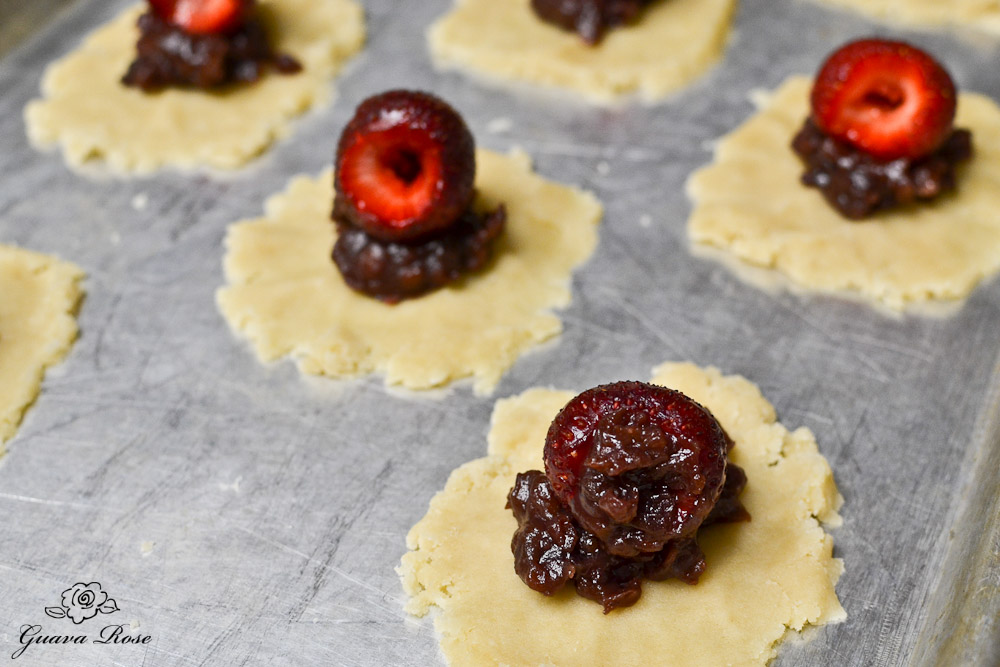 To hull a strawberry, use a small sharp knife to angle and cut into the flesh around the green leafy top of the strawberry.
Spoon 2 tsp. of the sweet bean paste onto each piece of dough.
Place a small (~1″ to 1-1/2″) whole strawberry that has been hulled, on top. Push as much of the bean filling as will fit into the hole of the strawberry.
Now place the strawberry, hole side down, so the strawberry sits like a pyramid. Top each strawberry tip with an additonal 1 tsp. of sweet bean paste.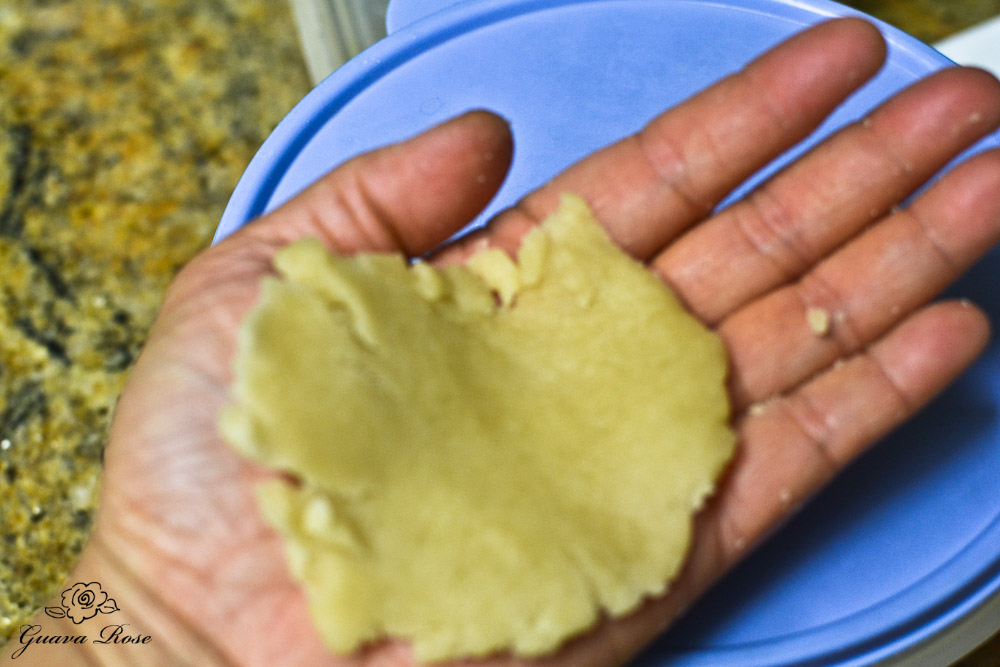 For the top of each manju, place 2 T. crust dough into the palm of one hand.
With your other palm, press the dough out so that it flattens out again to the size a little bigger than a playing card.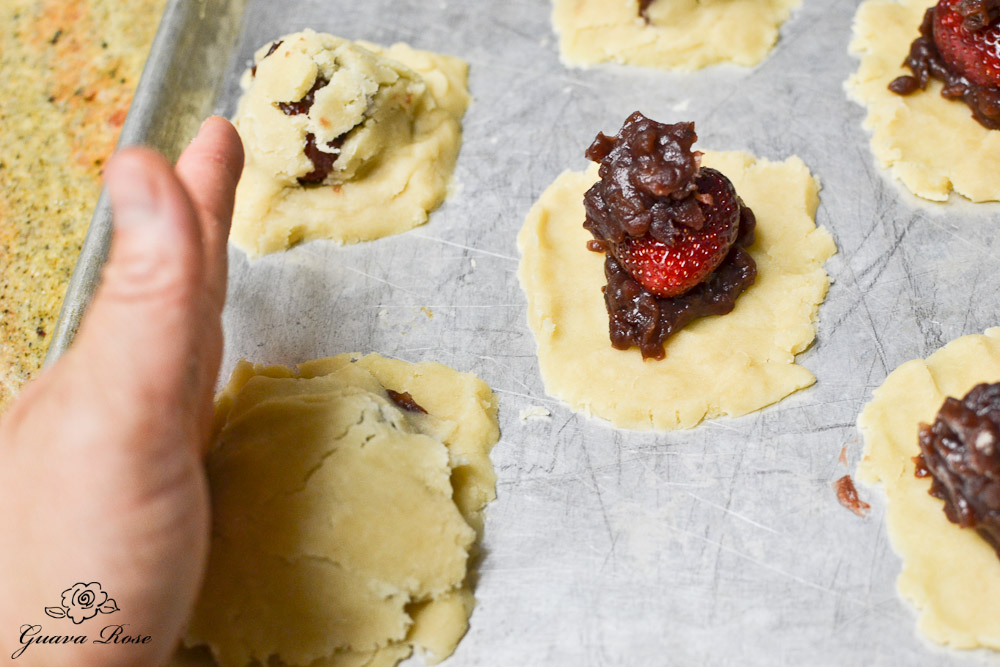 Turn your dough covered palm over each strawberry and release the dough. Press the dough edges to seal the filling in.
Straighten and neaten up the dough edges using your fingers and the edge of your hand.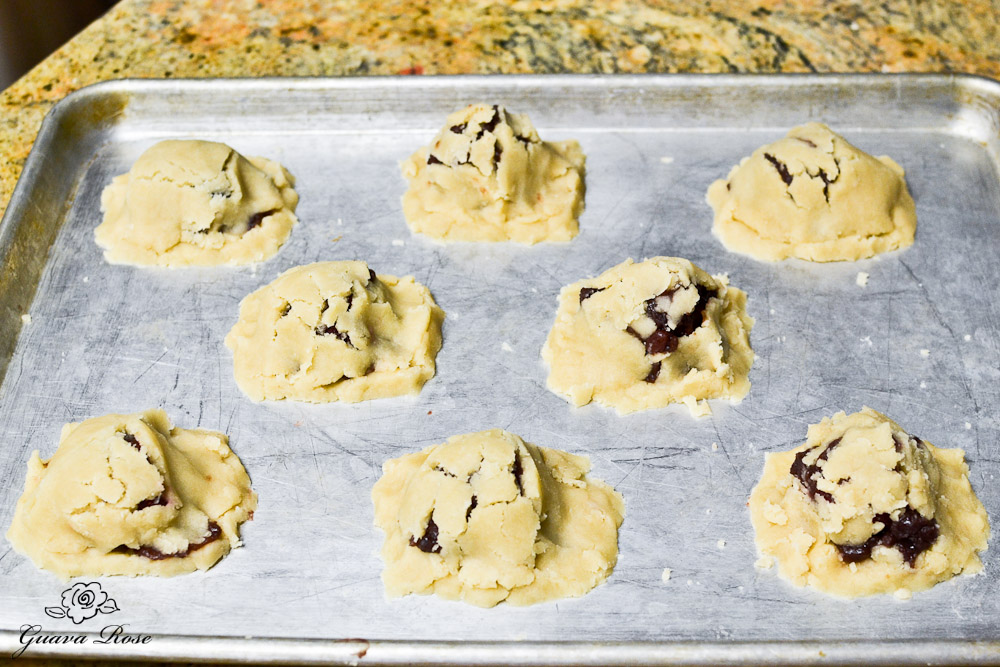 Don't worry if the dough has a lot of cracks on top– some of the steam needs to escape, and
The manju actually ends up prettier if it is cracked on top.
Just try to seal the edges as well as possible. It's a very forgiving dough, and it will all bake together well.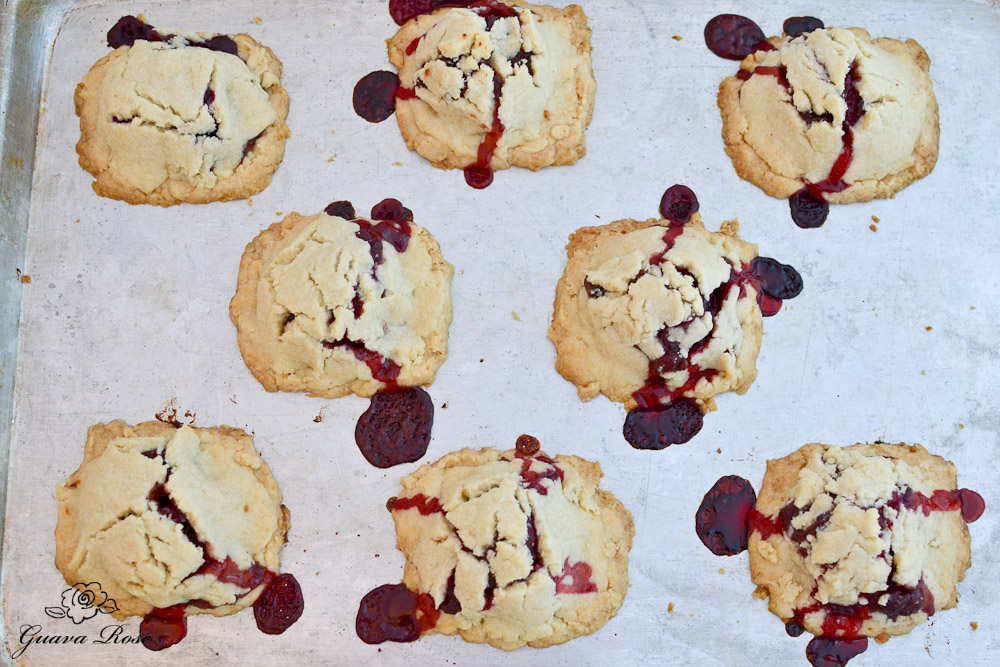 Bake at 350 degree for 30 minutes.
The strawberry juice mingles with the sweet bean paste and forms a luscious syrup. Look at that beautiful red strawberry syrup oozing out!
These were baked without an egg wash on top.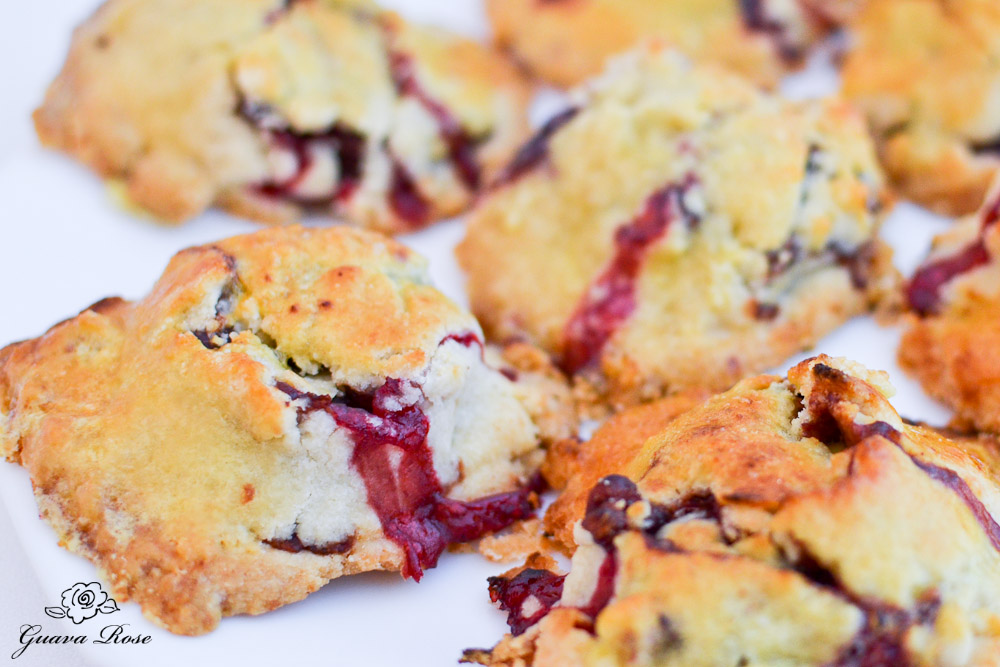 Brushing the tops with a beaten egg before baking will result in these golden beauties.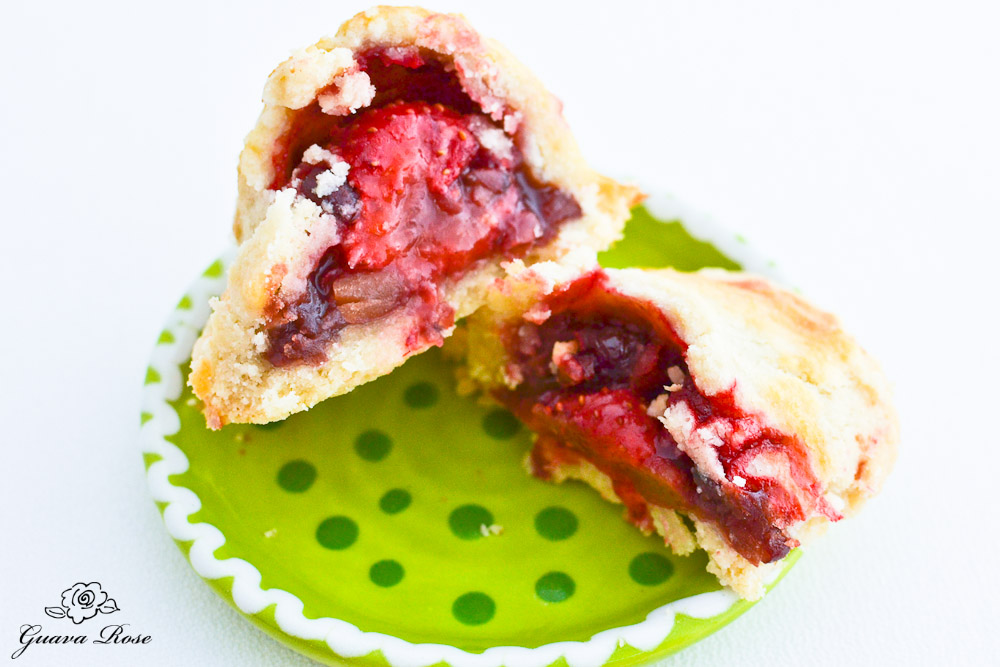 These are so good still a little warm. Actually, they're really out of this world good.
The sweet beans compliment the fresh strawberries exquisitely.
Why didn't I think of this sooner?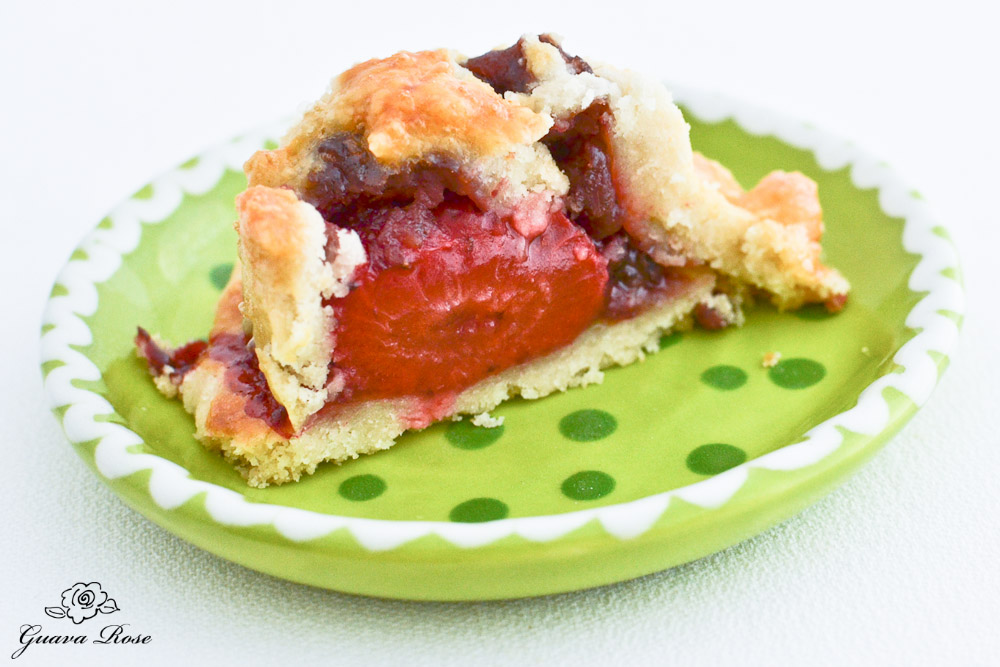 For "crispy", these are best eaten the same day they're baked.
If any are still around the next day, they'll still be very tasty, but they'll then be tasty "soft" manju.  =)

Fresh Strawberry Manju (Hawaiian Crispy Style)
Whole fresh strawberries tucked into crispy manju
Ingredients
Crust:
3 c. flour
¼ c. sugar
1 tsp. sea salt
1 c. oil (walnut, macadamia nut, or any mild tasting oil)
2-3 T. milk
Filling:
12 T. sweet red bean paste (tsubuan), divided
12 small fresh strawberries (1" to 1-1/2"), hulled
To Brush on Top:
Instructions
Preheat oven to 350 degrees. For the crust, whisk together flour, sugar and salt in a bowl. Add oil and milk, then mix together with a fork until blended. Use your hands knead the dough a few times until it is smooth.
Scoop 12 balls (2 T. each) of dough, spacing them out evenly onto a large baking sheet. Flatten and press out each ball into a rectangle, about the size a little larger than a playing card (approx. 3" x 3.5").
Place 2 tsp. sweet red bean paste, then one strawberry, onto the middle of each rectangle of dough. Push as much sweet red bean paste as can fit into the hole of each strawberry, before placing the strawberry, hole side down, on the remaining red bean paste. The strawberry should sit like a pyramid. Now place another 1 tsp. of filling over the top (tip) of each strawberry.
For the top crust of each manju, scoop 2 T. dough into the palm of one hand. Use your other palm to flatten the dough out into a rectangle shape, about the same size as the bottom crust. Turn the dough covered palm over the top of the filling and release the dough. The dough may tear a bit, but that is fine. Press the top and bottom dough edges together to seal in the filling. Neaten the dough edges with your fingers and the edge of your hand to make a clean rectangle shape. Repeat for the remaining manju.
Brush the manju tops with the beaten egg. Bake for 30 minutes, or until crust is golden and crispy. These are best eaten the same day they are baked.