Hawaiian Chantilly Cake
Chantilly Cake is one of the absolute best cakes in the world. Found only in Hawaii. If you've read my post I'm Dreaming of Cakes, you'll know how special this cake is and how much I love it.
This holiday season, I'd like to share my version of Chantilly Cake –my gift to you, my readers. Thank you so much for reading my blog and following along this past year; it's been a lot of fun.
Although the recipe may seem a bit long, it's really not as intimidating as it may look. I tried to be very descriptive in my instructions so that they are clear (hopefully they are). Over the next several days, I'll also be posting a  6 part tutorial, so please stay tuned for that– this cake is really worth making.
Chantilly Cake would make a fantastic dessert for your Christmas dinner, or to share at any holiday gatherings.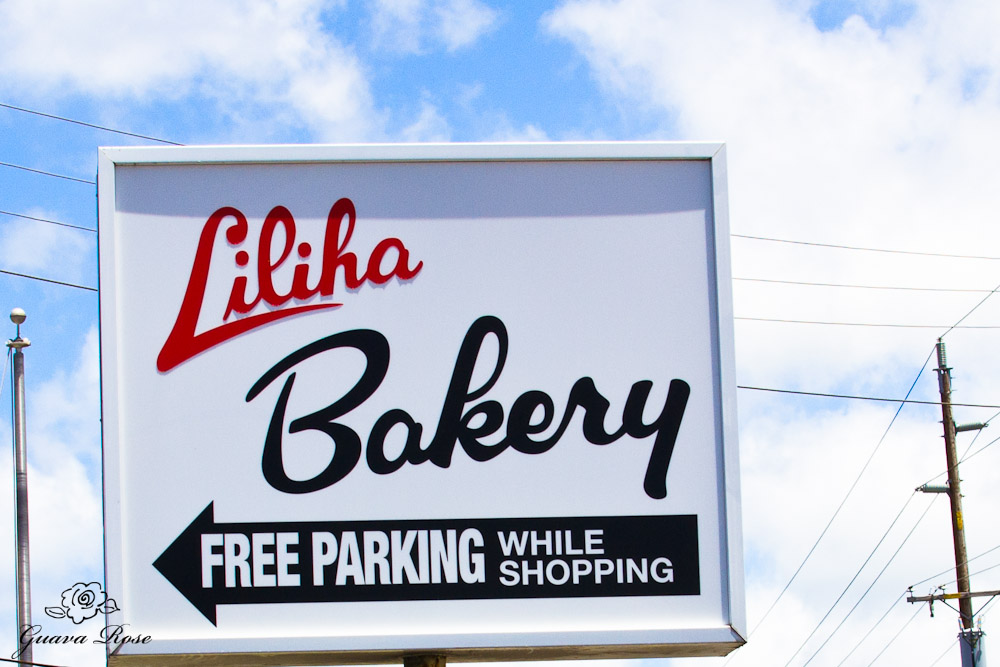 Liliha Bakery on Oahu makes the best Chantilly Cake.
This mom and pop bakery has been around for over 60 years, serving meals in their coffee shop, in addition to a variety of delicious pastries, pies, cookies and cakes.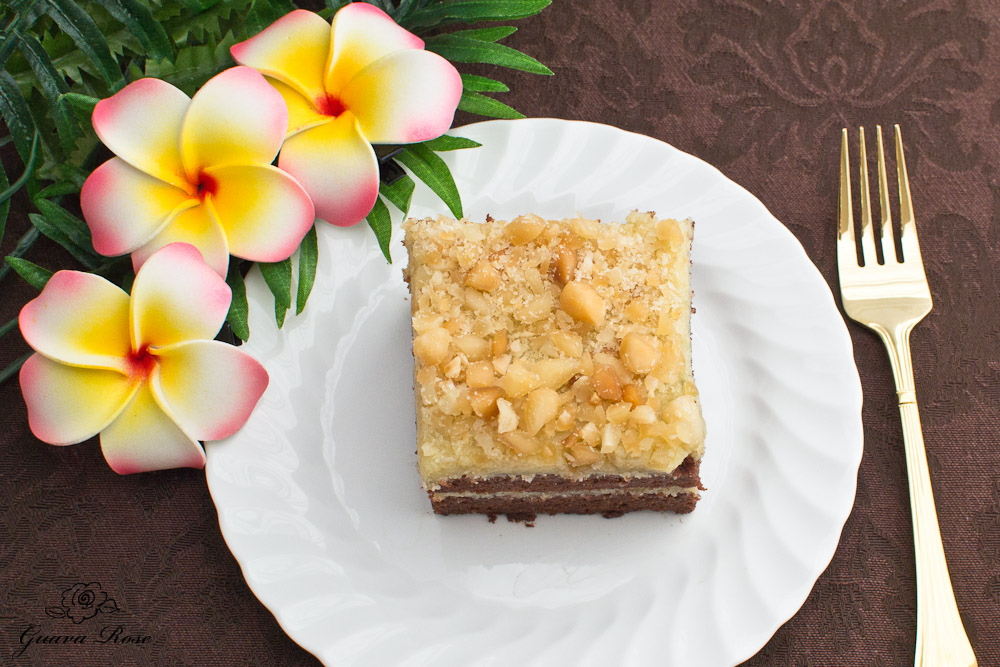 No trip home  is complete without Chantilly Cake.
If you're ever on Oahu, a side trip to this small, neighborhood bakery would be well worth it. They are also famous for their coco puffs, which are cream puffs filled with a cocoa custard, and frosted with chantilly frosting.
Liliha Bakery is open 24 hours every day except Monday. The first morning you wake up after arriving from the mainland would be a good time to visit for breakfast, since you'd still be on mainland time (2-3 hours ahead for West Coasters, more for East Coasters). The bakery is open 24 hours too (except Mondays), so you could pick up a cake and pastries to go for later.
By the way, their pancakes are so popular that they sell the batter refrigerated and frozen too. I remember coming here as a child, with my mother, buying cakes and pastries, and bringing home of tubs of pancake batter. Back then the batter came in white tubs with a red gingham print, now they've been updated to clear plastic containers.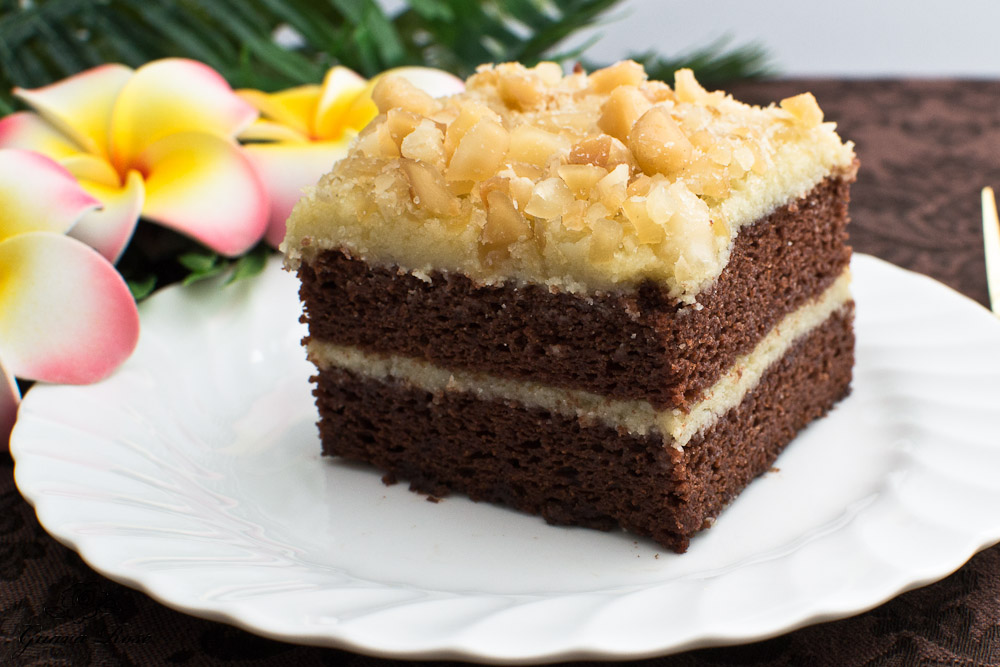 How do I even describe the frosting? It's a rich, butterscotch-like custard.
Frosted in between and on a light, moist chocolate chiffon cake, with toasted macadamia nuts sprinkled on top– the combination is simply out of this world!
I've seen many people close their eyes and sigh in delight when eating this…
Oh man…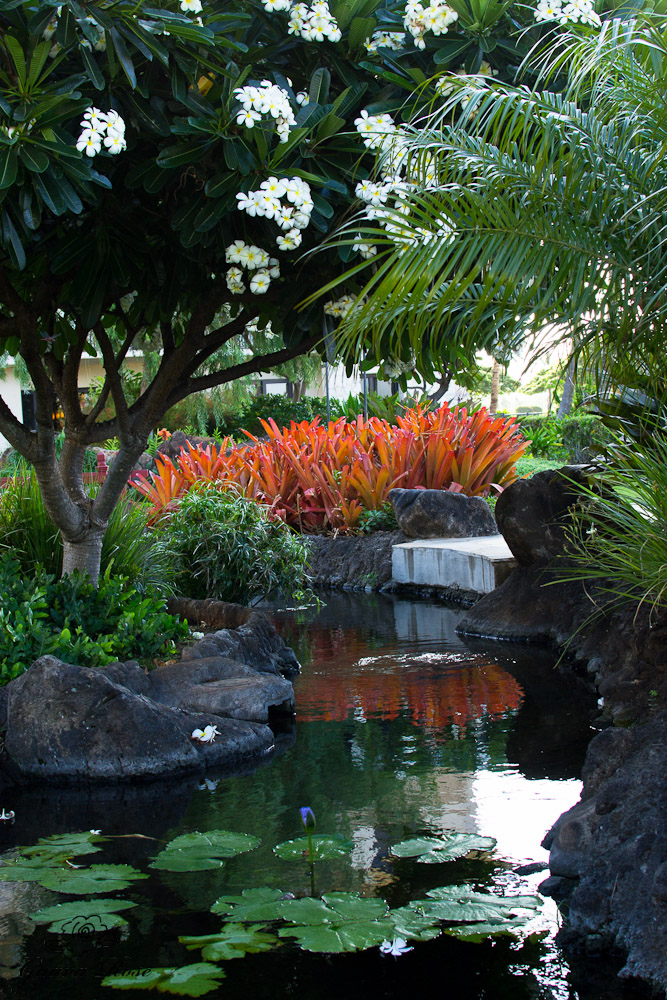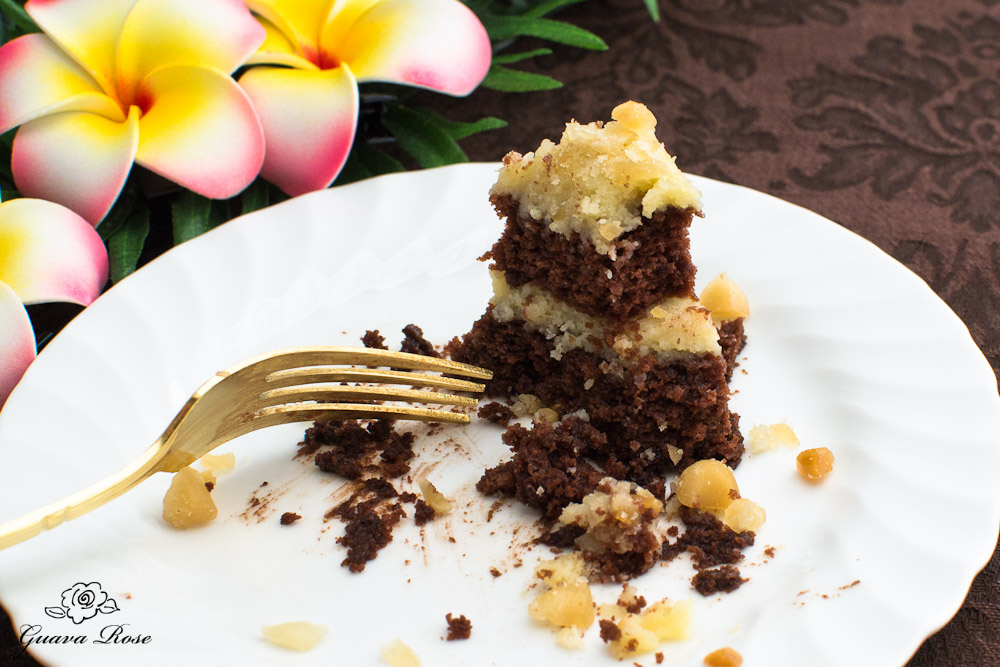 mmm…..mmm……
mmmph…..
One bite, takes me right back home.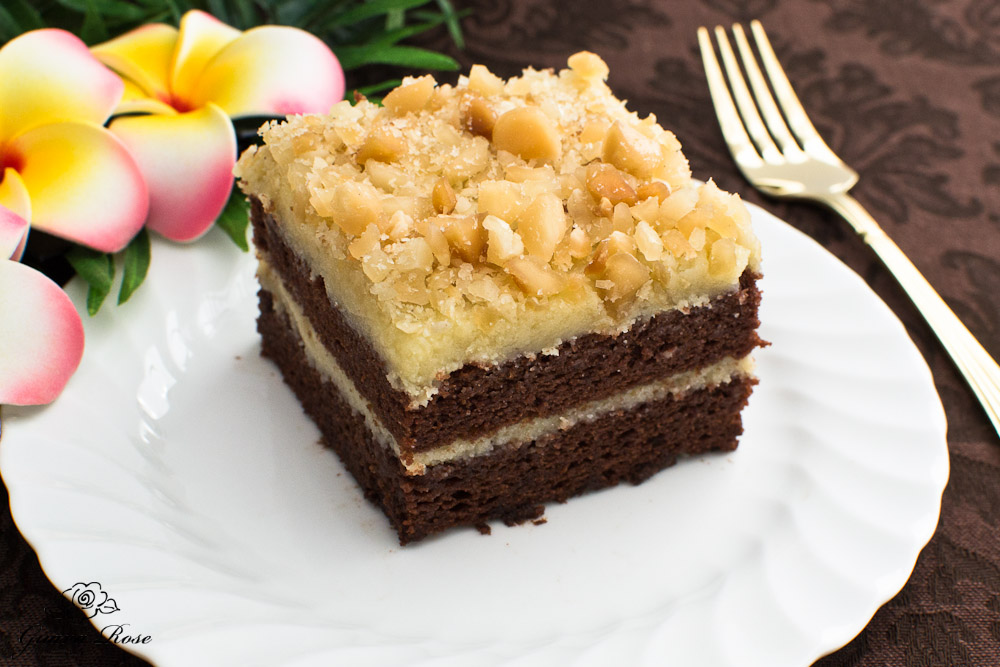 Another piece please.
Enjoy!
Hawaiian Chantilly Cake
Ingredients
Chocolate Chiffon Cake
1 c. egg whites, at room temperature
¼ tsp. cream of tartar
½ c. + 1 c. sugar
6 T. unsweetened cocoa
½ c. boiling water
¼ c. melted butter
¼ c. oil
2 eggs
1 tsp. vanilla
1 c. cake flour (lightly spooned into measuring cup, then leveled off)
¾ tsp. baking powder
¾ tsp. baking soda
¼ tsp. sea salt
Chantilly Frosting
1-2/3 c. salted butter
1-1/2 c. evaporated milk
1-1/2 c. sugar
2 tsp. vanilla
2 eggs
2 egg yolks
2 T. cornstarch
Simple Syrup
Topping
1 c. finely chopped macadamia nuts (salted taste better), lightly toasted
Instructions
Chocolate Chiffon Cake
Preheat oven to 350 degrees. Line bottom of a 9"x13" metal pan with parchment paper. Trim edges to fit bottom.
In a small bowl, blend cocoa with boiling water until smooth. Set aside.
Place egg whites into the bowl of a standing mixer. Mix on medium speed. When they become a little frothy, add the cream of tartar. Continue on medium speed. Increase to high speed when the volume has doubled. Slowly add in the ½ c. sugar, while keeping the mixer on. Continue whipping until soft peaks that can hold their shape form (this should only take a minute or so). Place the whipped egg whites into a large mixing bowl, pushing them to one side of the bowl.
Place the cocoa-water mixture into the standing mixer bowl (no need to wash the bowl first). Add butter, oil, eggs, and vanilla.
In a separate mixing bowl, whisk together flour, 1 c. sugar, baking powder, baking soda, and salt. Add to the cocoa mixture. Mix on medium low speed for 1 minute until blended, then increase to medium speed for 3 minutes.
Pour batter into the open side of the bowl with the whipped egg whites, so that the batter flows mostly to the bottom and below the egg whites.
Fold the egg whites into the cake batter. Place a spatula down one side of the bowl to the bottom, push chocolate batter from underneath to the other side of the bowl, then lift spatula up the other side of the bowl and over the top, carrying some chocolate batter with it. Continue this pattern, repeating it while turning the bowl ¼ turn at a time, and seeing the streaks of chocolate batter and egg whites slowly incorporate together.
The final chiffon cake batter should be uniform in color, without any streaks of white (those make tough areas in the cake). If necessary, use the spatula to gently spread through the white streaks to help blend them into the chiffon cake batter. Whatever you do, do not stick the spatula into the bowl and stir vigorously in circles--that would deflate the air bubbles and yield a dense cake.
Pour batter into the prepared cake pan. Bake for 33-35 minutes, or until toothpick inserted into the center comes out clean. Invert onto a cake rack and cool completely.
Chantilly Frosting
Melt butter in a medium sized saucepan over medium low heat. Remove from heat and cool slightly. Whisk in milk, sugar, and vanilla first, then eggs and egg yolks one at a time.
Cook on medium heat to a low boil, whisking intermittently.Once it boils, let it bubble and cook for another 2 minutes, continuing to whisk intermittently. Remove from heat and quickly sift cornstarch over the frosting while whisking it in. Whisk quickly and forcefully to prevent lumps from forming.
Pour the frosting into a shallow dish such as a glass pyrex pie pan. Cool to room temperature. Cover and chill about 3 hours, until it solidifies to a spreading consistency.
Filling, Frosting and Topping the Cake
Make the simple syrup in a small pot by adding the sugar to the water and bringing to a boil. Set aside.
Loosen the cake edges from the sides of the pan with a butter knife. Place a cake platter over the top of the pan and flip everything over, unmolding the cake onto the platter. Peel off the parchment paper from the cake. Use a large serrated knife to split the cake into 2 layers. Insert a flexible cutting mat between the 2 layers to lift off the top layer. Invert this top layer onto another mat so that both layers are cut side up. Brush each layer with half of the simple syrup.
Mix chilled frosting smooth with a rubber spatula. Place one third of the frosting onto the bottom cake layer. Use a small, metal angled spatula to spread frosting evenly out to the edges. Place the top layer, cut side down, onto the frosted bottom layer.
Working a small section at a time, place some frosting onto the cake top, then push it over the edge and quickly frost the side. Repeat until all the sides are covered. Frost the top last. Finally, sprinkle the macadamia nuts over the top.
Cover and chill at least 24 to 48 hours before serving. Keep refrigerated.