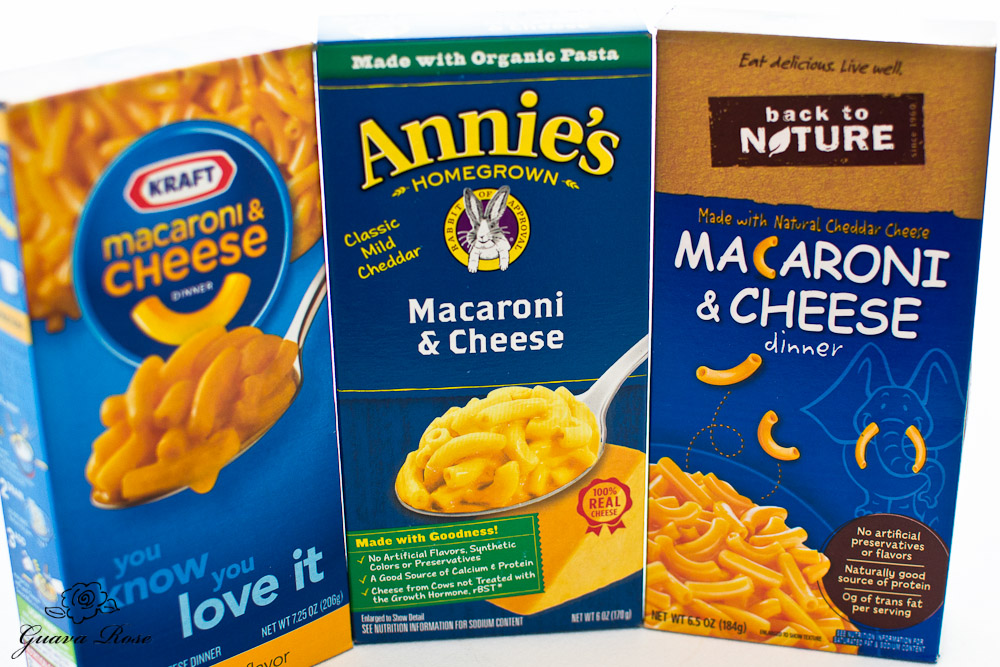 Zombies have been on my mind lately. With Halloween right around the corner, I thought I'd whip up some zombie themed fun.
The first thing we need is a brain, as zombies love them so much. Some mac and cheese is in order!
I was going for simple, so I tinkered with some box mixes. Any of the above would work well.
I used two boxes– one of Annie's and one of the Back to Nature for this recipe. Cook the pasta for half of the recommended time on the boxes, and drain.
In the cooking pot which has been rinsed with cold water to cool it down, or a large mixing bowl, pour one can of evaporated milk, add 3 eggs, and both packets of cheese powder.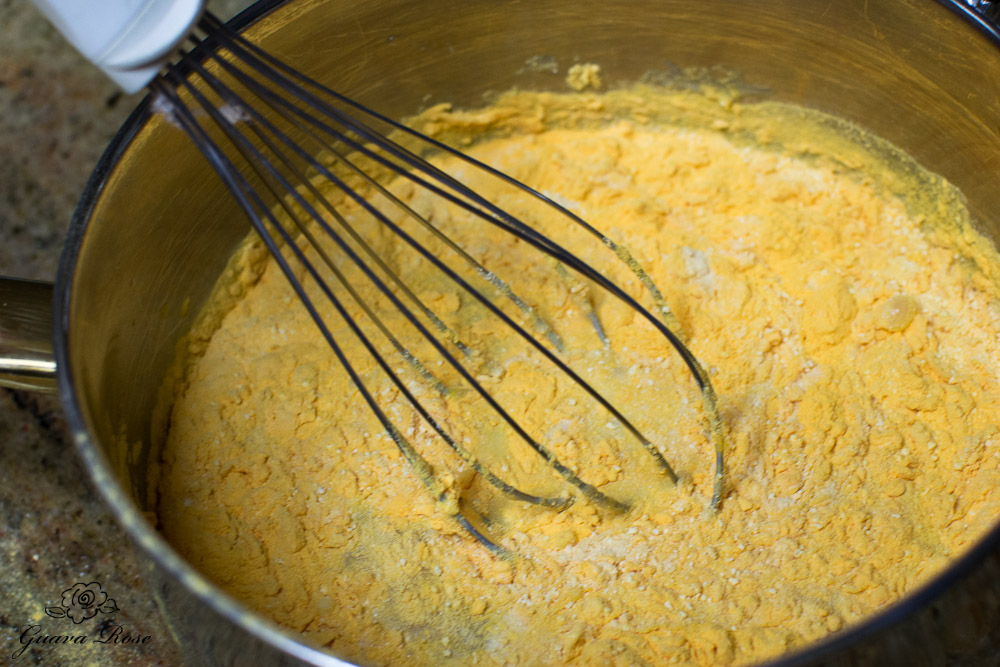 Whisk together until smooth.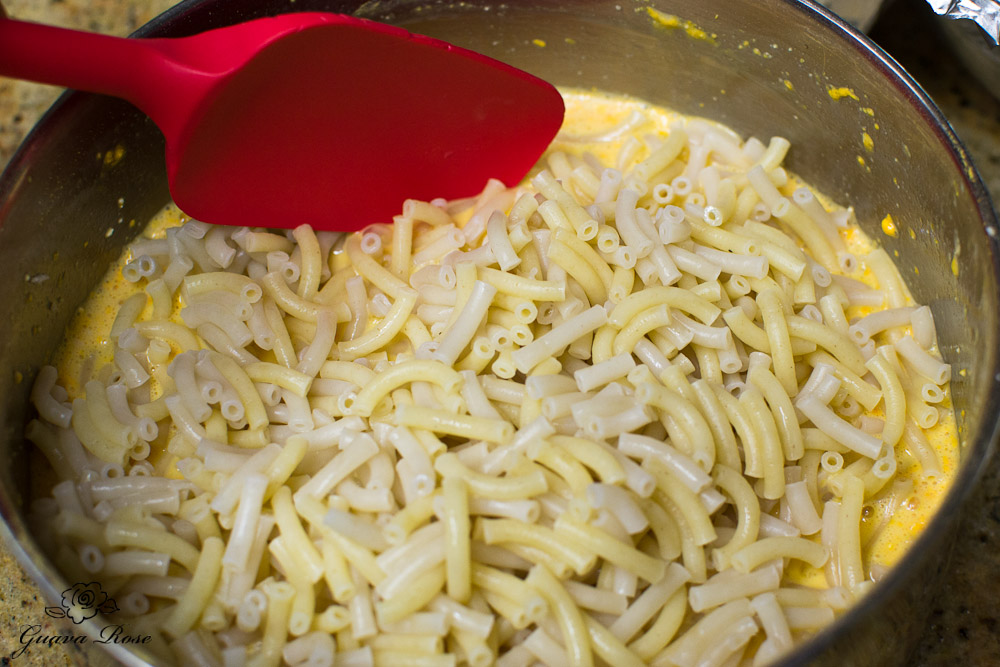 Mix in the pasta and 1/2 c. shredded asiago, romano or parmesan cheese to bump up the flavor.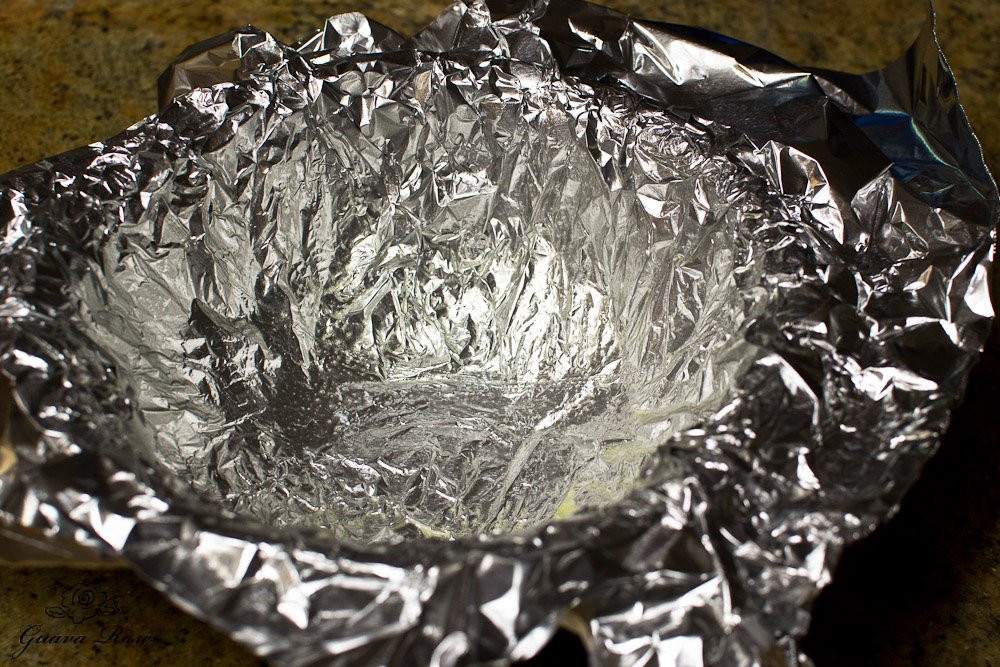 Spray the inside of a 2-1/2 quart glass or ovensafe mixing bowl with non-stick spray.
Line the inside with foil. You will probably need two sheets (side by side overlapping) to be wide enough to cover the bowl.
Spray the foil covering the bowl with non-stick spray.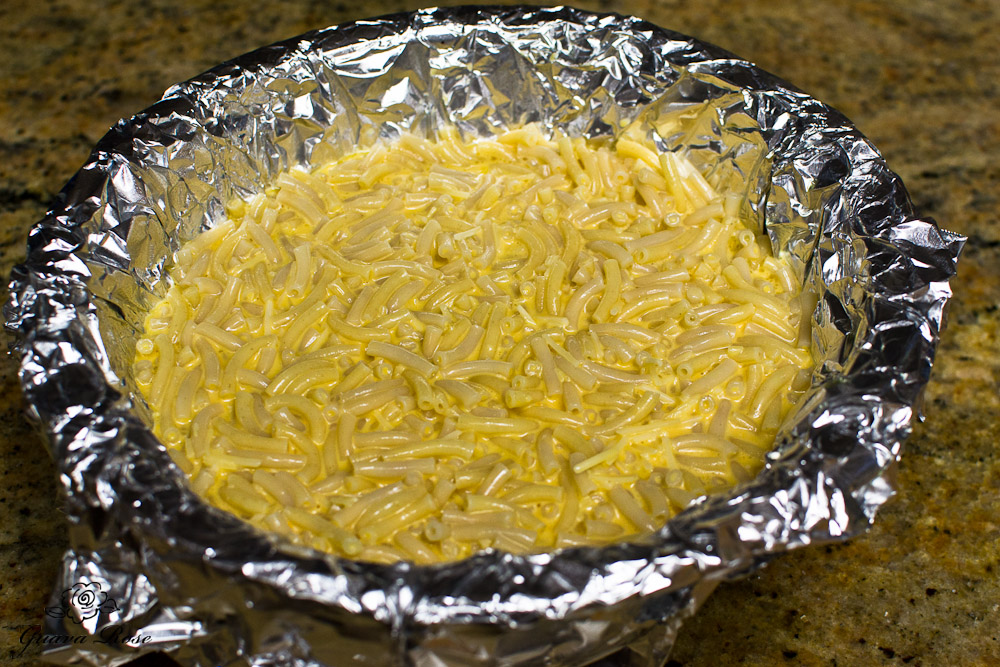 Pour in the macaroni and cheese mixture.
Bake at 350 degrees for 40 minutes or so, until it is set. Remove from oven and let set 10-15 minutes.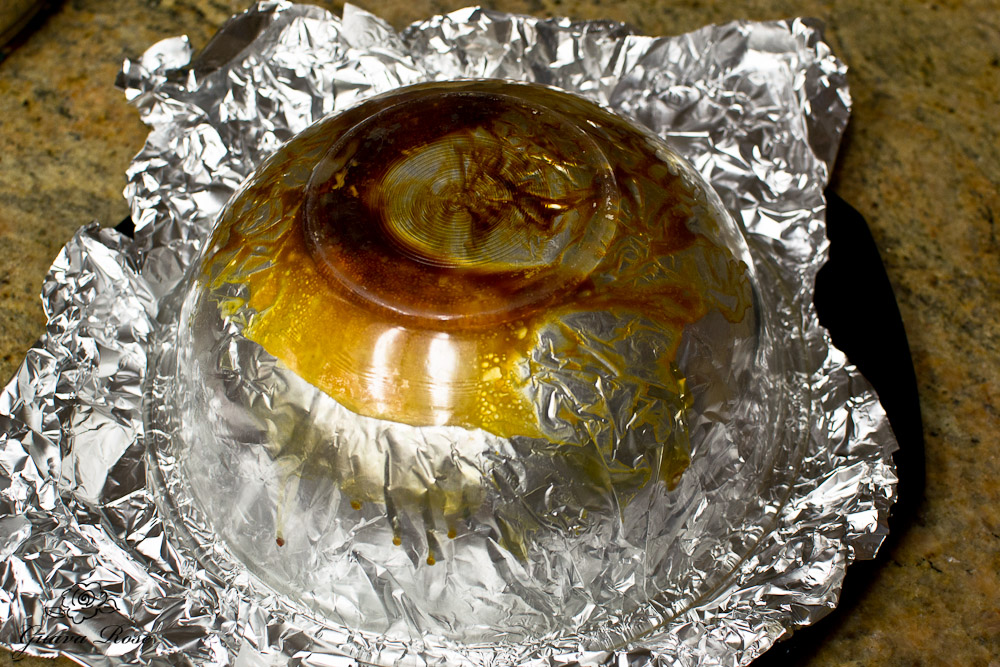 Turn over onto the serving plate.
Carefully lift the bowl up off the foil. Some of the liquid will have leaked through the foil seam and browned on the bottom of the bowl, but since the bowl was greased, it should lift off easily.
Now carefully peel off the foil.
Voila! A steaming brain!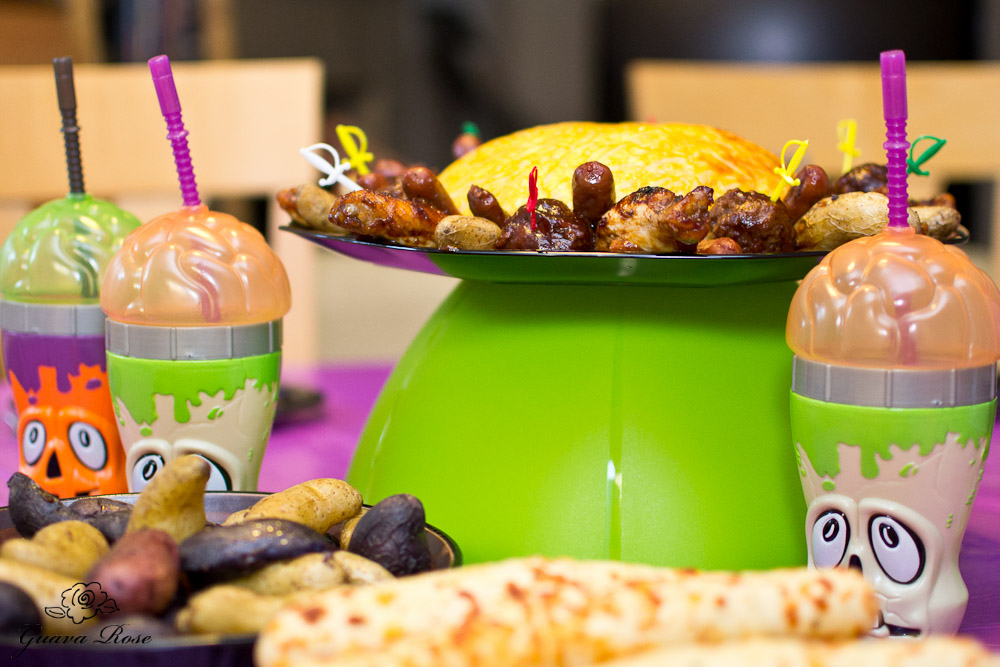 You can decorate your mac and cheese brain by surrounding it with some things that zombies would seem to enjoy– meatballs, chicken wings, little smokie sausages, and roasted fingerlings (potatoes).
For non-meat eaters, I'd substitute with falafel balls, mini veggie corndogs, tofurky sausage slices, and keep the fingerling potatoes.
Something, though, seems to be missing…….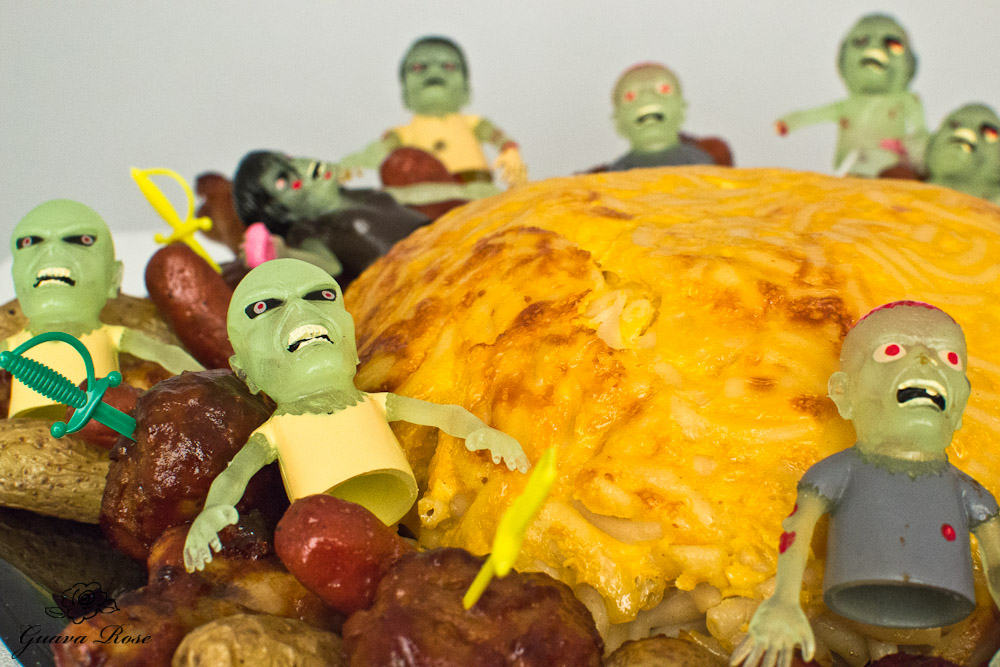 Of course, zombies!
I found these online. The easiest place to get them is on Amazon.
Let's take a little closer look at them…..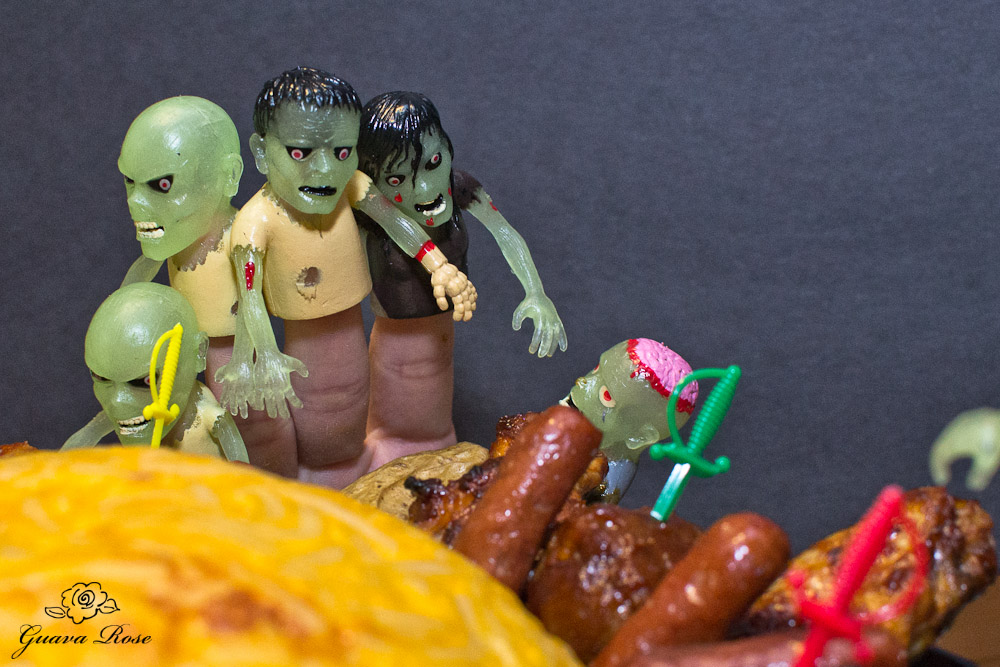 Girl zombie to Pink brain: "Hey! Don't hog all the chicken wings!"
(Addendum: Just for accuracy's sake, since we know that zombies don't speak, let's just say all conversations in italics are some kind of low level telepathic communication.)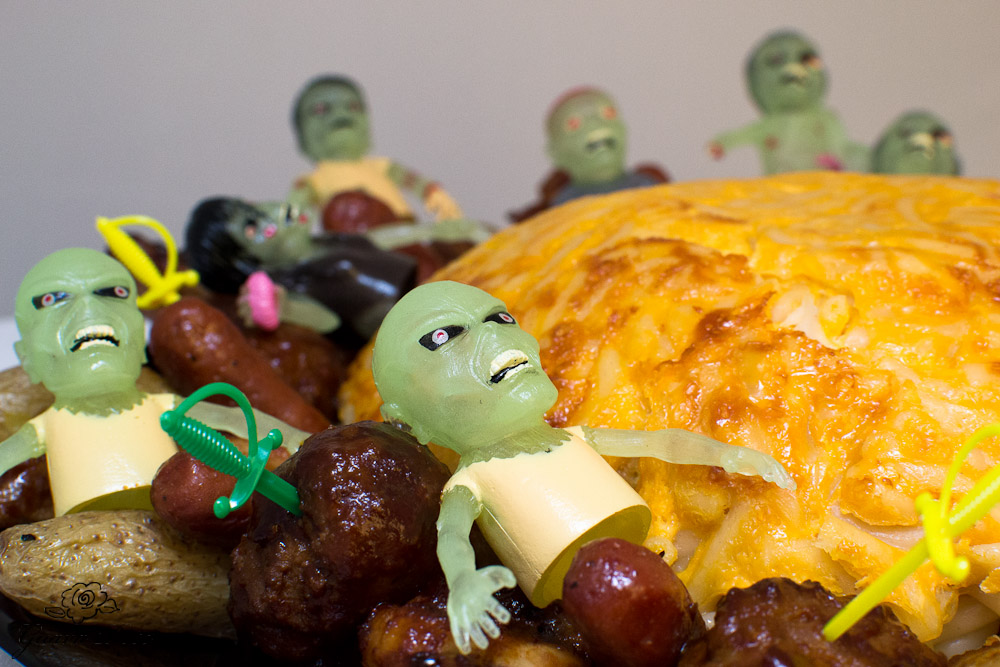 Evil twin zombies: <grunt> "These meatballs are comfortable! Everyone, find a meatball and take a break!"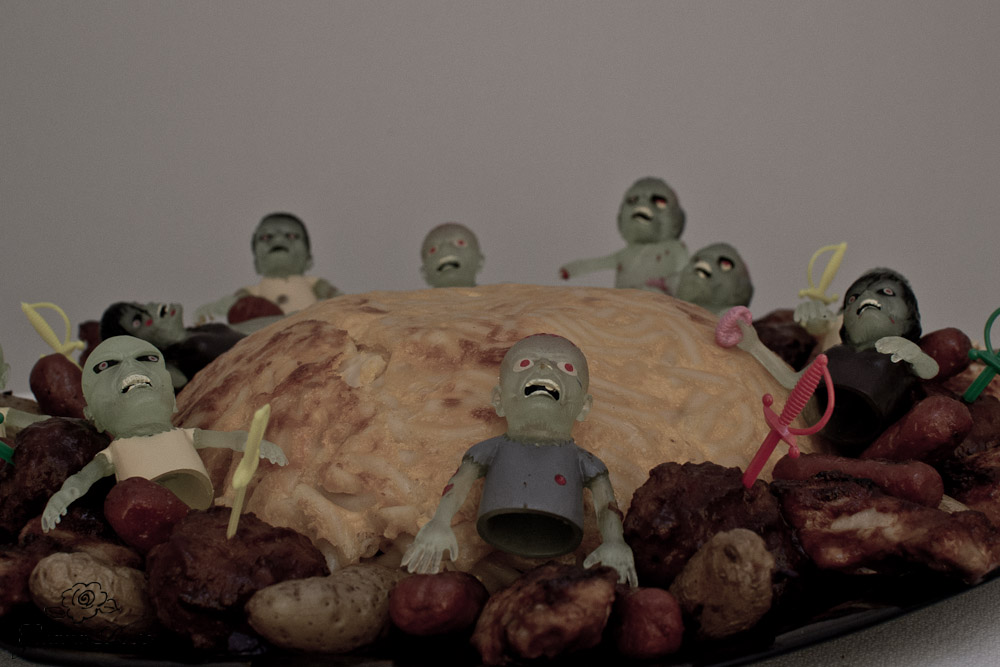 l
Various zombies: " Ooh…..aah……..yeah…..so comfy…. mmmhmmm…..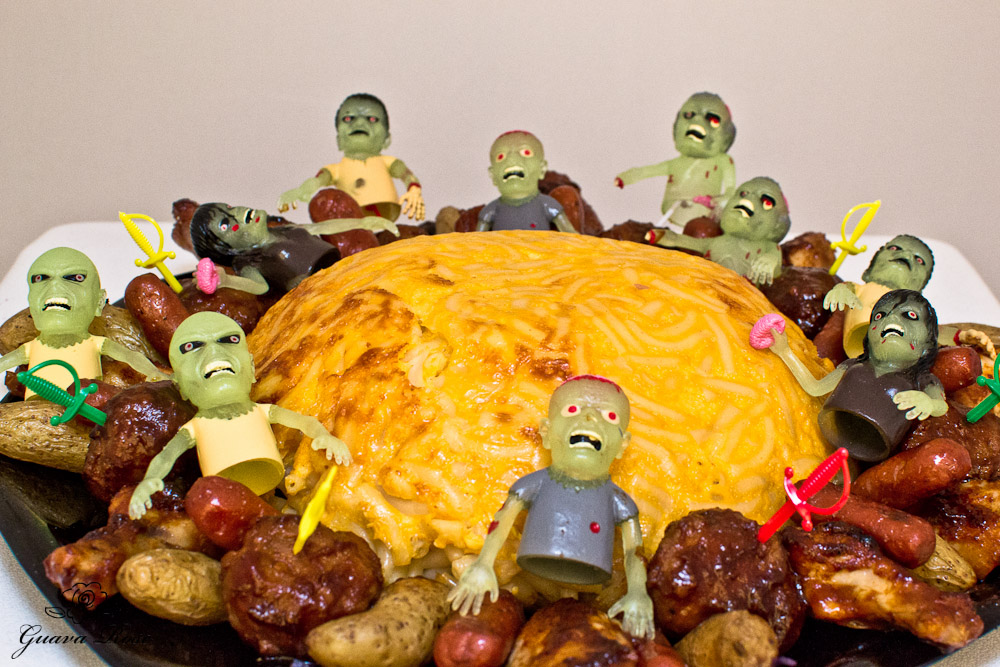 Evil twin 1: "Hey!!! Who turned on the floodlights?!!"
Girl zombie: "Stay away freak, this is our brain!"
Blue shirt:  <whine> "I'm thirsty…"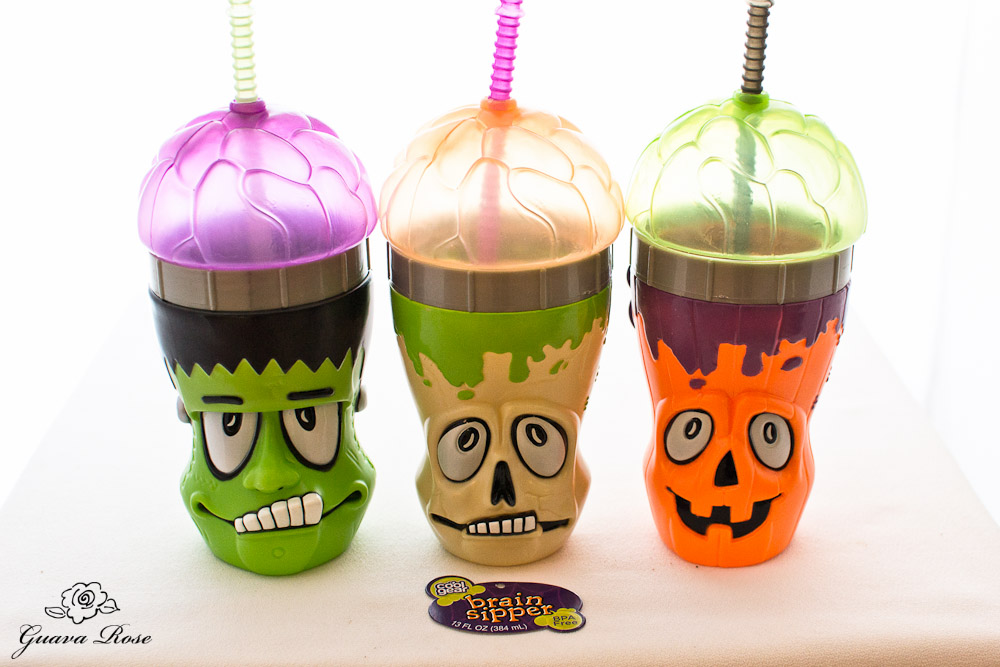 Look at these cute "Brain Sippers" I found at Raley's.
Perfect for our zombie brain theme.
I like the fact that these are BPA free too.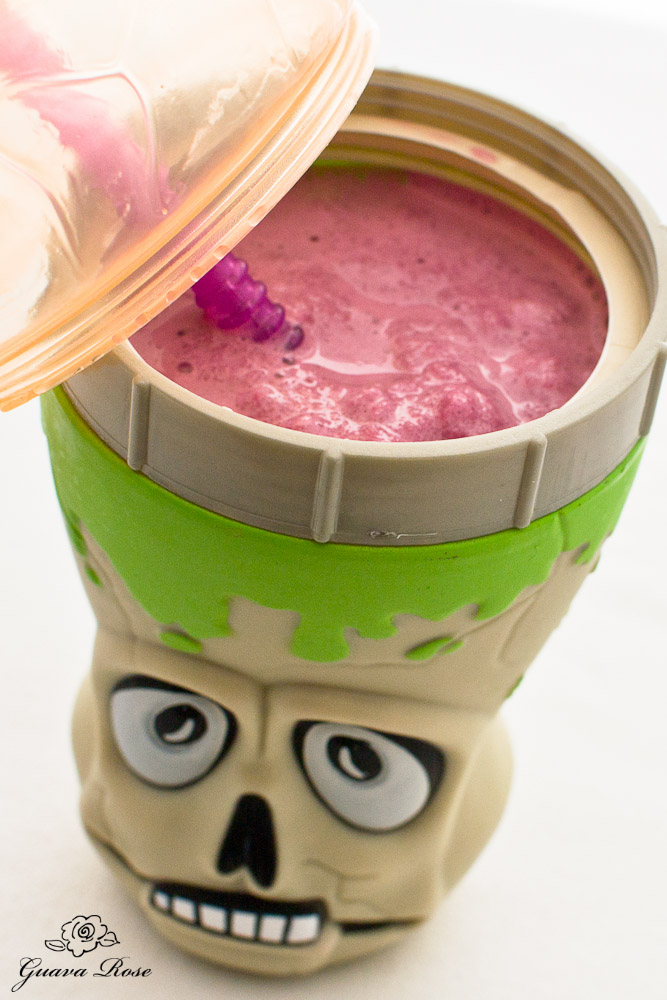 Something cold and refreshing is called for, like this Purple Grape Greek Yogurt Slushie,
Or even an Ice Cream Slushie.
Frankenzombie here is filled with a Passion Orange Slushie (per the Blue D's request).
As long as it's blended with ice, it will be perfect to give your recipient a brain freeze.
<cue spooky music>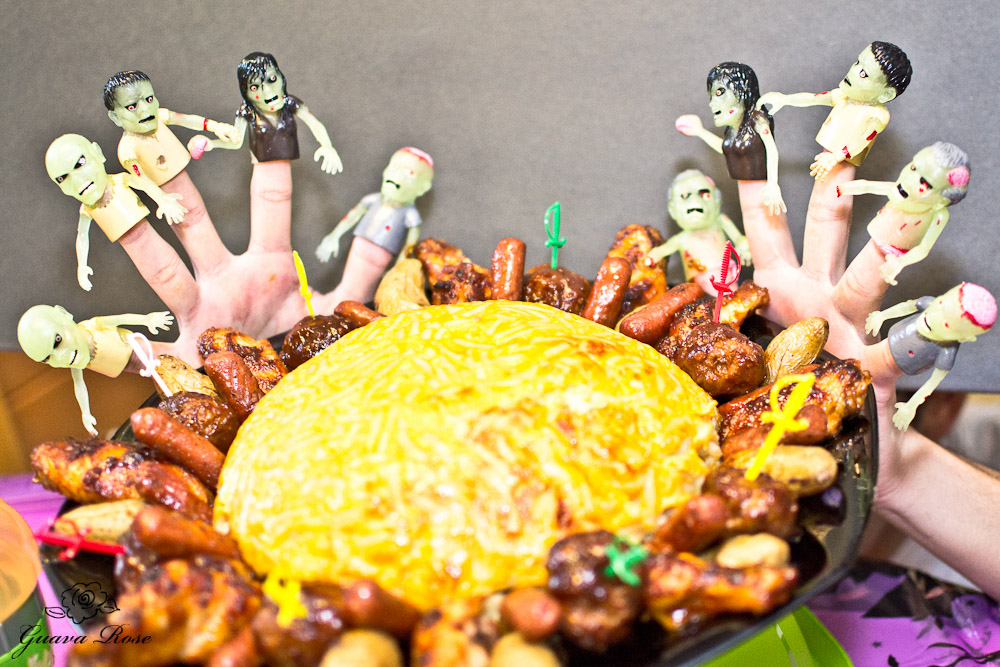 BOO!  Happy Halloween!
(P.S. that's Cole here, who you can glimpse crouching on the bottom corner, donating the use of his fingers) 🙂
Zombie Mac and Cheese Brain
Simple macaroni and cheese baked in a bowl.
Ingredients
2 (6 to 7oz each) boxes of macaroni and cheese mix
1- 12 oz can lowfat evaporated milk
3 large eggs
½ c. shredded asiago, romano or parmesan cheese
Instructions
Combine dry pasta from both boxes and boil for half the time recommended. Drain.
Preheat oven to 350 degrees. Spray a 2-1/2 qt. glass or ovenproof mixing bowl with nonstick spray. Line the bowl with foil and now spray the foil with nonstick spray.
Rinse out the cooking pot with cold water to cool the pot. Pour in milk, Add eggs and the contents of both cheese powder packets. Whisk together well. Add cooked macaroni, and shredded cheese. Stir to mix evenly. Pour into the prepared bowl.
Bake for 40-45 minutes, until it is firm and set. You can test this by placing a butter knife in the center and pushing the pasta to see if there is still any unset liquid.
Remove from oven and let set 10-15 minutes before turning the bowl over onto a serving plate. Carefully remove the bowl first, then peel off the foil.
Optional: Garnish around the brain with meatballs skewered with plastic swords, little smokie sausages, and chicken wings.
Shared on 
Show and Tell Saturday
, 
Sweet Saturday
, 
Pity Party
, 
Weekend Wrap Up Party
, 
Anything Goes Linky
, 
Sundae Scoop
.