Happy Chinese New Year! Welcome Lunar Year 4710, the Year of the Dragon.
This year I wanted to have the Chinese candy box called the Tray of Togetherness.  Usually round or octagonal in shape, it has six or eight sections that contain candied fruits, nuts, and sweets.
Typical items include candied fruit and vegetables (tong go) like winter melon, lotus root, lotus seeds, water chestnuts, carrots, coconut strips, peanuts, black and dyed red watermelon seeds, and sesame seed candy. Each sweet has a different symbolic meaning.  For instance, coconut represents unity, lotus root symbolizes marital harmony while the lotus seeds reflect fertility, ginger and peanuts both mean longevity, water chestnuts and pineapple are great achievements, and red melon seeds mean happiness.
For some great pictures and descriptions of Honolulu's Chinese New Year celebrations and traditions, check out Melissa's post on her Urban Mix Plate blog at Nonstop Honolulu.
So I went to three different local Asian stores, and they all sold trays that looked something like this, and also  packets of the individual sweets.
All of these filled plastic containers are imported from Asia.
Here from the bottom left are candied lotus root, ginger, soursop candy, lotus seeds, more lotus root, winter melon strips, tamarind candy, and sesame candy. None of it tasted very good. I remember the quality being much, much better a long time ago in Hawaii.
Here was something a little better, and made locally here in California.
No preservatives or food coloring– a plus.  So many dried fruits have food coloring added!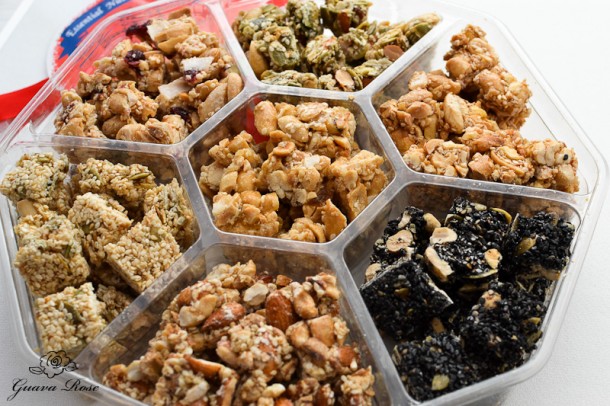 This tasted much better. I thought though, that it kind of looked like a lot of granola bars diced up.
With so many kids being allergic to nuts, this type of tray didn't offer any options, and wasn't very versatile. Filling up my own tray would be better.
I did an internet search to look for a candy tray to buy, but turned up with nothing.  No lacquer, wood, or plastic trays to be found. Out of the three stores that I went to, only one had three trays for sale. They all were a dark plastic with rather unattractive designs.
Disappointment. Oh well, I really didn't want to drive around anymore looking for a tray, and I didn't want to even consider driving to San Francisco for one.
I could just empty out the trays I bought and reuse them, but then I thought, "Why don't I just make one?"
A prettier one. This is what I did.
I found an 11 inch red frisbee and a 10 inch red bowl at the dollar store.
I bought some lucky red envelopes for li see.  These are to put money in as a gift.
The far left is for New Year's, and the middle and right ones are for any occasion– they just mean good luck.
At New Year's, li see is usually given by married adults to children and unmarried young adults only.
Did you know that even Mickey Mouse, the Disney princesses, Winnie the Pooh, and Hello Kitty celebrate Chinese New Year and give li see?
Actually these envelopes all mean good luck, so they can be used for any occasion.
Heck, even the Angry Birds have flown into the scene!
I chose the "Luck" red envelope to decorate with so I could use my tray year round if I wanted to.
I cut the word character and the flowers out from six envelopes. They came in a pack of 6 for 99cents at the Asian store, but you can easily buy these online, or maybe even download some graphics.
Modge Podge is a glue that acts as a sealer. It's typically used for decoupage. Any craft store will carry it.
I have read of some people using thinned down regular white glue (not washable glue) in place of Modge Podge, but I haven't tried it myself.  The glue needs to dry clear, so if you decide to go this route, you will want to do a test first.
Cover the backs of the cut outs with Modge Podge.
Turn the bowl over upside down to form the top lid and place the cut outs where you want them.
Sometimes they'll curl up a little, depending on the type of paper the red envelopes are made from.  Just keep patting them down and put more Modge Podge if necessary.
If you're lucky enough find some nice stickers, you can just stick them on and continue with the next step.
Once you've placed all the decorations, paint over the tops with Modge Podge.
Let it dry.
Now cover the entire bowl with Modge Podge.
Modge Podge comes in matte, shiny, and sparkle finish. Earlier I used the matte finish to glue down the decorations. Here I used the sparkle finish to brighten it up.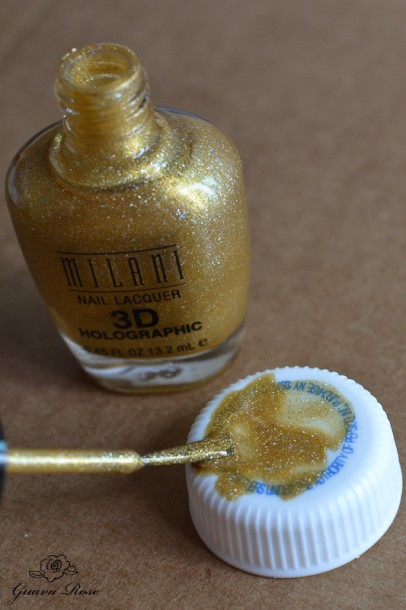 We'll need a little knob on top for the lid.
A water bottle cap or 2 liter soda bottle cap is the perfect size.
Red and gold are the Chinese celebration and good luck colors. A yellow cap would do, but a gold cap is better! I raided the girls' nail polish and painted the cap gold. Clear, white or yellow caps will result in the brightest gold painted caps.
Use a hot glue gun to attach the knob to the top, and to attach a string of gold beads around the edge of the bowl.
I used one gold beaded necklace from an 8 pack (located in the Mardi Gras section of the dollar store).
Now for the inside. The middle section container is a craft plastic custard cup I already had a package of.
I used two different containers for the sweets– 3 oz. SOLO brand orange plastic cups (Target store), and mini plastic 4 oz. containers that came in a 4 pack (sometimes found in the dollar section of drug stores like CVS/Long's and Rite Aid, or Daiso Japanese dollar stores).
The main consideration is that the middle bowl with the eight containers around it in a circle need to fit under the dome. So this depends on what size bowl you use. Most any type of platter or plate will work for the bottom.
Dollar store 9-1/2″ gold doily– one sheet from an 8 pack.
Here's the candy container with the clear plastic cups.
And here's the candy container with the orange cups. The orange looks so pretty. It seems to match the theme of oranges and tangerines for Chinese New Year. Sometimes small tangerines with leaves still attached (representing long lasting relationships) are put in the middle.
For the sweets:
(Left) Dried pineapple sweetened with sugar, and sulfur dioxide added to preserve color.
(Middle) Freeze dried pineapple. Only ingredient is pineapple.
(Right) Dried pineapple sweetened with evaporated cane juice.
I'll use the dried pineapple sweetened with evaporated cane juice.  I think the darker color is fine without the sulfur dioxide. The freeze dried pineapple would be okay too, but it's not too pretty. Some of the fruits should have a little sugar too, because it's traditional to put a piece into your teacup to sweeten the tea. Not the whole pineapple ring though. I'll probably cut those into pieces.
(Left) Dried Turkish Apricots, unsweetened, with sulfur dioxide added to preserve color.
(Right) Dried California Apricots, unsweetened, with sulfur dioxide added to preserve color.
I couldn't bring myself to buy the unsulfured apricots– they were the color of black coffee. Although the apricots from Turkey look plumper and juicier, I have to go with the local California ones.  They've travelled much less and surprisingly are a burst of natural color and flavor. Unfortunately so many dried fruits do contain artificial colors, and sometimes even artificial flavorings.
(Left) Sugared Ginger Slices contain ginger and sugar only, product of China. I only showed the box because it's a pretty well known national brand easily found in grocery stores.
(Right) Candied ginger from the bulk bins in the natural foods section of the grocery store.  Made with ginger and evaporated cane juice. The country of origin for ginger was not listed, but my guess is China.
Either one of these would be fine. A lovely choice to add to hot tea.
Anything sweet, and bright red or gold fits in perfectly. Milk chocolate Lindt truffles, red foil wrapped chocolate peanut butter cups, and red&gold foil wrapped chocolate almond kisses. These are so easy to find with all the Valentine's Day candies out on display.
Mini chocolate wafer cookies– I haven't met a kid who doesn't like these.
I particularly love Blue Diamond brand Cocoa dusted almonds. These are sweetened lightly with stevia. All other cocoa almonds I've seen use sugar and/or artificial sweeteners like sucralose (Splenda) and acesulfame potassium. These are made in our very own city. I'm not sure why sometimes this flavor is a little hard to find. I've had luck finding them at some Target and some Walgreens stores.
If you're trying to avoid any additives at all, freeze dried fruit are the winners. They are available at Target, Trader Joe's, and often in the produce section of major grocery stores.
Although at times a little tart, they maintain attractive, vibrant colors. Overall, a nice balance to the other treats.
I know the whole idea of the candy box is to have some sweetness in life and the New Year, but I don't think everything has to be super sweet. Especially if you and your children celebrate the whole two weeks of Chinese New Year, you'll want to have some reasonable options.
Here are a dozen of my picks for my candy box, a combination of fruits, nuts, seeds, roundness and sweetness.
Top row (left to right): California Dried Apricots, Freeze Dried Peach Slices, Cocoa Almonds, Lindt Milk Chocolate Truffles.
Middle row (left to right): Dried Pineapple, Cherry Almond Cookie Bites, Candied Ginger, Sesame Ginger Puffed Rice Crunch.
Bottom row (left to right): Freeze Dried Strawberries and Raspberries, Mini Chocolate Wafer Cookies, Reeses Peanut Butter Cups and Hershey's Chocolate Almond Kisses, Mini Coconut Pineapple Macaroons.
The small, clear containers fit a little easier since they were lower and flatter.
I'll share my recipe for the sesame ginger puffed rice crunch soon. I make it with brown rice syrup instead of corn syrup.
Here are the orange cups all filled up.
Some people leave the middle section empty for adult guests to leave a li see in after they have served themselves some sweets. We'll just keep ours filled with chocolates.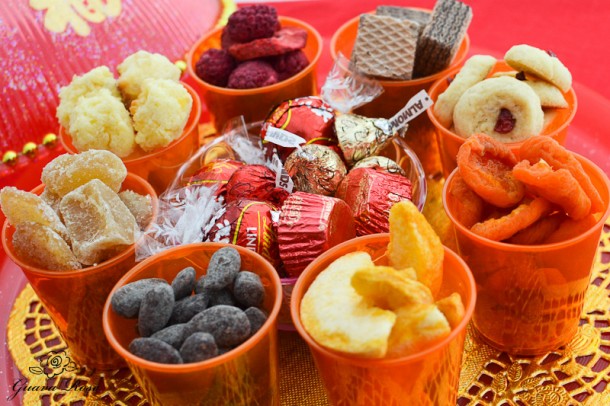 Cherry Almond Cookie Bites and Mini Coconut Pineapple Macaroons…mmm….I'll share those recipes too.
Kung Hee Fat Choy (as they say in Hawaii) or Gung Hay Fat Choy (as they say here)! May your inner dragon roar this year.