Animal Cracker Angels and Peppermint Roses
by
Lori
on
Dec 21, 2012
•
6:00 am
4 Comments
This post is dedicated to those who lost their lives at Sandy Hook Elementary School in Newtown, Connecticut last Friday. Dorothy from Crazy for Crust is part of a group of bloggers who have organized a #BloggersforSandyHook online Cookies and Craft event to show support for the Newtown community. 
My heart broke as news of the shooting blared across my television screen– 20 children, shot to death, all 6 to 7 year old first graders.
At that age, these were the kind of snacks my kids loved.
Lions and tigers, teddy bears and bunnies… important things little children are concerned about.
These innocent children, now little angels.
Sweet candy angels in their memory seem appropriate.
Candy Melts or Candy Coating are much easier to use than melted chocolate chips when filling candy molds. Just melt the Candy Melts in the microwave according to the package instructions, and fill the molds (these angels are 3-1/2″ x 4-1/2″).
Tray of Happiness: Flower sprinkles, mini marshmallows, mini M&M's, mini chocolate chips, confetti sprinkles, candy bead sprinkles
Wherever there are kids, you gotta have sprinkles.
Fill the angels with white chocolate, then lift up the mold a couple of inches and let it drop back down to the table. Do this a few times to get rid of the air bubbles on the bottom, otherwise you'll have tiny air bubbles on the front of the angels.
Press one animal cracker onto each angel back and decorate with candies and sprinkles– something to make a child smile.
Chill for 15 minutes in the freezer or 30 minutes in the refrigerator before carefully unmolding.
I read that one little boy loved animals.
What do you think was his favorite animal?
Was it a monkey, or an elephant, or a hippo, or maybe just some soft, furry bunnies?
And then there were the 6 brave women who tried to protect all the children.
Roses, I thought, pink roses for them.
Crushed candy canes and mini Oreo cookies
Let's fill the roses with something bright and sweet, and a little bite of chocolate– they were women after all.
We all know women need chocolate.
Mix some of the crushed candy canes into the melted pink candy melts.
Fill the rose molds half full, press one mini oreo cookie into the center, cover with more melted candy and sprinkle with additional crushed candy canes if you want.
Like the angel candy, lift up the mold and let it drop to the table a few times to release as many of the air bubbles as possible.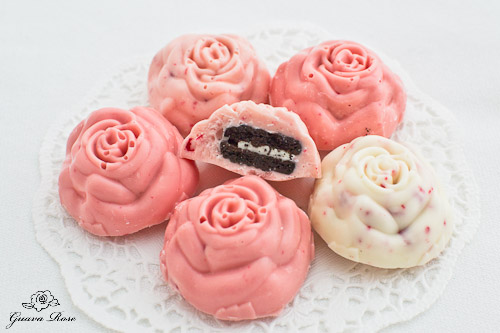 Chill for 15 minutes in the freezer or 30 minutes in the refrigerator, then unmold.
When you think about it, so many teachers and school staff nurture and protect our children.
They continue to do so year after year — before, during, and after tragic events such as this.
Thank you to all of you out there.
20 little angels and 6 peppermint roses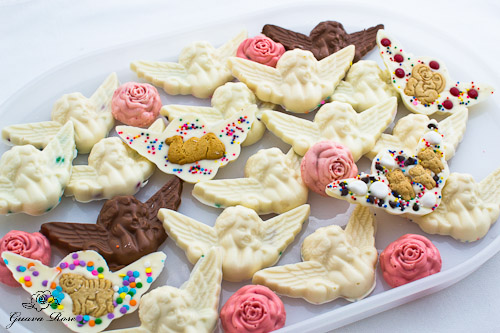 Babies, I hope you are all playing up in Heaven.
Animal Cracker Angel resting on two peppermint roses
For something a little less sugary, dried fruits and nuts make good additions.
If you don't have candy molds, just use the same ingredients to make Animal Cracker Fudge.
Simply melt together a little butter, a bag of white chocolate chips (chopped white candy coating would work too), and a bag of mini marshmallows.
Mix in 1-1/2 c. mini teddy grahams or animal cracker pieces, and 1-1/2 c. nuts, small candies, or dried fruit (or a combination of). Pat down into a 8″ x 8″ pan that has been lined with foil and sprayed with nonstick spray.
Press whole animal crackers in evenly spaced rows on top. Scatter a variety of sprinkles over the top.
Press lightly down to make sure everything sticks. Chill for 1-2 hours until firm.
Lift up the fudge, foil and all, out of the pan.
Peel off the foil.
Cut fudge into rectangles, with one whole large animal, or a few small animals atop each piece.
Animal Cracker Fudge
Happy, happy animals.
Animal Cracker Fudge filled with mini teddy grahams, pistachios, cranberries, and mini M&M's.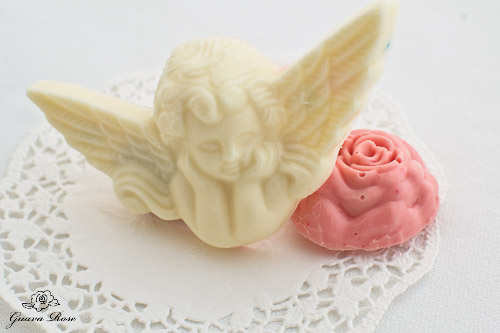 Our thoughts and prayers are with you, Newtown.
If you would like to help, check out Newtown Youth & Family Services, or the National PTA association has sent out a call for people to mail in paper snowflakes to greet the Sandy Hook students in their new building when they return to school. The deadline is January 12, 2013.
Animal Cracker Fudge
Serves:
15 or more pieces
Ingredients
3 T. butter
12 oz. bag (vanilla) white chocolate chips
10 oz. bag mini marshmallows
1-1/2 c. animal cracker pieces
1-1/2 c. chopped nuts, dried fruit, mini M&M's (or combination of)
Whole animal crackers
Sprinkles and/or other small candies
Instructions
Line a 8"x8" pan with foil. Spray foil with nonstick spray. Set aside.
Fill a large pot a little over halfway full of water. Cover, turn the heat on high and bring water to a boil.
Place butter and chocolate chips into a large mixing bowl. Open lid of pot and place the mixing bowl over the boiling water so it is able to rest on top of the pot. The water should touch the bottom of the bowl, but not sputter up the sides of the pot (you don't want water to get in the bowl). Pour out some water if you need to. Turn heat down to medium high. Stir chocolate occasionally with a rubber spatula until the chips are melted.
Stir in the marshmallows. Carefully lift up the bowl and place in the microwave for 1 minute on high.
Replace bowl back onto the pot of simmering water. Stir the melted marshmallows and melted chocolate chips together, then mix in the animal cracker pieces and nuts. Having the bowl over the hot water helps to keep the mixture soft enough while you mix everything in.
Pour into the prepared pan and pat mixture down evenly with the rubber spatula. Press whole animal crackers in rows on top of the fudge. Scatter sprinkles and candies, pressing them down to stick. Chill for 1-2 hours until firm.
Remove fudge from pan by lifting up the foil. Peel off foil. Cut fudge into pieces, with one whole animal atop each piece. Store in an airtight container.
Variations: Use semi-sweet or milk chocolate chips; chopped oreos, peanut butter sandwich cookies, or graham crackers to mix into fudge instead of animal cracker pieces.