Tis the time of year for slushies, slushies, slushies! We've already had some near 100 degree days here, and more are certain to come.
If you've been reading my blog for a while, you know how we love slushies here, especially Ice Cream Slushies.
But what if you upgrade the scoop of vanilla ice cream to ice cream sandwiches or even mochi ice cream?
Kitchen Sink Toppings: Diced Ice Cream Sandwiches and Diced Mochi Ice Cream
Splendid results! Just dice them up like toppings.
This started a mad search through my pantry and freezer for more toppings!


Kitchen Sink Toppings:  Upper Row: Mini Chocolate Wafer Cookies, Vanilla and Chocolate Macarons, Toffee Pieces
Lower Row: Diced Frozen Cheesecake, Diced Frozen Brownies, Sliced Almonds
I usually keep a few brownies in my freezer, especially to have on hand to throw together some Leopard Mochi.
Freeze that last piece of cheesecake instead of eating it, and you'll be able to dice it up for a topping in no time.
The macarons were bought frozen from Trader Joe's. I only like the combination chocolate and vanilla box- the fruit variety box are not as good. They are inexpensive enough that I don't mind throwing one on top of a slushie.
Most any kind of cookies, cakes, candies and nuts will do.

Kitchen Sink Toppings: Organic Gummy Candies, Haupia Gels, Hibiscus Tea Gels
I like to call these "gellies". The haupia and hibiscus tea gels are really the only topping that you need to make ahead of time. You could use store bought jello, but then it becomes hard to avoid artificial colors and additives.
My kids accuse me of not making these sweet enough, so use your choice of sweetener to adjust them as sweet as you like.


Kitchen Sink Toppings: Fresh or Canned Fruit
I like to have different shapes to make it more interesting.
The round shapes (blueberries, grape halves, raspberries) can almost mimic the look of boba (tapioca pearls). In fact, prepared tapioca pearls in syrup would be lovely in the slushies, but I was trying to avoid the preparation required, not to mention the unneeded extra carbs. (Yup, I know, I know… there are already a lot of carbs involved here!)

Lemon Slushie with Haupia Gels, Hibiscus Tea Gels, and Diced Kiwi
Let's take a look at some Kitchen Sink Slushies~


Haupia Slushie with Strawberries, Raspberries, and Chocolate Mochi Ice Cream
You get a two for one with mochi ice cream– one mochi ice cream can take the place of a scoop of ice cream + mochi bits.
It's better to dice the mochi ice cream right before placing it on the slushie rather than dice up a bunch of mochi ice cream ahead of time. If you have a few flavors, you could let each person pick their own flavor.


Haupia Slushie with Frozen Brownie Bites and Fresh Strawberries
No one complained testing these out.
This one was really good.

Grape Greek Yogurt Slushie with Strawberries, Raspberries, Frozen Cheesecake Bites, Diced Strawberry Mochi, and Green Grapes
Some like a few more toppings…

Cranberry-Raspberry Greek Yogurt Slushie with Strawberries, Hibiscus Tea Gels, Frozen Brownie Bites, Sliced Almonds, Mini Chocolate Wafer Cookies, Diced Kiwi, Diced Ice Cream Sandwich, and Toffee Pieces
And some like to pile on even more…

Kitchen Sink Toppings- What would you choose?
This is good way to clean out your pantry and freezer– thus the "everything but the kitchen sink" theme.
It's also a lot of fun for everyone to choose their toppings and create their own slushie.
It is inevitable though, when you put out a display of toppings like this–


Haupia Kitchen Sink Slushie with the Works– Cakes, Cookies, Fruits, Gels, Candies, and Nuts
That one person, usually a kid, will proceed to put every single topping on their slushie like this.
And it still needs the ice cream part!


Sweetened condensed milk is a traditional Hawaiian Shave Ice topping, and also seen drizzled over a lot of Asian style shaved ice desserts.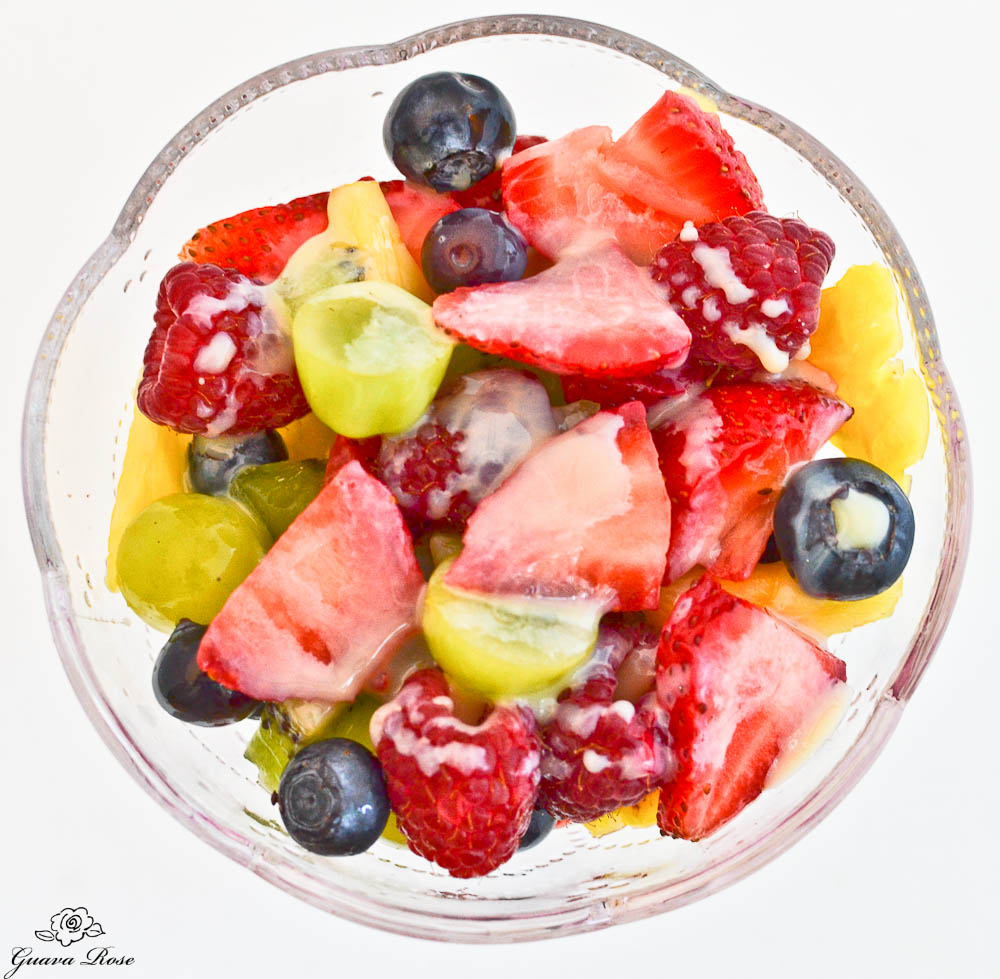 It's perfect drizzled over fresh fruit, especially if the fruit is very tart.
And lately a lot of the organic fruit I've been getting has been very tart. Fresh fruit drizzled with a tiny bit of sweetened condensed milk is probably my favorite topping.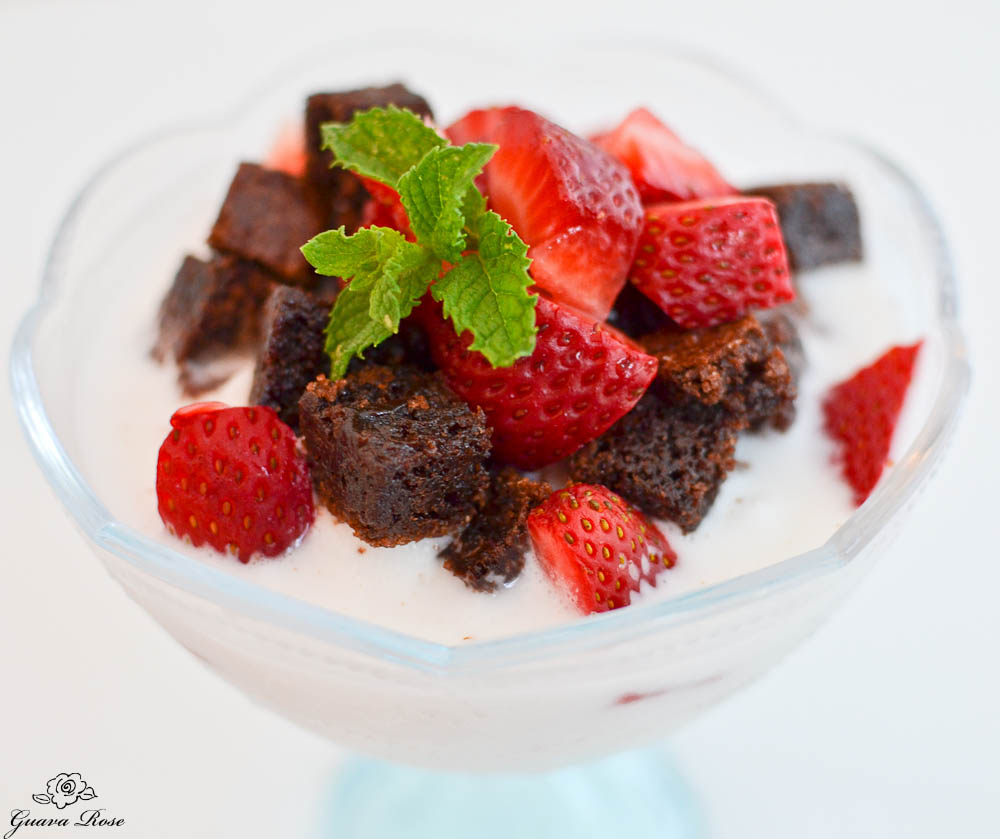 Want to give it a try?
Keep cool this summer and have fun with some Kitchen Sink Slushies!