Remember my Peach Rooibos Almond Float? Well, this is my newest favorite:  Good Karma's Vanilla Flax Milk poured over tea gels.
It's so refreshing and filled with good stuff for you!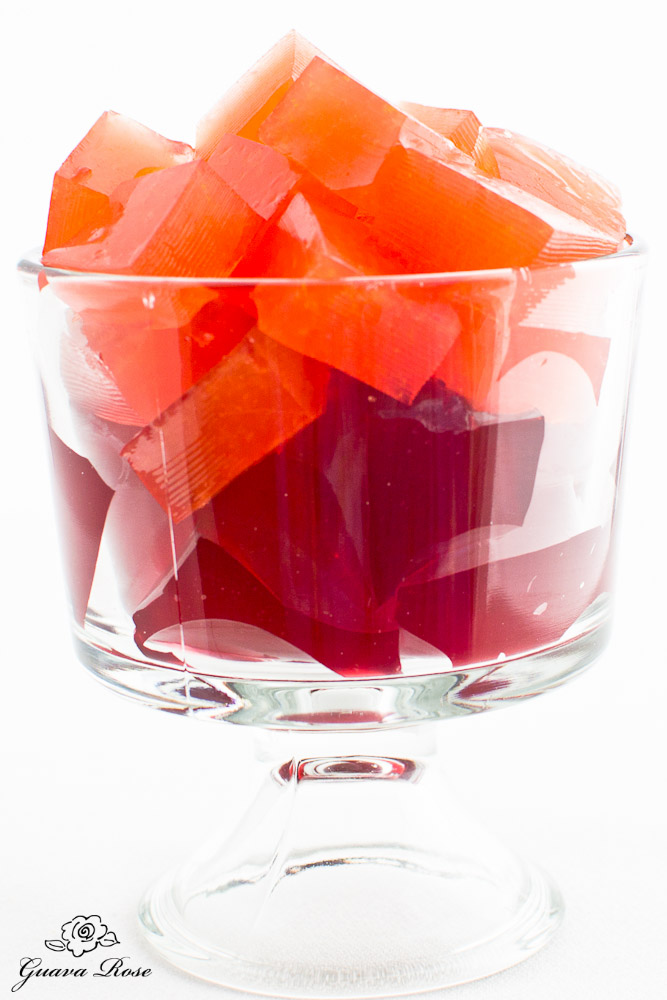 Start off by melting in some unflavored gelatin or agar agar powder into some hibiscus tea, Tangerine Hibiscus Tea Juice, or any other lightly sweetened tea.
I like my gels really firm, so I use 1 T. gelatin per cup of liquid. You can decrease that down to 2 tsp. gelatin per cup of liquid if you don't like it so firm.
Chill until well set, and cut into cubes.
Place some gel cubes into a glass, then fill it up with vanilla flax milk. That's it, and so delicious!
So say you use 1 cup of tea gels (sweetened with 2 tsp. of sugar or honey), and add 1 cup of vanilla flax milk– you've got a nice treat for only about 100 calories, and it's a good source of calcium and omega 3 fats, as well as being lactose/dairy free, gluten free, and soy free. Pretty nice!
Good Karma brand is the best tasting Flax milk I've ever tasted. This one's in a refrigerated carton, but they do sell flax milk in shelf stable boxes too. I haven't tasted those, but I  imagine they would taste similarly good.
According to their website, they have a new flax milk with pea protein added.  A non dairy milk with added protein, calcium, and omega 3's with only 50 calories per cup sounds almost too good to be true! I hope I see it in the  grocery stores soon (I got my Vanilla Flax Milk at Bel Air) so I can try it.
By the way, if you "like" their facebook page, you can print out a coupon for 55 cents off a carton of unsweetened or vanilla flax milk.


In the meantime, I encourage you to try out this refreshing treat!

Vanilla Flax Milk Float with Hibiscus Tea Gels
Cool and refreshing
Ingredients
Gels:
6 c. strong hibiscus or raspberry tea
¼ c. sugar or honey, or to taste
6 T. unflavored gelatin or powdered agar agar
6 c. Good Karma Vanilla Flax Milk
Instructions
Place tea, sugar, and gelatin into a pot and mix together over medium high heat until the gelatin is completely melted in. Pour into a 9" x 13" pan and chill several hours until firm.
Cut into 1" cubes.
Place 1 cup of gel cubes into each of 6 glasses, then pour 1 c. vanilla flax milk over the top of each. Serve with a spoon.
(Note: Prep time does not including chilling time)