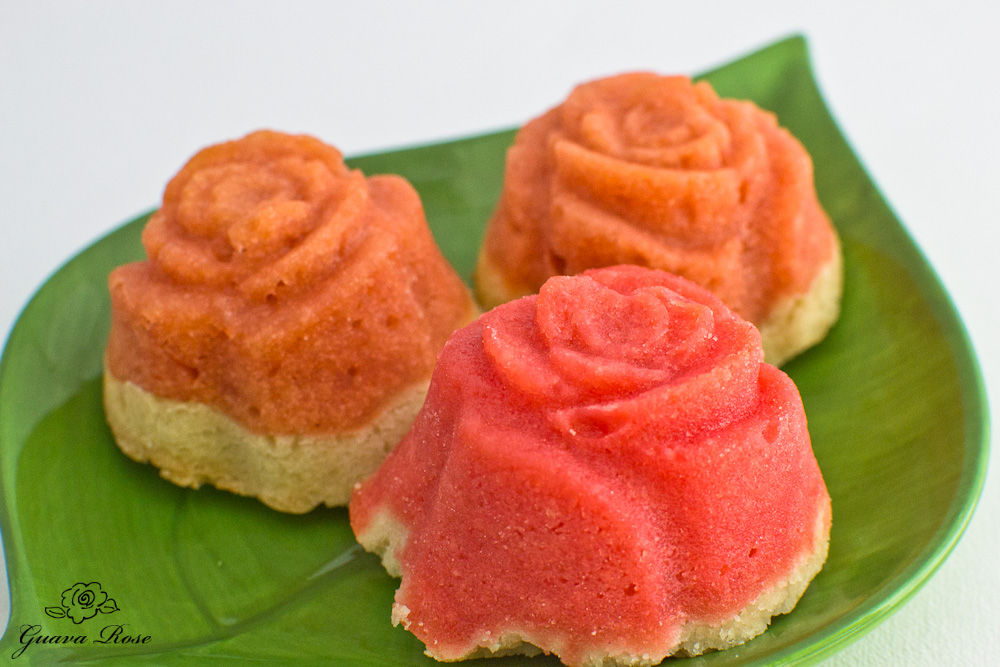 I've been working on these off and on for a while now, and think they're finally ready.
Rose shaped guava mochi atop a buttery shortbread crust.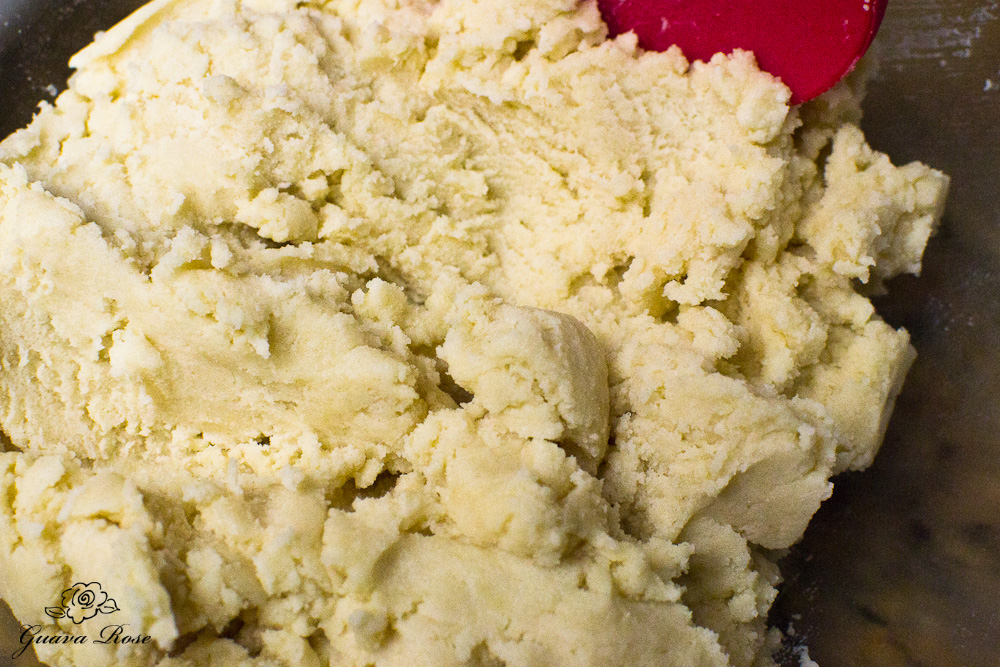 First mix up the dough for the crust with flour, butter and a touch of sugar.
Roll into 3 logs and refrigerate while making the mochi batter.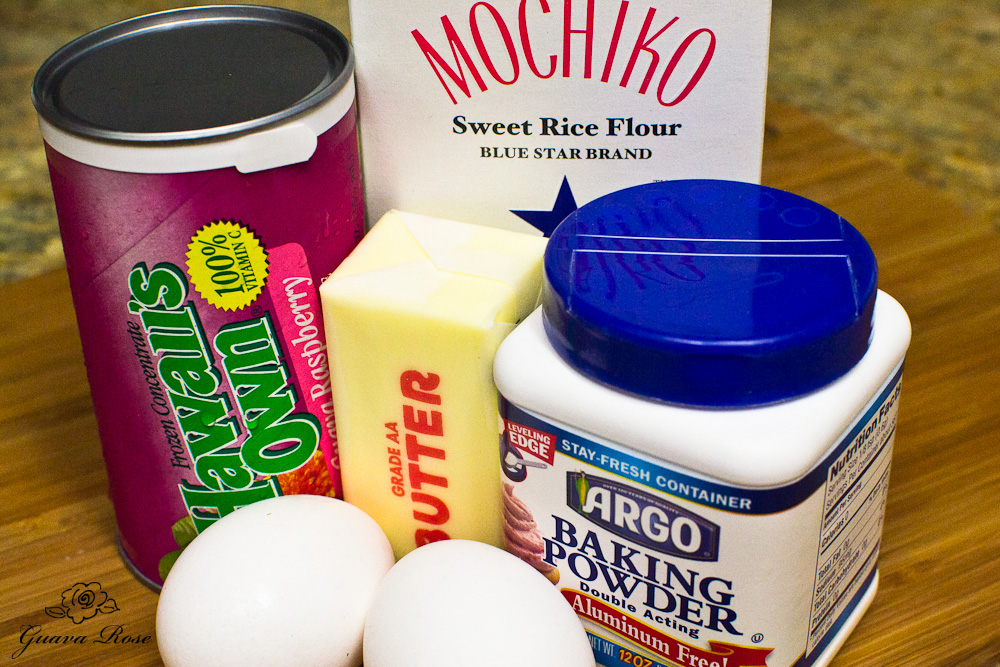 I modified a butter mochi batter, and flavored it with frozen guava or guava-raspberry nectar concentrate.
It may be fun to play with other flavors to make different colored roses.
Just a little butter, sugar, eggs, juice concentrate, water, vanilla, mochiko and baking powder.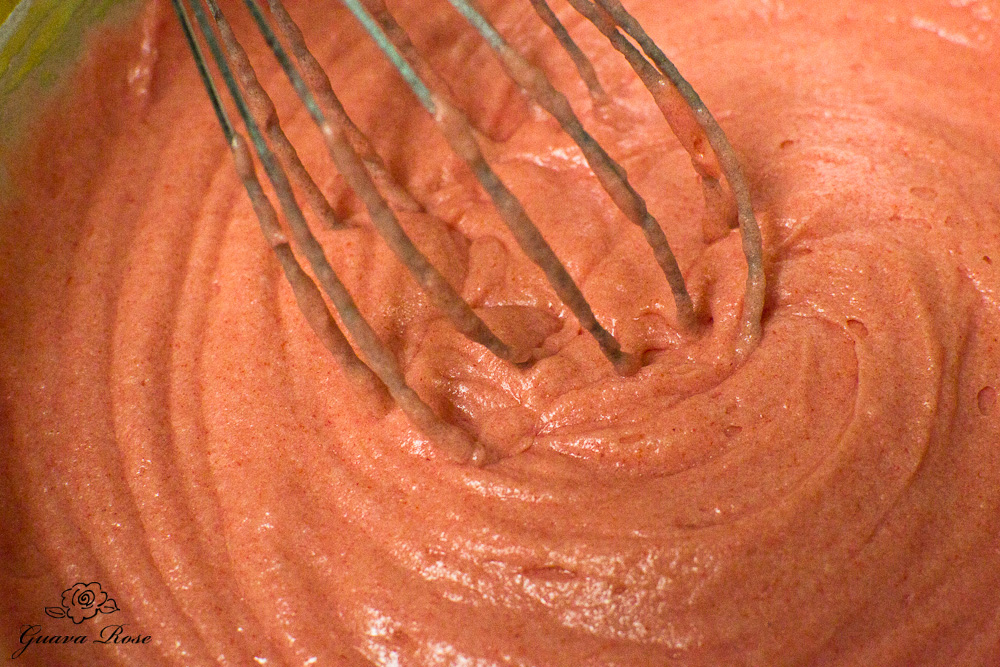 Whisk until blended and smooth.
Although the molded pan above is a combination of roses and mini bundts, you will generally find silicone pans with 6 rose molds. You'll want each cavity to have a 1/3 to 1/2 c. capacity.
Place the silicone rose mold pans onto baking sheets. Spray each cavity with nonstick spray and fill with batter only half way full. Lift the silicone pans up slightly and let them drop down, several times, to get rid of some the bubbles in the batter, especially near to tops of the roses.
Use only silicone pans, not the metal Nordicware type pans. The metal pans will cause the roses to brown too much and lose their pretty color. For regular cakes though, I do prefer the metal pans.
Remove the crust dough from the refrigerator and slice each log into 6 slices.

Flatten out each slice between your fingers, to the approximate size of the cavity opening.

Place the flattened dough on top of the mochi batter, pressing the edges into the sides of the cavity.
Prick the top with a fork a couple of times.
Bake at 350 degrees for about 30 minutes, until mochi is set and the crust is just done.
Remove from the oven, and remove the silicone pans from the baking sheets so the rose tops don't keep cooking and brown. Let cool for 15-20 minutes.
Push up the bottom of each mold to release the tarts. Careful, they'll still be a little hot.
Make sure to grasp the mochi part on each side when pulling the tarts up and out, as the warm crust is fairly delicate.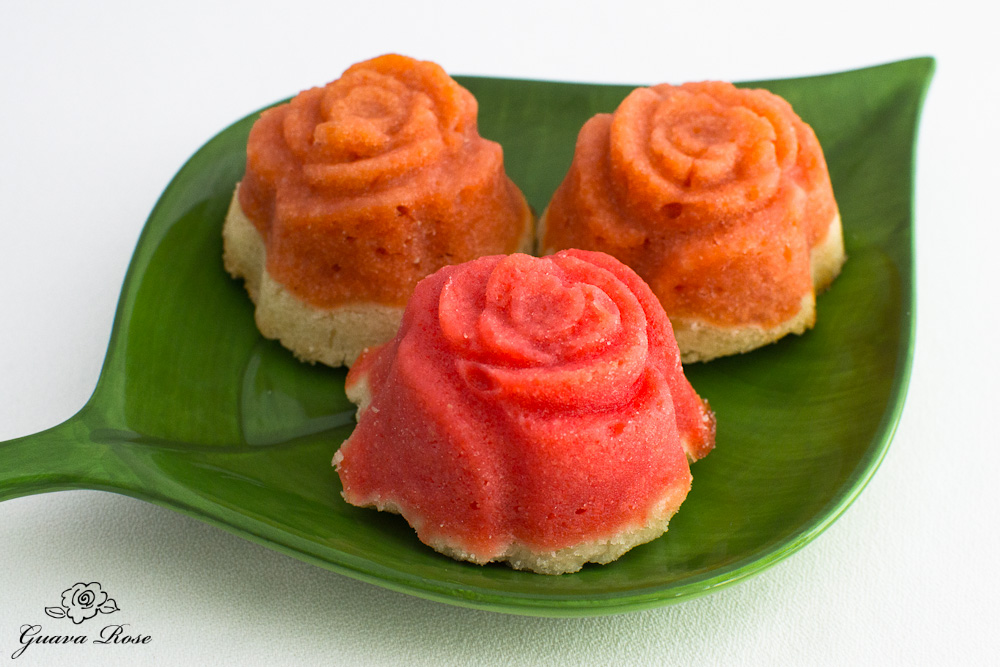 Turn over carefully onto a serving plate and cool completely.
The back two roses are guava, and the front rose is guava-raspberry. The guava seemed to lack flavor, but the guava-raspberry was very flavorful, and had a prettier color.
Ah, guava roses….kinda looks like my logo. What do you think?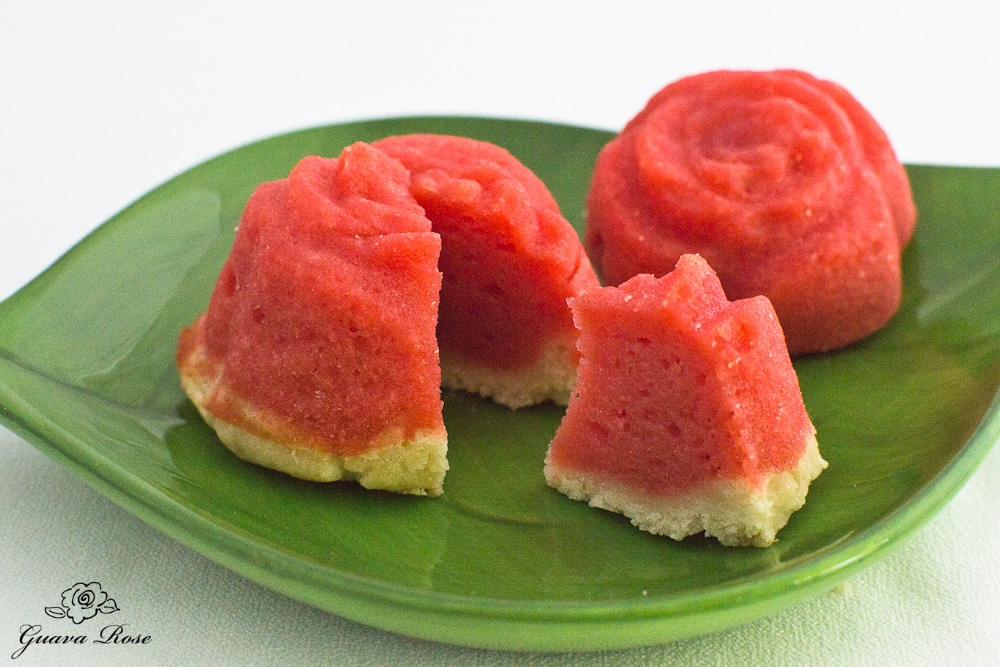 Have a slice, or a whole blossom.
Crustless (in the back) works too.
Some guava roses would be nice to celebrate a Happy Mother's Day!

Sweet mochi flowers with a rich, buttery crust
Ingredients
Filling:
¼ c. butter, melted
½ c. sugar
2 eggs
1-1/2 c. frozen guava-raspberry blended juice beverage concentrate,thawed
½ c. water
½ tsp. vanilla
2 c. mochiko (glutinous rice flour)
2 tsp. baking powder
Crust:
¾ c. salted butter, softened
3 T. sugar
1-1/2 c. flour
Instructions
Preheat oven to 350 degrees.
For crust, whisk flour and sugar together. Work in the butter with your fingers until a dough forms. Roll into three logs about 1-1/2" in diameter. Refrigerate until ready to use.
Whisk together mochiko and baking powder in a medium bowl and set aside.
In a large mixing bowl, whisk together the melted butter and sugar. Next, whisk in eggs, then juice concentrate, water, and vanilla. Slowly add mochiko mixture and whisk until batter is smooth.
Spray 18 silicone rose cupcake molds (1/3-1/2 c. capacity each) with non-stick spray. Fill each cavity about halfway full with batter. Smooth the tops to even out the batter. Lift the molds and gently let them fall down several times to release any airbubbles in the batter. Place silicone mold pans onto baking sheets.
Slice each log of crust dough into 6 even slices. Flatten each slice out with your fingers to enlarge the dough to fit the top of each cupcake cavity. Place on top of the mochi batter, pressing the crust dough flush to the sides of the cavity. Neaten the edges and prick the crust with a fork a couple of times.
Bake for 30-32 minutes, until a toothpick inserted comes out clean, and the crust is just barely done. Remove from oven and take the silicone trays off of the hot baking sheets and put them on a cool surface. Cool 15-20 minutes. Unmold by pushing the bottom of each mold up to release each tart. Remove the tart by grasping and pulling up the mochi part, not the delicate crust part. Carefully turn over onto a serving plate and cool completely. Cover to store.
Note: Use silicone molds only. Metal molded pans will make the mochi brown too much.