Several days ago, I was delighted with the sight of different colored beets, piled high on the tables at the farmer's market.
Vibrant colors of pink, orange, and deep, deep red mesmerized me.
I couldn't resist, and found myself grabbing a bunch of each color.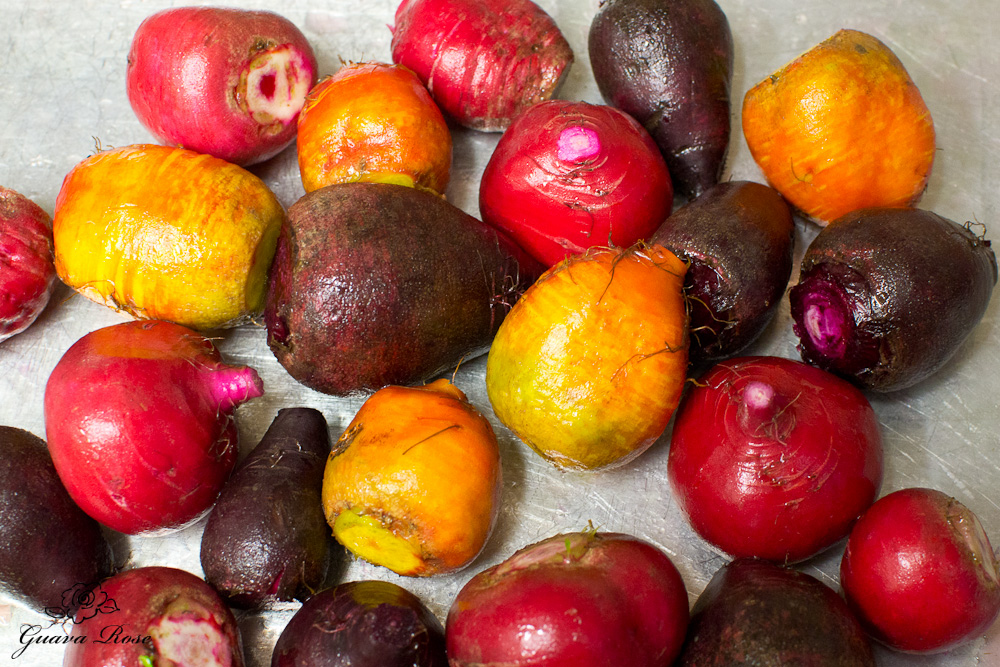 After I cleaned and trimmed them, I roasted them to bring out their sweetness even more. Be sure to save the nutritious leafy greens. Stir-fried or steamed, they taste similar to spinach.
As it takes an hour or more to roast the beets, you may want to bake some other things in the oven at the same time, like a casserole or baked potatoes, to save time and electricity.
Or if you have a small countertop oven, a small batch of beets like this would fit in perfectly.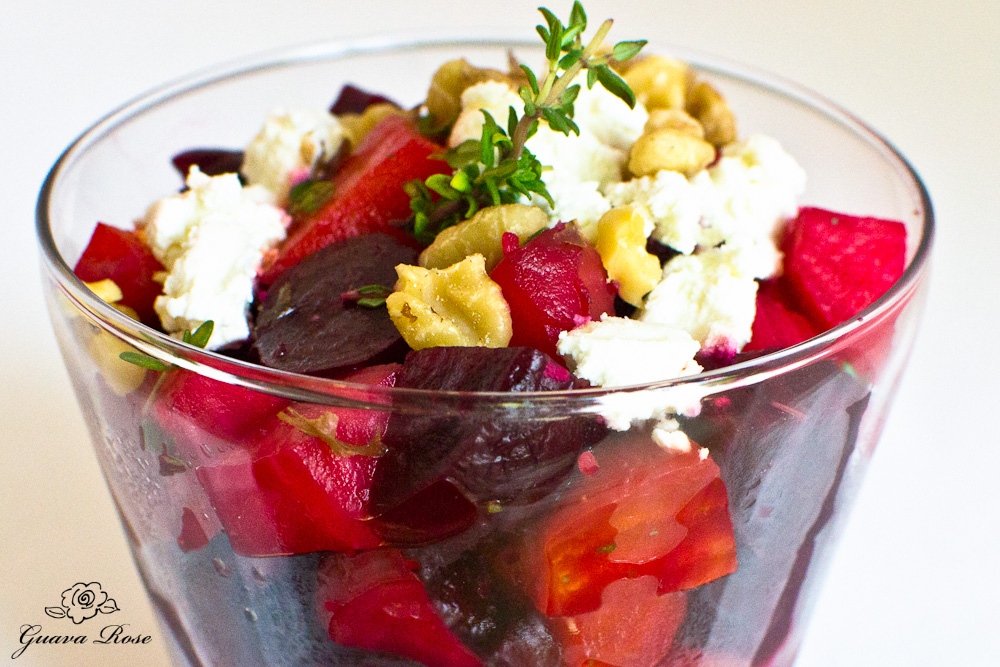 After the beets cool a bit, peel them and cut them up into small chunks.
Toss with olive oil, rice vinegar, orange juice and zest, fresh thyme, salt and pepper.
Top with crumbled goat cheese and toasted walnuts.
Tasty when eaten fresh and lukewarm, but simply refreshing when eaten well chilled on a hot day.

Roasted Beets with Goat Cheese and Walnuts
Fresh beets, roasted sweet, with citrus and savory toppings
Ingredients
1-1/2 lbs. small-medium sized fresh beets, cleaned and trimmed
2 T. olive oil, divided
2 T. rice wine vinegar
3 T. fresh orange juice
Zest of 1 orange, finely grated
1 T. chopped fresh thyme
Sea salt and pepper to taste
4 oz. crumbled goat cheese
½ c. toasted walnuts,chopped
Instructions
Preheat oven to 375 degrees. Place beets on a baking sheet and drizzle with 1 T. oil. Roll the beets around to coat evenly with the oil. Roast for 60-75 minutes, or until tender when pierced. Cool and peel off skin. Cut into small chunks.
Place cut beets into a bowl and toss with the remaining 1 T. oil, vinegar, orange zest, orange juice, thyme, salt and pepper.
Right before serving, top with goat cheese and walnuts.
Serve at room temperature or well chilled.