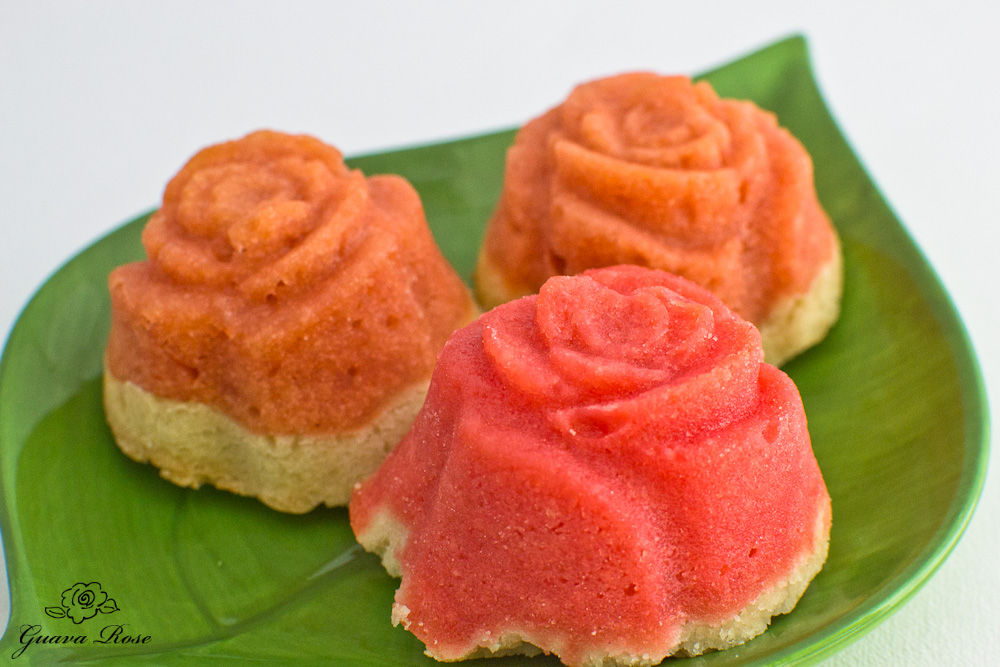 Author: Guava Rose
Sweet mochi flowers with a rich, buttery crust
Filling:
¼ c. butter, melted
½ c. sugar
2 eggs
1-1/2 c. frozen guava-raspberry blended juice beverage concentrate,thawed
½ c. water
½ tsp. vanilla
2 c. mochiko (glutinous rice flour)
2 tsp. baking powder
Crust:
¾ c. salted butter, softened
3 T. sugar
1-1/2 c. flour
Preheat oven to 350 degrees.
For crust, whisk flour and sugar together. Work in the butter with your fingers until a dough forms. Roll into three logs about 1-1/2" in diameter. Refrigerate until ready to use.
Whisk together mochiko and baking powder in a medium bowl and set aside.
In a large mixing bowl, whisk together the melted butter and sugar. Next, whisk in eggs, then juice concentrate, water, and vanilla. Slowly add mochiko mixture and whisk until batter is smooth.
Spray 18 silicone rose cupcake molds (1/3-1/2 c. capacity each) with non-stick spray. Fill each cavity about halfway full with batter. Smooth the tops to even out the batter. Lift the molds and gently let them fall down several times to release any airbubbles in the batter. Place silicone mold pans onto baking sheets.
Slice each log of crust dough into 6 even slices. Flatten each slice out with your fingers to enlarge the dough to fit the top of each cupcake cavity. Place on top of the mochi batter, pressing the crust dough flush to the sides of the cavity. Neaten the edges and prick the crust with a fork a couple of times.
Bake for 30-32 minutes, until a toothpick inserted comes out clean, and the crust is just barely done. Remove from oven and take the silicone trays off of the hot baking sheets and put them on a cool surface. Cool 15-20 minutes. Unmold by pushing the bottom of each mold up to release each tart. Remove the tart by grasping and pulling up the mochi part, not the delicate crust part. Carefully turn over onto a serving plate and cool completely. Cover to store.
Note: Use silicone molds only. Metal molded pans will make the mochi brown too much.
Recipe by
Guava Rose
at http://www.guavarose.com/2012/05/guava-rose-mochi-tarts/