There's a new Saturday farmer's market in town, the Midtown Farmer's Market.
They even have a free valet bike area with someone to watch over all the bikes.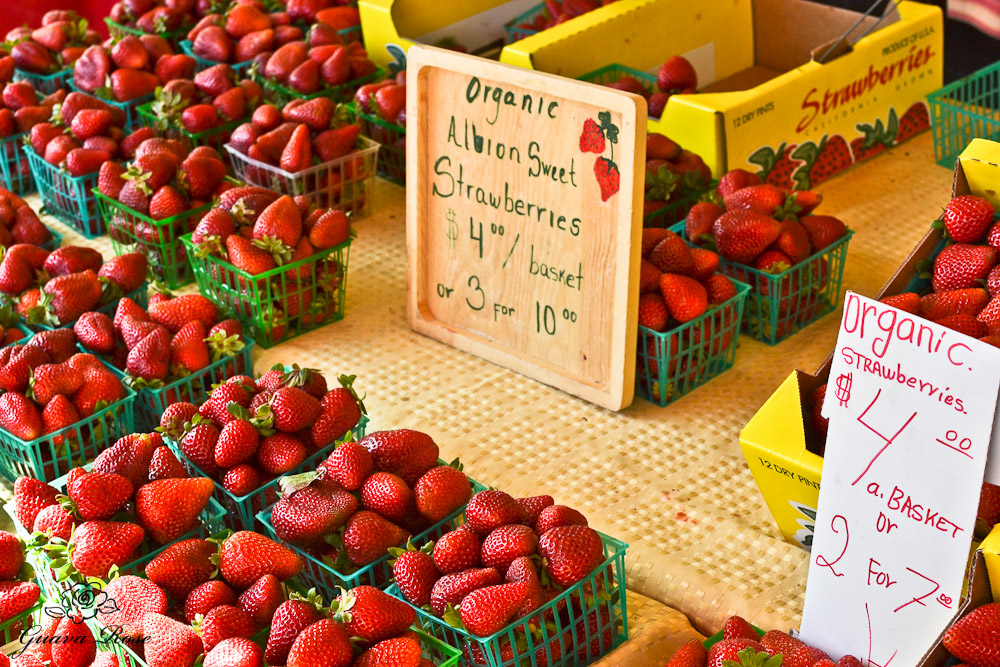 First up, I couldn't resist the offer of a free strawberry sample. They were organic, and very sweet!
Gorgeous carrots and zucchini….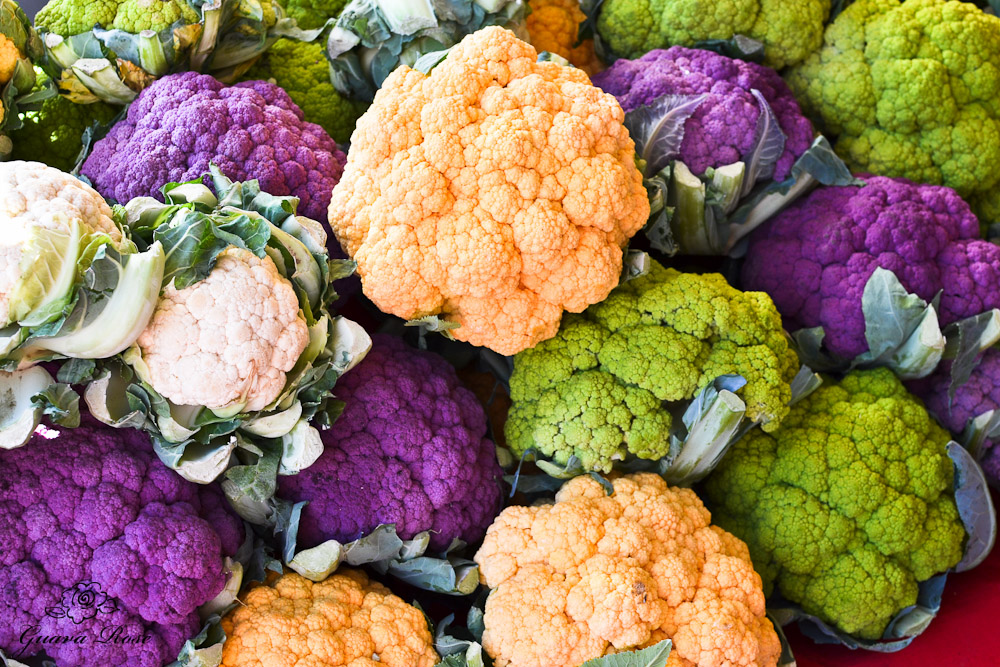 Stunning colored heads of cauliflower, almost too beautiful to eat…
Cashew Cheeses:  Herb, Pesto, Habanero Cilantro Lime, White Cheddar, Smoked Cheddar and Pepper Jack  ($6 per tub or 2 for$10)
I was particularly interested in checking out the Cultured Kitchen.
Their products are fermented and cultured with all kinds of probiotic bacteria.
The cashew cheeses tasted amazing! I bought two flavors– herb and pepper jack. Hard to believe the pepper jack had no cheese in it.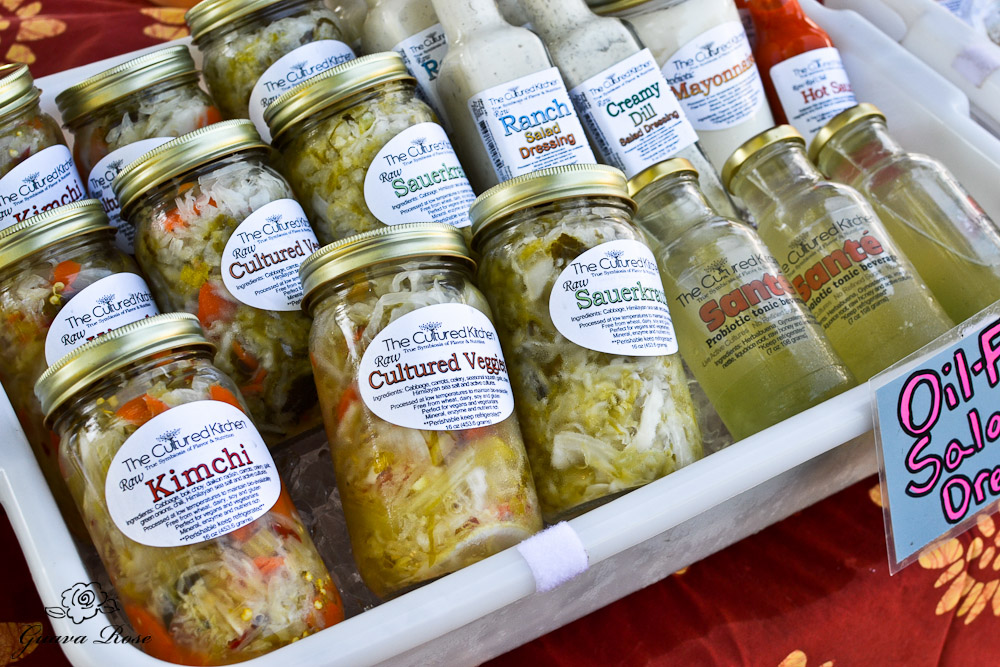 They also had various naturally fermented veggies, dressings, sauces, and even a probiotic tonic.
I'll have to try some of those next time.
Interestingly they also had a vegan, gluten free version of packaged mac and cheese concept, except containing green bean noodles and a powdered cashew cheese mix.
Green Bean Noodles are one of several types of cellophane or glass noodles commonly known as "Long Rice" in Hawaii. They are often used to make the luau staple, Chicken Long Rice.
Then I met Peter Potter Weber of Potter's Crackers. He and his mother started the business together, crafting organic crackers and bread crisps.
He oversees the shop here in Sacramento, and his mother oversees the shop in Wisconsin.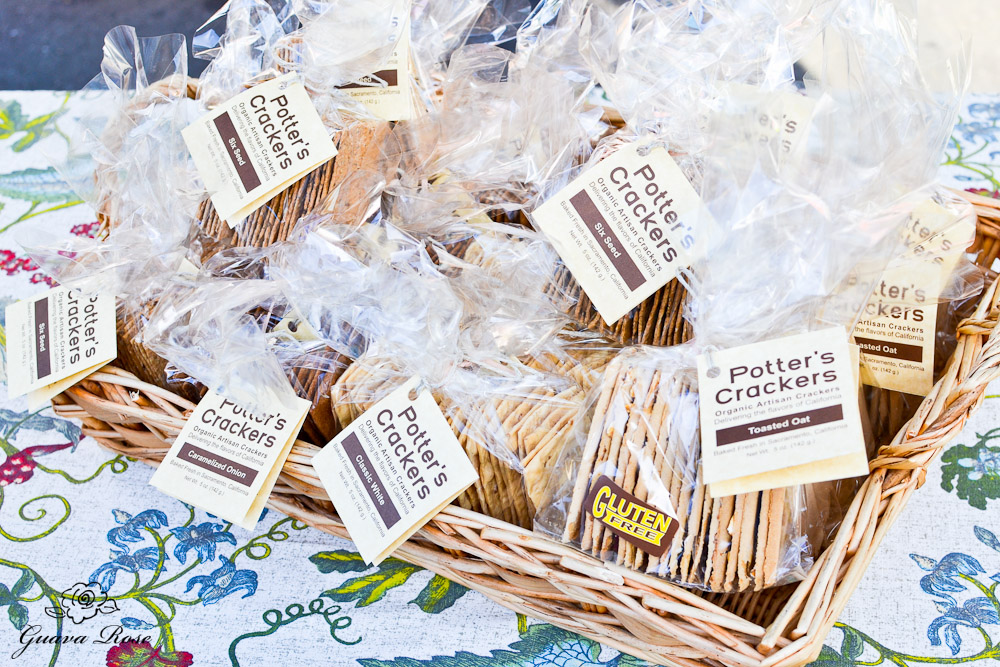 You can really taste the quality in these crackers and crisps.
I even got to try the gluten free toasted oat crackers– so delish. They make their gluten free crackers (toasted oat, and roasted garlic) in a totally separate kitchen from their regular products. That is really important for folks who react to even traces of gluten, like my nephews.
If you've forgotten to bring your own bag, you can easily buy one of these African market baskets.
There were more tents I didn't get a chance to check out this time– organic meats, wild fish, fresh eggs, baked goods, honey, soap… because I was distracted by…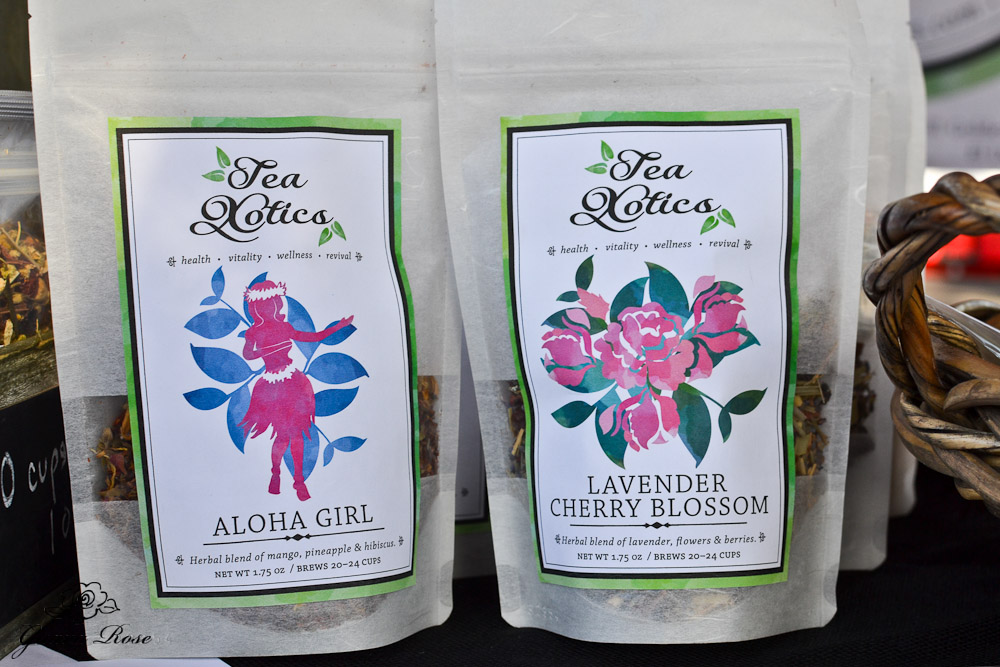 The Tea xotic table. I love tea, and once  I saw their display, I made a beeline towards their tent.
These are a couple of their herbal blends, but they carry black, green, and white teas also. I enjoyed chatting about Hawaii and teas with owner Renee Planje, who started the business with her daughter Hannah. She and her daughter have traveled the world sourcing the highest quality teas. Renee often partners with local and global charities as a way for her business to give back to the community.
They recently had a great showing at the World Tea Expo in Las Vegas, and I was lucky to snag a couple of goodies leftover from their show sample basket.
That lovely bookmark (that had some delicious Aloha Girl rooibos blend attached in the back), was designed by Renee's graphic designer daughter-in-law, Lesley, who actually designed the packaging for their whole line. All in the family!
Now off to the Pasta Queen to choose something easy to make for dinner later.
Fresh pasta without artificial colors, flavors or preservatives is sometimes hard to find, but the Pasta Queen delivers. These ravioli were scrumptious, and only took 3-4 minutes to simmer in boiling water. Kids and adults loved these, especially with a drizzle of that basil cream sauce. The Spinach & Pinenut ravioli were my favorite.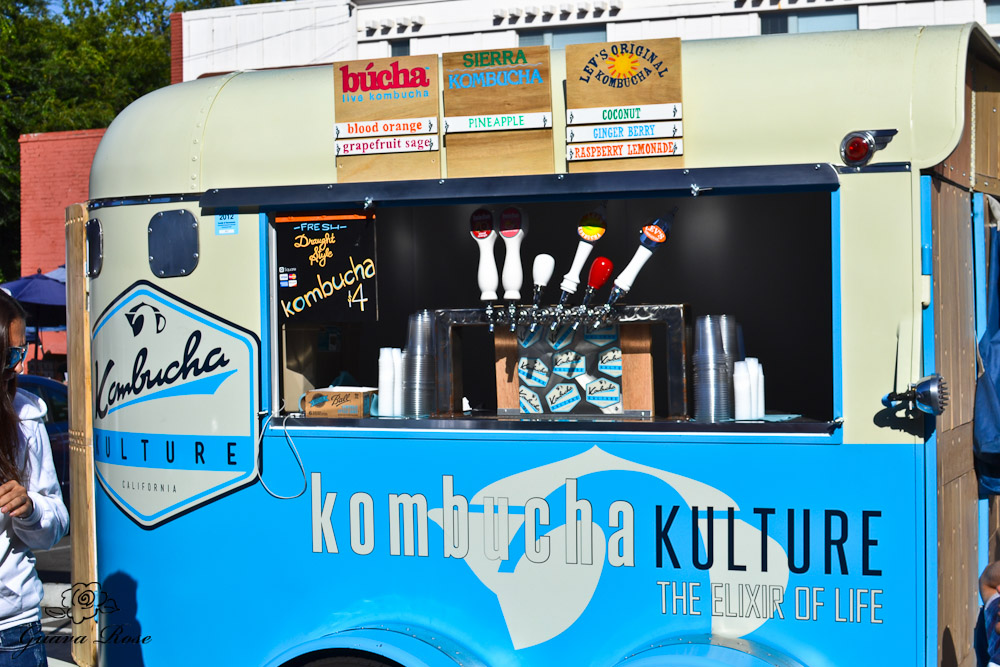 Kombucha on tap. Who could resist this cute little Kombucha Kulture trailer?
You can sample as many flavors as you want. I sampled the grapefruit sage, pineapple, and ginger berry.
My goodness, these taste sooo much better than the bottled kombucha you can buy in stores.
These mason jar glasses sparkled beautifully in the sunshine.
The price was a bit steep, so I settled for a $4 plastic cup of the grapefruit sage bucha.
Had to take some time to admire the flowers though– a breathtaking sea of hydrangea.
I smiled as I overheard two women choosing which ones to get to decorate a wedding that afternoon.
And finally on my way out, a stop at the bright red Volks Waffle Truck. That is one cute truck!
There are two types of Belgian waffles: Brussels type made from batter, and Liege type made from a yeast dough.
Volks Waffles are the latter. The liege dough has special sugar pearls mixed in, which melt when cooked, creating tiny pockets of caramelized sugar in the waffle.The dough balls are specially flown in from Belgium. These waffles are cooked halfway first, in the early morning, then put back on the waffle iron to finish cooking as customers order.
You can get them plain with just a sprinkle of sugar, or get extras like strawberries, whipped cream, ice cream, and nutella sauce.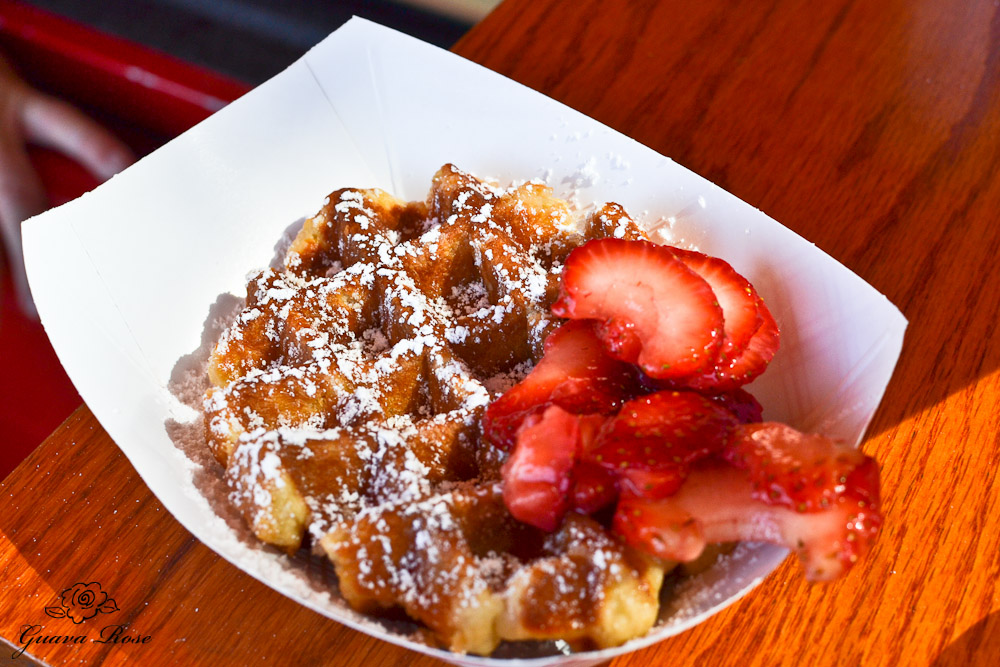 Plain Liege Waffle $5
I chose the plain waffle with just a sprinkle of sugar, and was lucky to get a complimentary little scoop of strawberries.
The waffle was excellent! Crispy on the outside, yet soft inside, and yes there were little crunches of caramelized bits. I liked that overall it was not too sweet.
A lovely Farmer's Market Tray to wake up to: Grapefruit Sage Kombucha, Organic Strawberries, Herbed Cashew Cheese, Rosemary & Thyme Crisps, and Carmelized Onion Crackers
So I brought my stash home and set up this little tray.
Time to wake up the teens who have been enjoying getting to sleep in this summer so far.
What a lovely meal to wake up to…and it was gone in no time at all!
Midtown Farmer's Market Sacramento
2020 J Street
Sacramento, CA 95811
www.midtownfarmersmarketsac.com
Saturdays, 8 am to 1 pm