Lovely to behold– the lava rock muffin.
"Scrapbook of Memories: Pu'uhonu o Honaunau, Place of Refuge, Big Island of Hawaii"
In old times, if you broke any laws, your only hope was to make it to here and be absolved by the kahuna (high priest) of your wrongdoing. Only problem was that you had to swim through shark infested waters to get here, while at the same time being chased by warriors.
I must have been around 5 or  6 years old when I first visited here.  Back then it was known as the City of Refuge. It's one of my favorite childhood memories, visiting here with my family.  The enormous wooden gods (ki'i) which surround and protect this ancient Hawaiian religious sanctuary, are an awesome sight.
We had a really nice tour guide show us around here.  He was so nice in fact, that he gave me two little lava rocks studded with beautiful olivine crystals. I wasn't really sure why he put his finger to his lips and whispered a soft, "shhhhh" to me. Later, much later, I realized it was kapu (taboo). Pele, the goddess of fire views these rocks as her children, and bad luck comes to those who take these lava rocks–catastrophic bad luck.
For years, the Volcano National Park has received numerous boxes and packages of lava rocks, sand and shells from tourists all over the world. All these people, trying to avoid bad luck and bad karma. Even the hotels and post offices recieve these packages with notes asking that they be placed back where they belong.  There are numerous websites on the internet full of these stories and the woeful events that befell people.  One site even offers to wrap the lava rocks in ti leaves, chant a prayer, give an offering and return them to the volcano–all for the price of around $20.
They say that initially park rangers made up the story so that people would stop taking all the rocks.  After all, if everyone kept taking a souvenir home, there wouldn't be any left. Similarly, at Glass Beach in Fort Bragg, along the Mendocino coastline–so many people were taking the glass from the beaches that it's now illegal to do so.
Pu'u o Honaunau, July 2011
I returned here this past summer with the Blue Dinosaur, Laurel and Quill.  Other than the front entrance area, it hasn't changed at all in close to 40 years! I was so excited to return here and stand exactly where I stood as a little kid. It's still a fantastic place.
And no, I didn't return my rocks on this trip.  I returned them long ago, before I moved away to the mainland. My box, addressed to the Volcano National Park, likely joined many other boxes. I've read that the park receives so many returns, that many of the rocks are just thrown in a pile behind the office. I don't mind though, because somewhere around the office grounds at the City of Refuge is where that tour guide from so long ago picked up two rocks and gave them to a little girl.  My rocks were likely put back in a pile behind an office, just an office closer to the volcano, but exactly where they belong.
I'm still not sure about the little shacks we saw with small lava rocks and sand being sold on some of the beaches, like Black Sand Beach in Punalu'u. Is it legal, and is it kapu? We didn't buy any.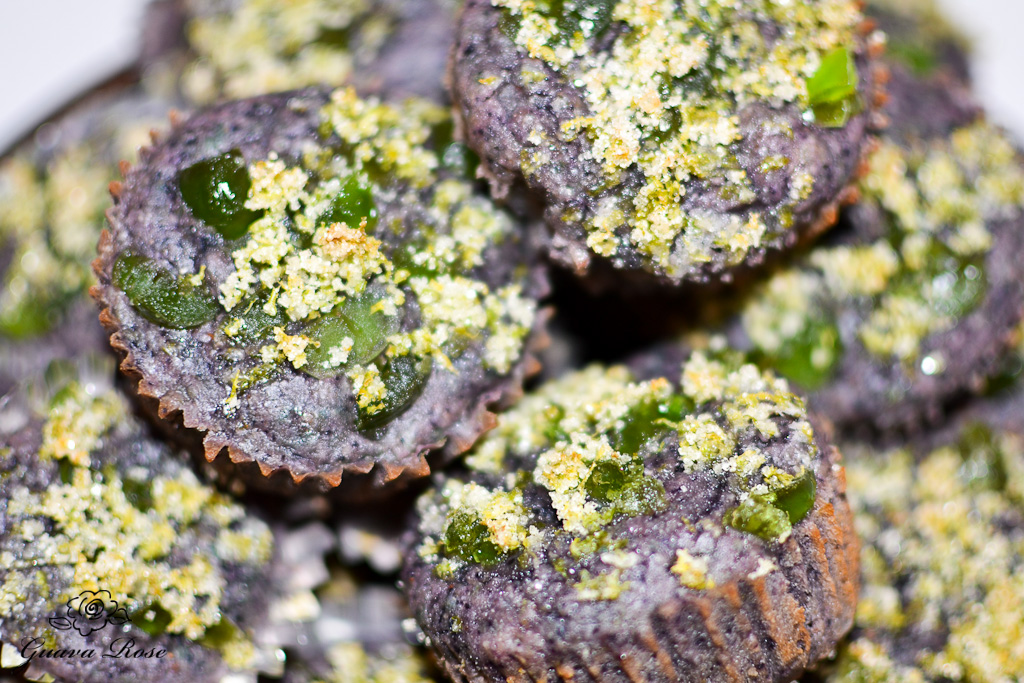 I think pictures and memories are good enough.
And maybe something a little sweet and pretty like these Blueberry Taro Lava Rock muffins.
In honor of the beautiful lava rocks, I've packed these muffins with fiber and antioxidants from taro and blueberries, and topped them with candied green cherries and lime zest.
With their deep, dark color, they look like lava rocks studded with olivine crystals.
We start off with taro here.  They come in small and large sizes. I couldn't find any taro grown in Hawaii, so these are from China and Mexico. I even saw some small ones from Ecuador. The smaller taro pictured above is actually a Japanese taro variety called satoimo. It has white flesh and is slightly slimy when cooked. Don't get this variety. You want to get taro with purple flecks in the flesh.
There are small taro with the purple flecks in them, you just have to check or ask the salesperson. The small ones can be scrubbed, then boiled before peeling. The bigger ones should be peeled first, then cut into chunks and boiled well until soft.
I was surprised to see taro also available already peeled and vacuum sealed– that's certainly convenient.
Raw taro contain calcium oxalate crystals which are considered toxic, so they must be well cooked. It's a good idea to wear rubber gloves when peeling and handling raw taro, because the crystals can cause your hands to itch (and can cause your mouth to itch if it's not cooked thoroughly). Be careful to wash the gloves, knife, cutting board and sink well after you are done.
Taro is similar to potato, but is much higher in fiber, and is a pretty good source of potassium and vitamin C.
Taro is so nutritious and easy to digest that babies in Hawaii are often fed poi.
Drain the boiled taro and mash well.
Blenderize the mashed taro, blueberries, water, egg, sugar and oil together.
Love those blueberries for their deep, purple hue, and most importantly for their punch of antioxidants and fiber.
Gently blend in some grated lime zest and whole grain biscuit or wholegrain pancake/waffle mix.
Whatever you do, don't be tempted to add any lime juice to the batter.  It will lighten the batter and you will end up with pink lava rocks.
Here are the jewels! Candied green cherries, also known as glace cherries.
They tend to be more available around the holidays, as people use them in fruitcakes and other winter treats. I picked up a couple of tubs at Walmart and they were half the price of the ones at my nearby grocery stores. This is the perfect time to stock up. Some grocery stores keep these in their back storeroom during the rest of the year, so ask if you don't see them out on display.
Roughly dice up some green glace cherries and gently press them onto the tops of the batter spooned into muffin cups.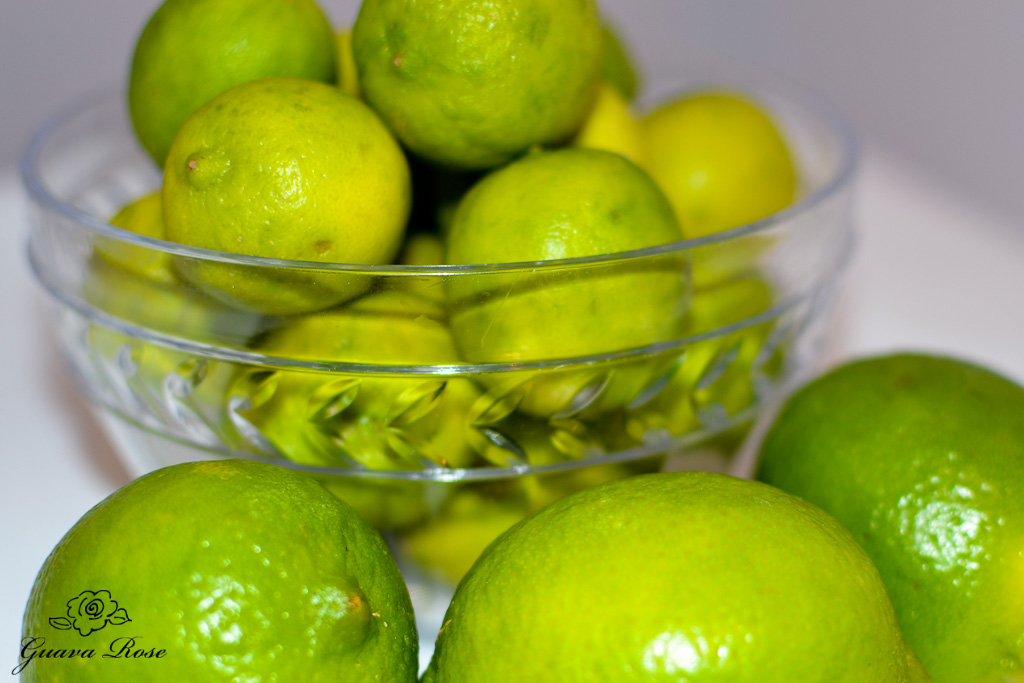 Finely shred some lime zest. Microplane graters are perfect for doing this easily.
The yellow-green of the lime zest pairs well with the translucent cherries to create that chartreuse olivine jewel tone.
Tiny key limes (in the bowl) and regular limes are fine.  The bigger limes are easier and faster to work with.  I bought my limes at the Asian grocery store for 15 cents a piece; they were  2/$1.00 at the regular grocery store, so I saved quite a bit. If you don't live in Hawaii or somewhere tropical, you'll most likely have to find your taro at an Asian grocery store anyway. So while you're there, check out the produce. The prices are usually very good.
If possible, try to get pesticide free fruit. This is often hard to do. I've been reading a lot lately about the benefits of using a vinegar wash to remove bacteria, pesticide residues and waxes from fruits. I assume the limes I get at the Asian grocery store are not pesticide free, and I don't believe the ones in the regular store are either.  So, I cover the limes in a bowl of water and add 1/4 to 1/2 cup of vinegar and let them soak for about 15 -20 minutes. Then I rub and rinse them, and dry them off in a towel.
Mix the shredded lime zest with some sugar,– evaporated cane juice (turbinado sugar) here.
This is so pretty, and smells wonderful! It reminds me of Green Sand Beach, where the green grains are olivine and the white grains are coral fragments.
Sprinkle a little on top of each muffin before baking.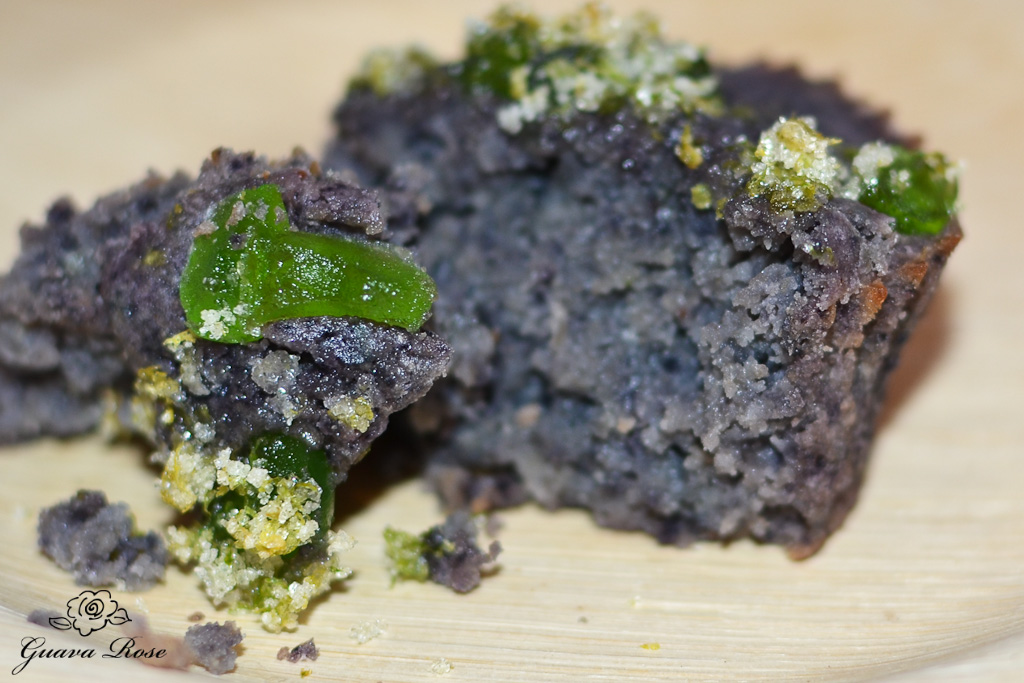 Ahh………these never last long at our house. They are best eaten the same day they're baked.
If, you have any leftovers at the end of the day, cover and refrigerate them. Because they are so moist, the sugar will eventually melt into the top, but they'll still be delicious.
Definitely a kid favorite.
Blueberry Taro Lava Rock Muffins
Packed with fiber and antioxidants from blueberries and taro, and studded with candied cherries and lime zest-- these look like a lava rocks crowned with olivine crystals.
Ingredients
1 egg
⅓ c. water
½ c. frozen blueberries
½ c. cooked taro root, mashed
¼ c. turbinado (evaporated cane juice) or white sugar
¼ c. oil
1 T. finely shredded lime zest (plus extra for topping, see below)
1 c. whole grain biscuit or pancake/waffle mix
Topping:
1 T. (heaping) finely shredded lime zest
4 tsp. turbinado or white sugar
12 candied green cherries, cut into small uneven pieces
Instructions
Preheat oven to 400 degrees. Line mini muffin pans with foil cups, or paper cups sprayed with non-stick spray.
Put egg, water, blueberries, taro, sugar and oil into a blender. Process until very smooth. Pour into a mixing bowl. Gently mix in lime zest and biscuit mix until just blended. Fill muffin cups three quarters full.
Gently press in about half a cherry of diced pieces into each muffin top. Mix together the remaining lime zest and sugar, and sprinkle ¼ tsp. over each muffin. Bake 13-18 minutes,or until toothpick inserted comes out clean.