Earlier this summer we went back home to Hawaii and I had a chance to visit the Ala Moana Farmers' Market.
It's one of those farmers' markets that has plenty of parking, because it's in the parking lot of Ala Moana Shopping Center.
Warm breezes from the ocean right across the street, pleasant sounds of island music, and a feast of local colors and flavors abound here.


Of course the first thing I see are these beautiful macarons.
Guava and Lilikoi ones too!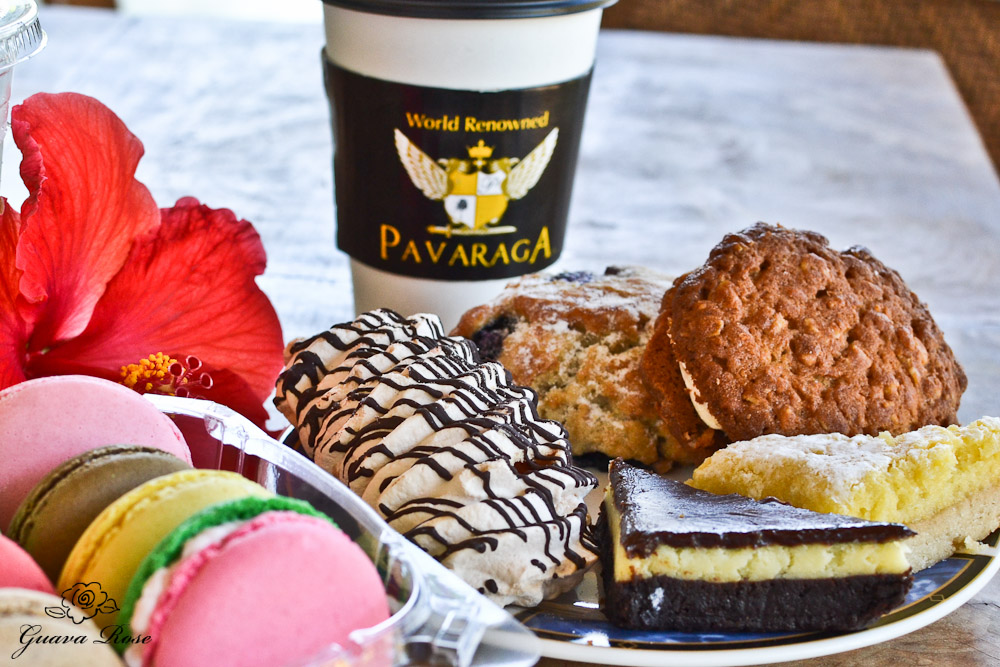 Good coffee and baked goods are a fine way to greet a Saturday morning.

Mountain Apples, Apple Bananas, and Soursop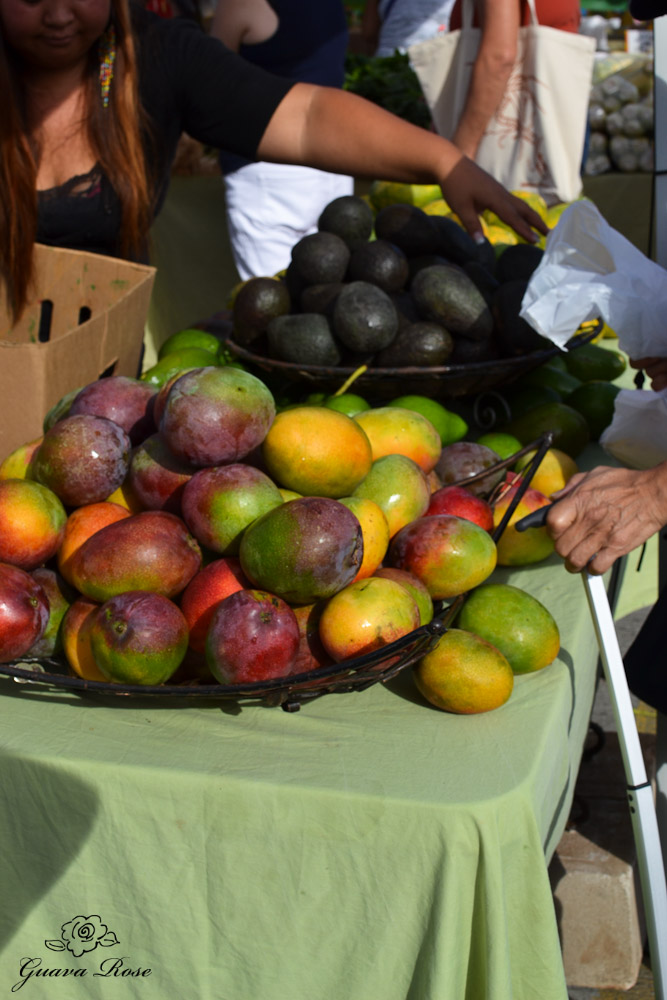 Local Hayden Mangoes and Avocado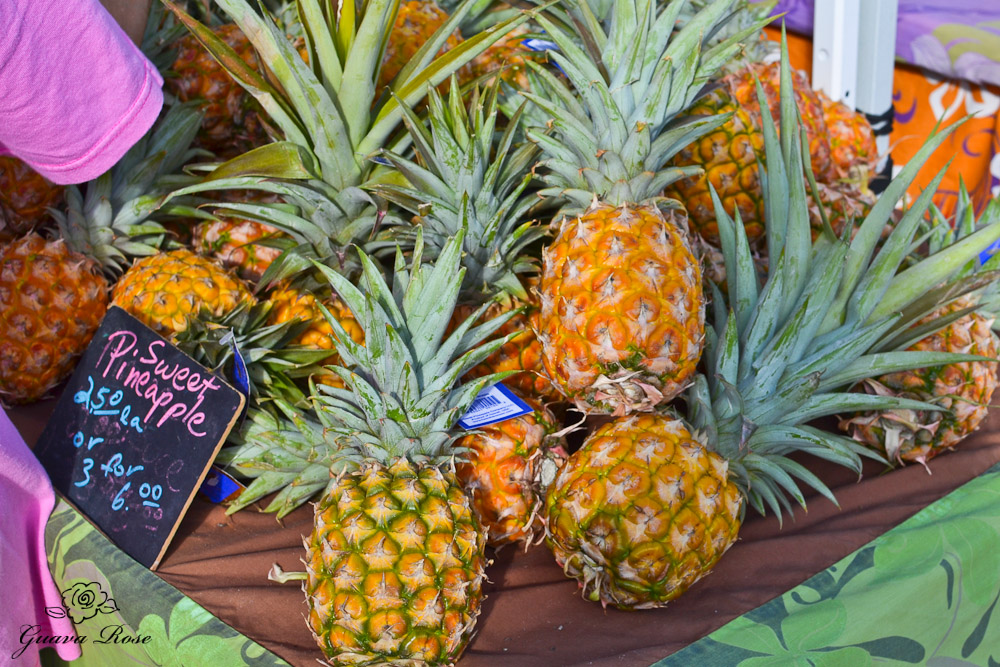 I can tell how sweet these pineapple are just by looking at them.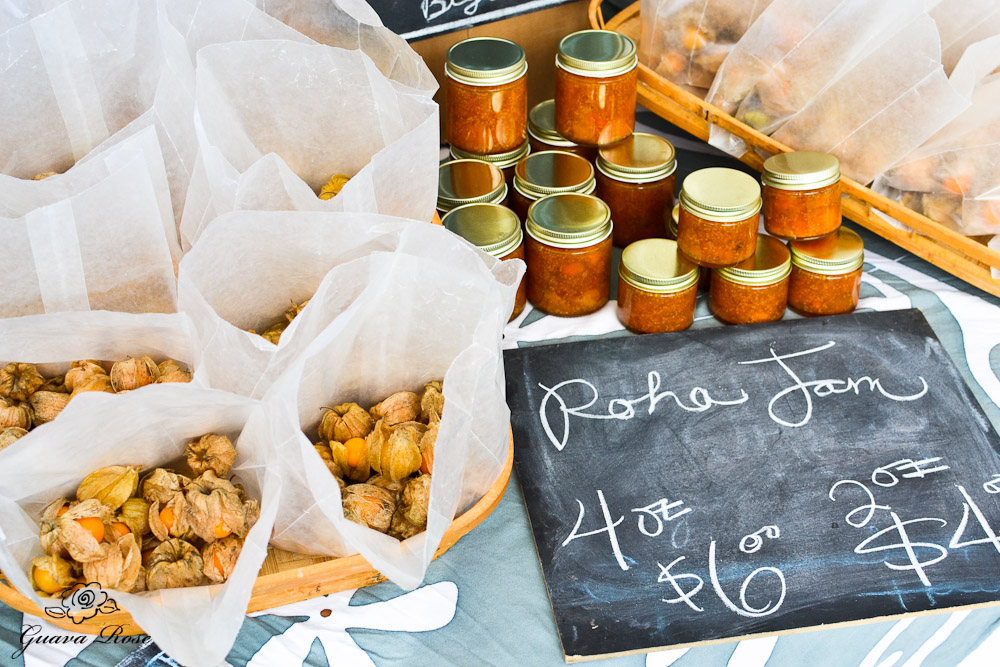 Fresh Poha Berries and Poha Jam from the Big Island
Poha jam spooned over vanilla ice cream is one of the best things in the world.
I love how these deep, red anthuriums are so softly layered upon each other.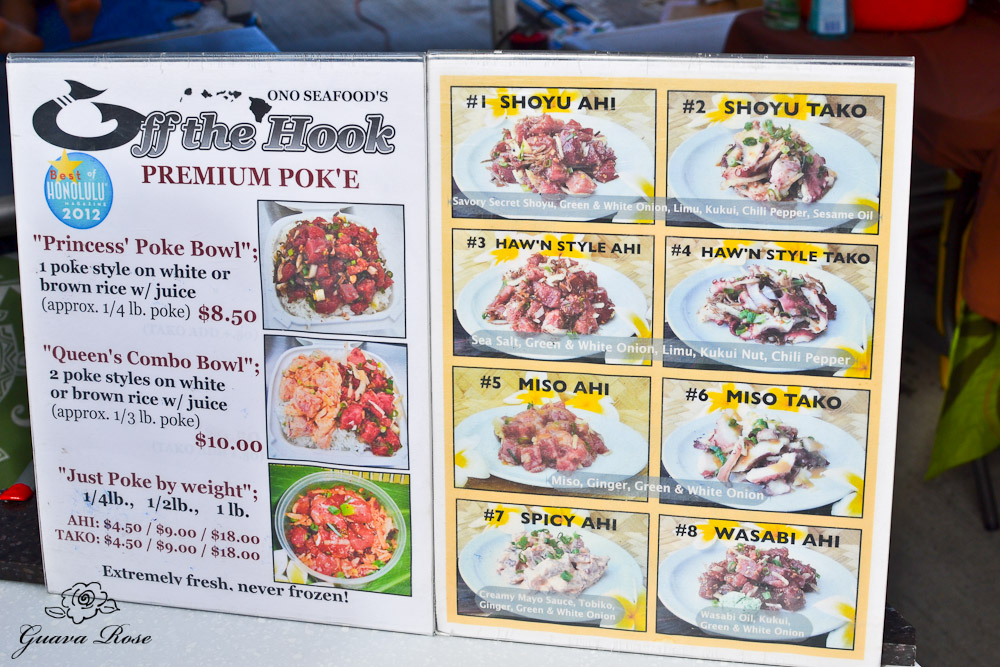 Poke for breakfast? You bet!
Ono Seafood is well known for their poke.
I had a nice chat with the husband and wife owners while their daughters played quietly in the back of their car, behind their booth.
I really appreciate all the families who set up and sell their products at farmers' markets. It's a lot of work prepping, setting up, selling, and taking down the booths, and most times it is a whole family effort.

The Blue D. and I shared a Queen's Combo Bowl with Shoyu Poke and Shoyu Tako Poke.
Very fresh and tasty, but a little on the salty side for me. Next time I'm going to try the Hawaiian style Tako.
We were almost done scarfing it down before I remembered to take a photo.

I always need to stop and get some Olakai Sea Asparagus.
Sea Asparagus, also known as pickleweed, glasswort, sea bean, sea pickle and marsh samphire, is grown hydroponically in salt water ponds on the North Shore of Oahu.
I love this stuff! Sea Asparagus is packed with a boatload of phytonutrients, vitamins and minerals.


Lomi Sea Asparagus
Crisp, savory, and naturally salty– this made a tasty snack later, in the hot, humid afternoon.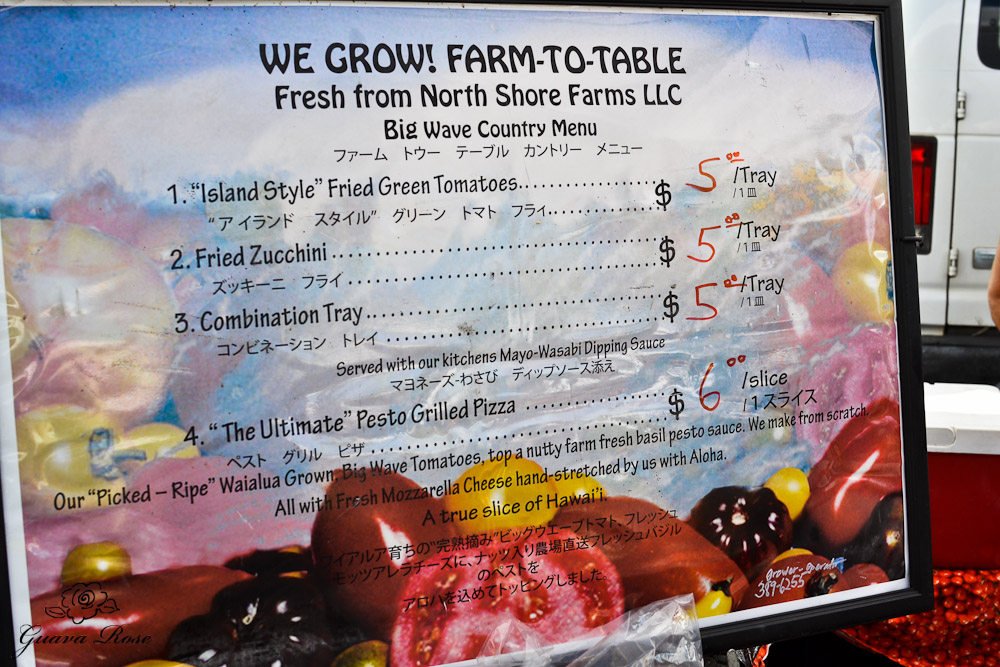 The line was getting long at North Shore Farms, so I quickly got in line. I knew the Fried Green Tomatoes were very popular, but I wanted to try the pesto pizza.
Heirloom Tomatoes, homemade pesto, hand pulled mozzarella… too enticing to pass up.


The pizzas are freshly assembled right in front.
Slices are grilled when ordered.

Pesto Pizza and Fresh Pasta– we ordered some to go for the still sleeping teens. Man were they lucky, and happy!
Yep, this pizza is the best pizza ever.
The crust was crisp, yet chewy. And with the fresh vegetables, herbs, and mozzarella– crazy good!
We also got some fresh pasta, cooked to order from Onda Pasta. Fresh pasta is always a winner.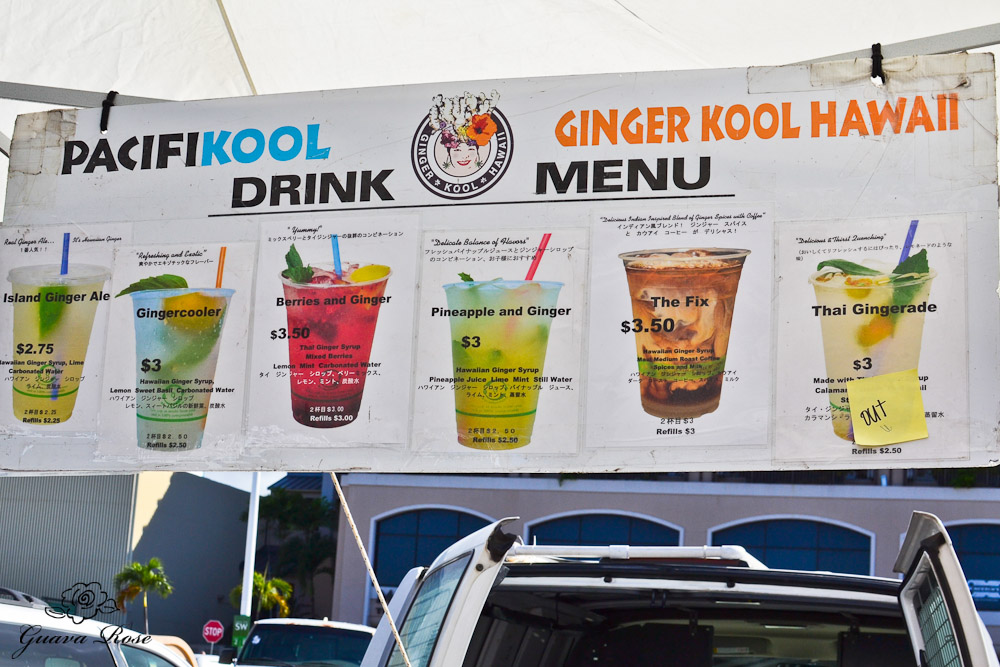 By the time 9:00 am rolled by, it was hot, and I was thirsty again.
There were a couple of drink booths. Earlier we stopped by another booth and sampled a sugar cane juice you could add tea or shots of wheatgrass to.
Since we were right in front of the PacifiKool booth, which specializes in sugar sweetened Hawaiian or Thai ginger syrup drinks, I got the least sweet one, which they told me was the island ginger ale.
Still a bit sweet for me, but it got better as the ice melted and diluted it.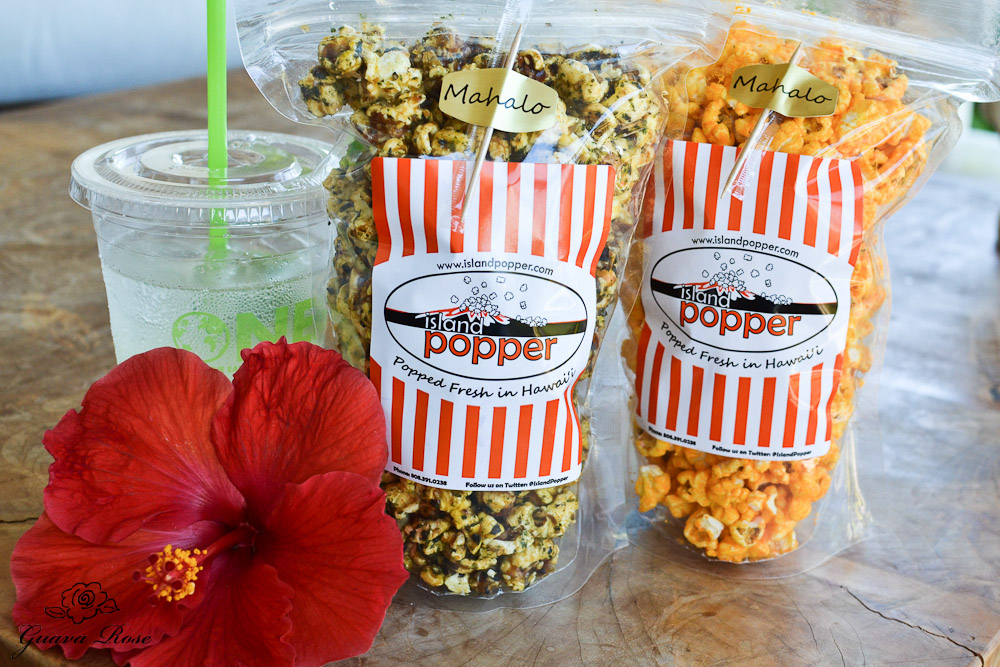 On our way out, I had to stop by the bright red Island Popper truck and grab some Furikake Popcorn and Cheese Popcorn.  If you want, you can mix up to three flavors in each bag .
They were so fresh and tasty, and gone too soon. I'll have to get more than two bags next time.
It's so cute how they have a toothpick attached with a "Mahalo" sticker on each bag– don't want to be walking around smiling with popcorn bits stuck in your teeth!