We took a little trek over to San Francisco during Spring Break and spent some time wandering around Japantown. There were of course tons of places to eat and shop, but whenever I go somewhere and see something related to Hawaii, I have to take a look.
And so Aloha Warehouse beckoned me. This little store holds in their words, "the flavors and comforts of home."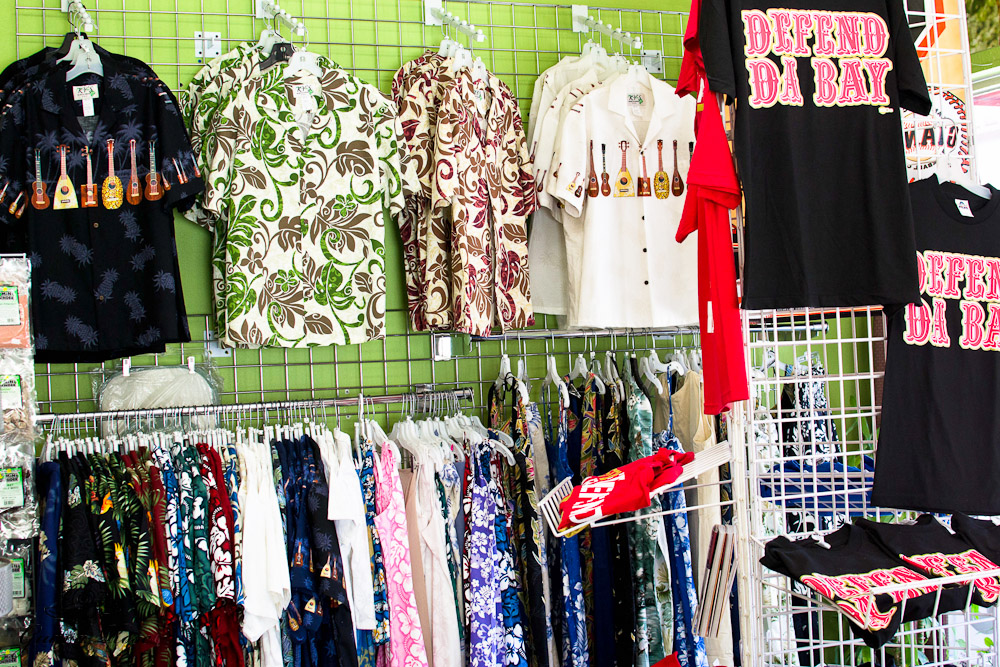 Aloha wear for the family lines one wall, along with the localized "Defend Da Bay" t-shirts.
You can even catch a glimpse of packages of crack seed and dried fruits on the left side.

Another whole wall is devoted to Hawaiian coffees, jams, sauces, dressings, candies and other treats.
Looks like they're well stocked with Hawaiian Sun tropical fruit drinks too! Every island home has to have at least a couple cases stocked up.
A rounder with more snacks, and of course Aloha Shoyu.
And on the backside of this rounder I found Good News! Good News candy bars are Hawaii's most popular candy bar, but they are so hard to find outside of Hawaii.
Growing up in Hawaii, these bars were my, as well as my mom's favorite. When I spoke to one of the Aloha Warehouse owners, Leah, she said that the candy is made in California, but they actually buy the bars from Hawaii. (Sorry Leah, the Good News didn't last long enough for me to take a picture of it–thanks, it was good though!)
See that freezer in the background?
This is what it holds! Poi, lau lau, kalua pig, Portuguese sausage…all kinds of local favorites.
Anyone homesick in San Francisco can get a quick fix here.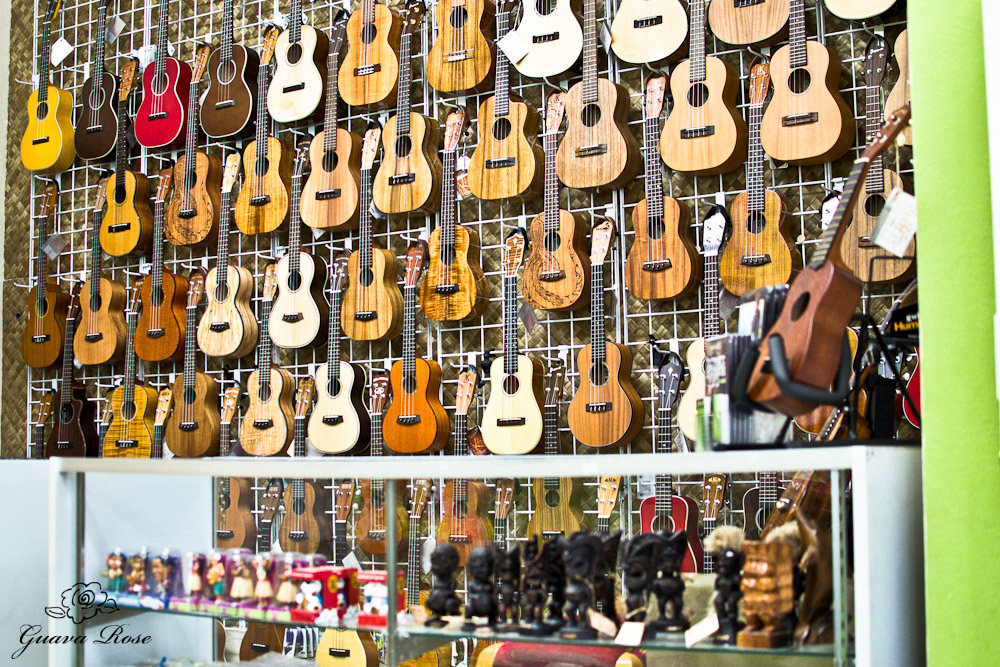 Ukuleles, tikis, hula dolls… a little bit of everything, even ukulele workshops, fresh lei making, and hula supplies.
Hawaiian ukuleles and Ipus (percussion gourd instrument)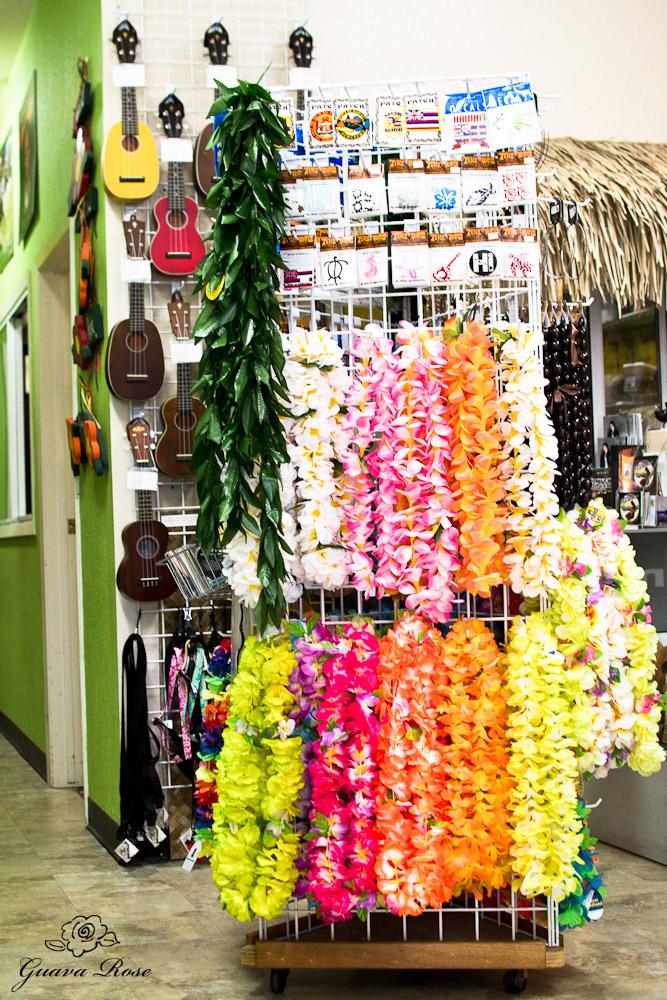 Silk and kukui nut leis, and the requisite Hawaiian stickers
If you need a dose of good old Hawaiian Pidgin,  just glance up at the license plates on the wall for a smile.
Turns out too that Leah and I were at UH at the same time. Funny thing is, once you start talking to people from Hawaii, eventually you find you have mutual friends.
It is a small world indeed. A little bit of Hawaii in the middle of the city.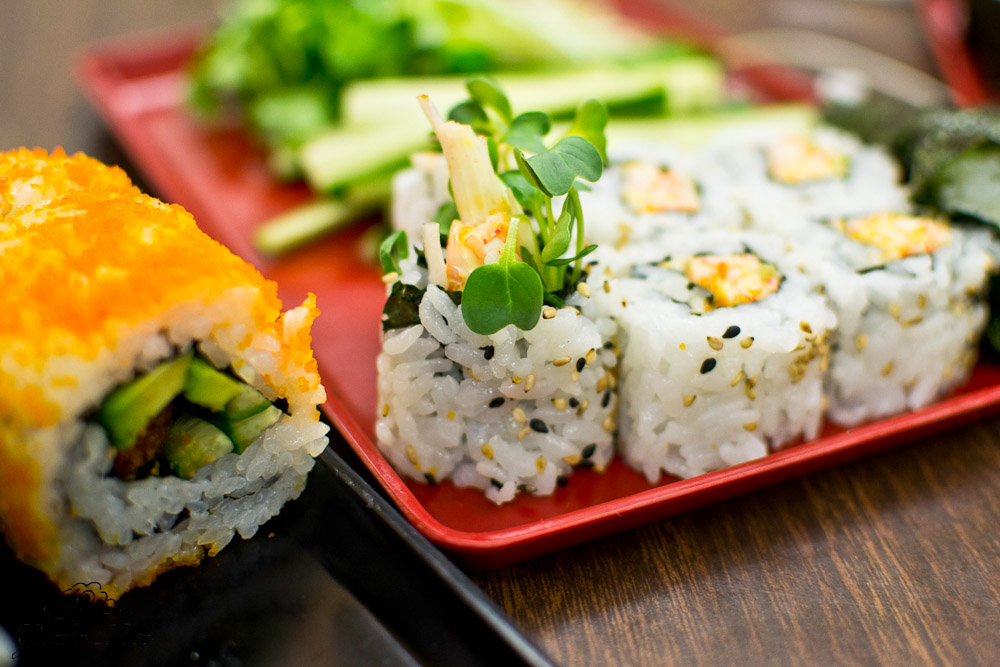 After a long day walking around, I stopped by the Japanese Cultural and Community Center of Northern California (JCCNC) to pick up Laurel, who was doing some community service there.
She was finishing up, so I got to snag a piece of this delicious sushi from the sushi making class that had just wrapped up. Oh my goodness that was sooo good– I think the surimi filling had some chili oil and siracha sauce mixed in. I definitely want to sign up for their sushi making class when they have it again. They have some great cultural classes and events that you can check out here.
San Francisco Japantown— to be continued…