Sign outside Star Noodle in Lahaina, Maui
For those of you Top Chef fans out there, you know by now that Sheldon Simeon, executive chef at Star Noodle, got eliminated in last night's Part 1 of the finale.
He had an incredibly good run though, and did Hawaii proud. Such a talented young man. Pretty darn good to have Emeril, Wolfgang Puck and Tom Colicchio complimenting your cooking skills.
We were fortunate to eat at Star Noodle this past summer, after getting so many recommendations to try it.
I was a little skeptical– so many local recommendations, but mixed reviews online. Was it all hype? Let me tell you, it was not.

This is the bar area near the entrance, where you can sit, drink, and even get a glimpse into the kitchen.
It was funny seeing the restaurant being shown in last night's show, in that I happened to get a picture of the same cool bartender they showed.
The restaurant has a big, long table in the center, with smaller tables around the sides of the room.
We were seated at a small table behind the white branches.
So many choices, so little time!
In the end, we decided to try the dishes I had read and heard about the most.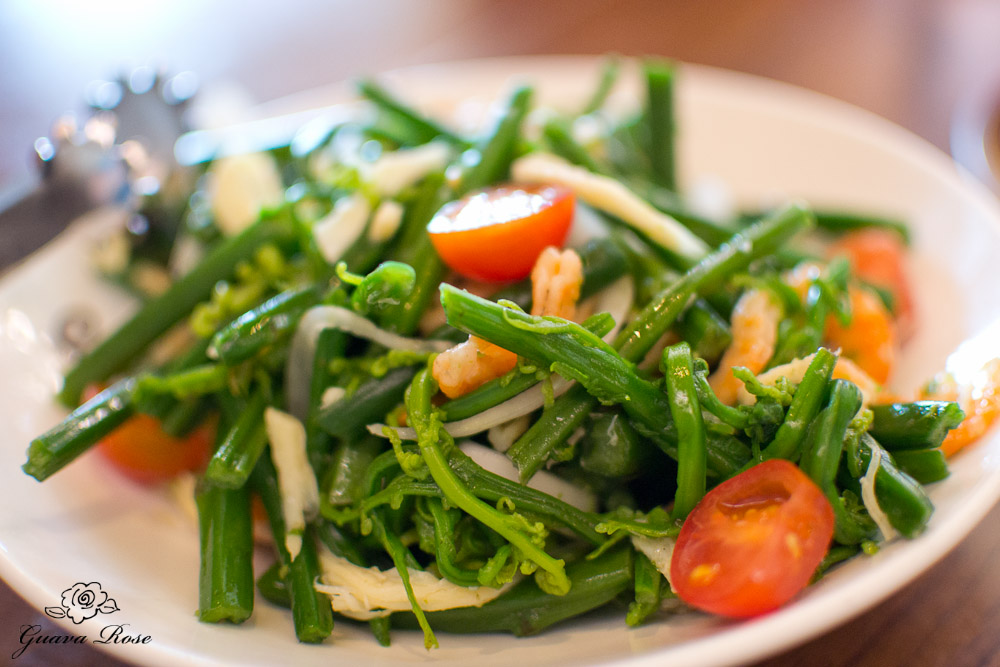 Pohole Salad – Hana Fiddle Head Fern, Maui Onion, Ebi, Kombu
The pohole (fiddle head ferns) taste very similar to asparagus, but better.
We all loved this refreshing salad. I could eat this every day! Wish I had some right now.
Crepe – Vietnamese Crepe w/Shrimp, Pork, Bean Sprouts
I thought this was just okay. The crepe was very crispy and crumbled easily.
A pretty dish, but a little messy to eat.
Steamed Pork Buns – Pressed Pork, Hoisin, Shiitake, Cucumber
Yes, beautiful and delicious. Loved the added shiitake mushrooms in them.
Hapa Ramen – Pork Broth, Roast Pork, Poached Egg, Bamboo Shoots, Kamaboko, Baby Bok Choy, Mayu, Spicy Aka Miso
Quill ordered this and I didn't get to taste it, but all the noodles and broth were gone at the end.
Meat and vegetables? Those are never priorities for her.
Garlic Noodles – Fresh & Fried Garlic, Garlic Oil, Dashi, Scallions
These are the noodles everyone raves about, and with good reason. All the pasta at Star Noodle is house made, and boy is it fabulous!
This is one of the most delicious pastas I have ever eaten. Didn't hurt that we decided to add on some tofu and bacon (guess who chose those–yep, starts with a Q).
The pasta was buttery and garlic-y without being greasy and overpowering. I read online someone complaining that the garlic pasta was too salty. I'm very sensitive to overly salty food, and I didn't find it to be too salty. Maybe it depends on which chef is making it that day.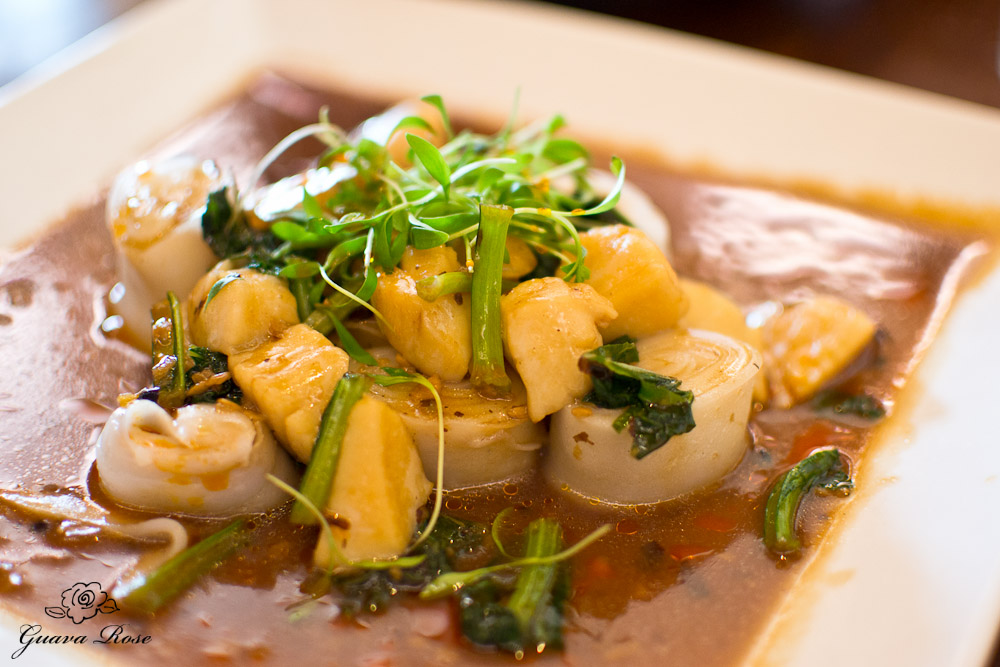 Look Moore Funn – Black Bean Sauce, Choi Sum, Chili Oil with scallops added
Look Fun is a flat steamed noodle typically made from rice flour with a little tapioca flour for chewiness. I heard something about this dish being named after someone, and I think that's where the "Moore" part comes in.
The scallops were juicy and tender, and the chewy noodles perfect in that sauce. This was a case of, " I wonder if anyone would notice if I lift this plate up and just drink the rest of this sauce up?"
Malasadas – Chocolate and Butterscotch Caramel Sauces, Peanuts
What's not to love about a hot malasada?
They're  especially kid-fun in this lollipop form with dipping sauces.
We wanted to try some of their special ice creams, but were too full. I'm trying to remember, I think some flavors were lychee, starfruit, and li hing.
Make Art Not War poster near the entrance of Star Noodle

Art is certainly what Star Noodle makes.
Congratulations Chef Sheldon!