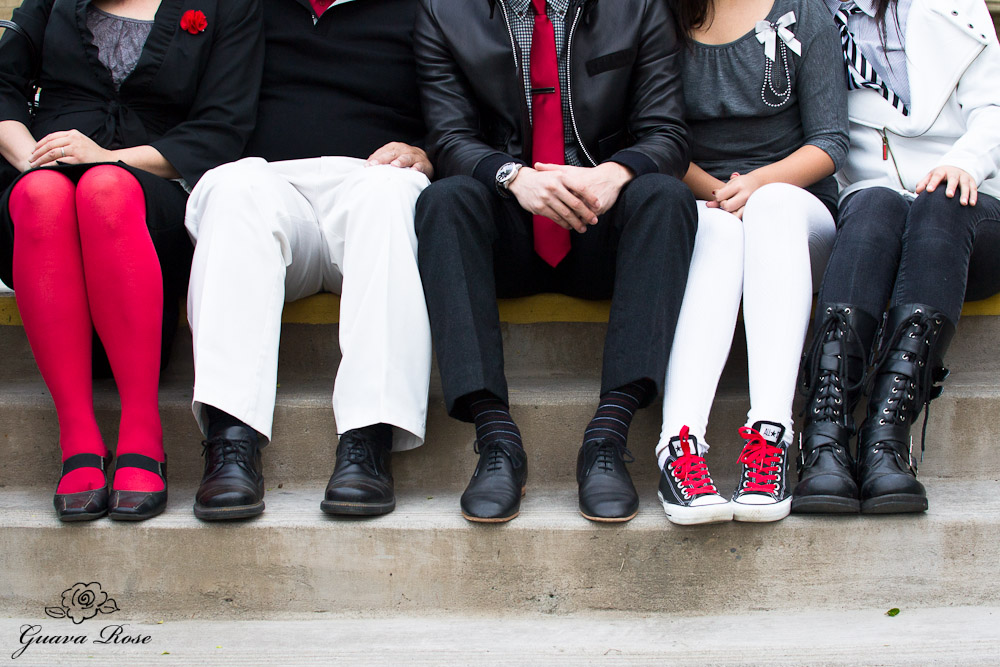 "Leg shot" photo taken by Kallie
We finally took some professional family portrait pictures today. I can't believe the last formal one we took was ten years ago!
Time has flown by. Laurel and Quill were in preschool and kindergarten last time.  How did I let so much time go by without taking more family pictures? With the older kids gone and away at college most of the past several years, there never seemed to be time to match all four kids' schedules.
Since we were spiffed up, we decided to celebrate after our family portrait by going to Scott's Seafood on the River. It's so beautiful out there. We walked along the river for a while enjoying the view. Kallie spied some steps and said, "Hey, let me take a leg shot on these steps!"
So as we sat on the steps looking out onto the river, she snapped this shot. Too bad her legs are missing. No one was around to ask to take a family shot of us, as it was late afternoon.
Fried Calamari sriracha-yuzu aioli and house made cocktail sauce
One thing I like about Scott's is that they don't stop serving food between lunch and dinner. So even though we came in at an odd time, 3:30 pm, we were still able to order from the dinner menu, which just so happens to start at 3:30 pm.
The calamari was tender and delicious, and gone in no time.
Dungeness Crab Cakes herbed remoulade, Belgian endive slaw
Delicious with the remoulade. I like having fresh vegetables alongside the appetizers.
Pork-Kimchi Potstickers asian slaw, sweet chili drizzle, bulgogi dipping sauce
If I could only order one appetizer again, I'd order this. It was so flavorful, slightly chewy and just plain yummy.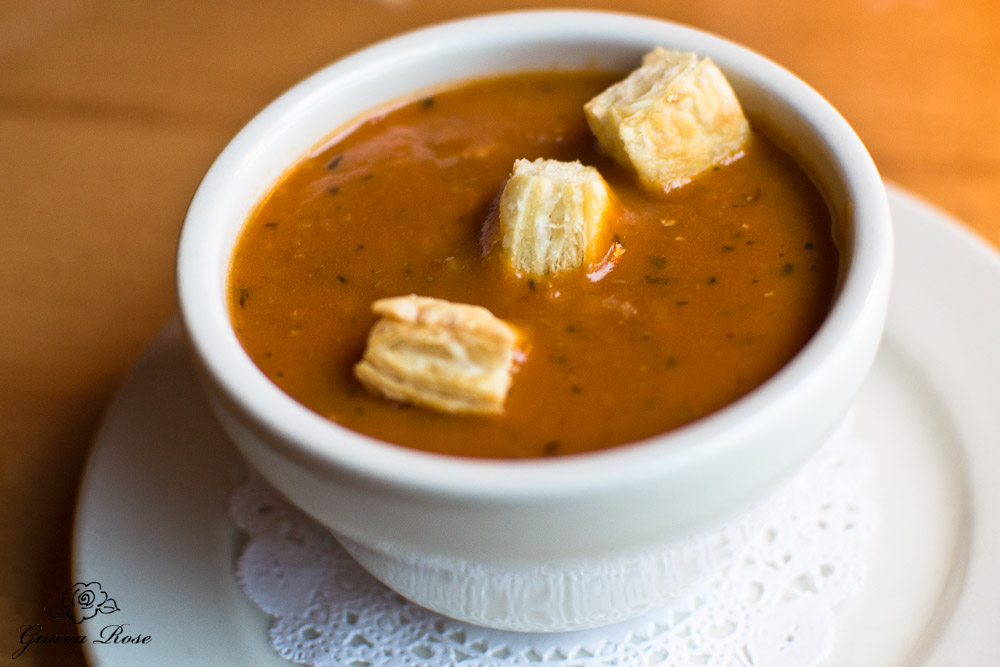 Spicy Crab Bisque
I thought this was a little too salty– not because of too much salt, but because it was very, very rich and condensed.
We all agreed it was delicious though, in fact perfect when we started dipping the thick slices of sourdough bread on the table, into the bisque. Even Quill tried it and liked it.
Ahi Tuna Two Ways sesame crusted, seared rare, wakame sticky rice, lime marinated sashimi and cucumber salad
This was Cole's dish. The ahi tasted very fresh as it always has when we've been here.
It was fun to watch him try to eat those cucumber ribbons. Seemed like that whole pile of cucumber was really one long ribbon.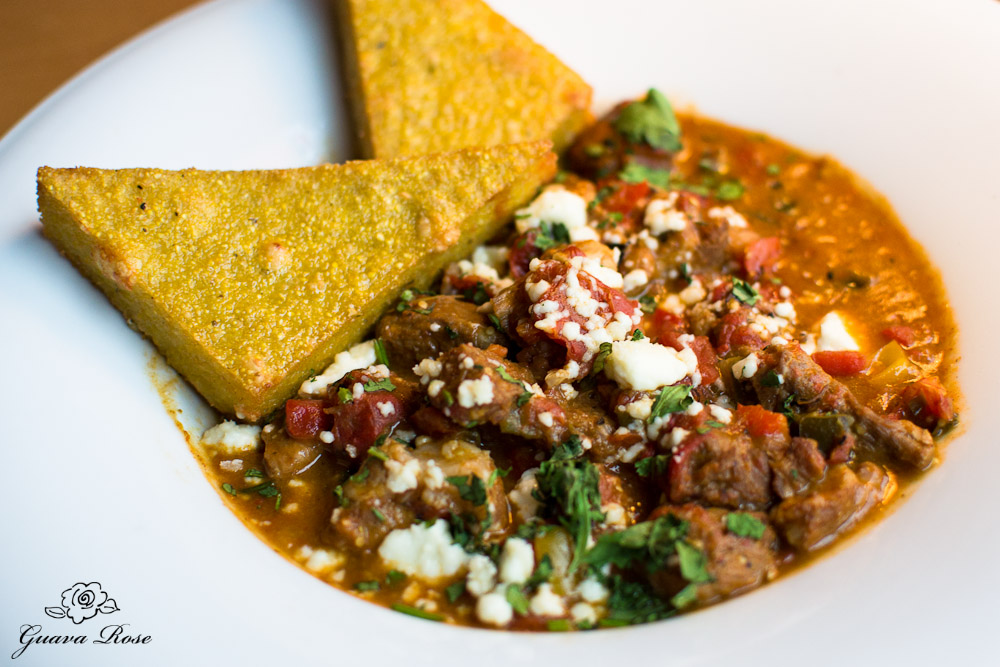 Tomatillo Braised Pork Shoulder crispy queso fresco polenta
I had a bite of Kallie's dish and it was tender, spicy and full of flavor.
I'm sure Quill would love to make a meal of this polenta and sauce alone.
Capellini Provencal angel hair pasta tossed with tomatoes, garlic, herbs, capers and olives
A lovely meat free dish for Quill. I didn't get to taste it, but she said it was good, and her bowl was empty by the end of the meal.
Grilled Petrale Sole Dore lemon-garlic butter, lemon-chive rice pilaf
Everyone loved the Blue D's sole. The sauce was out of this world good. Next time we come back, I want to order this.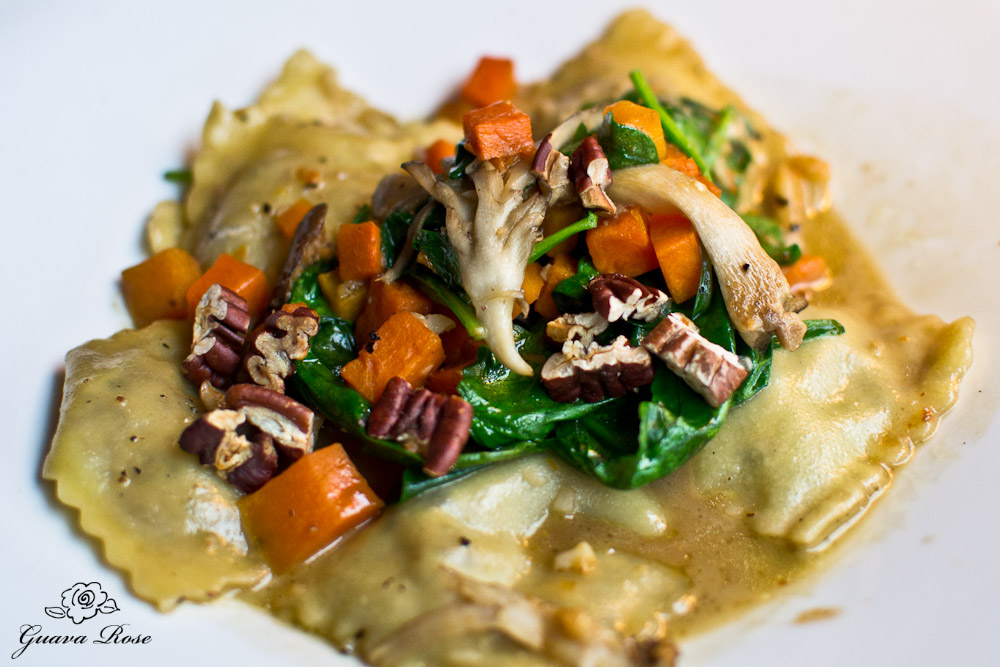 House Made Shiitake Mushroom & Sierra Nevada Goat Cheese Ravioli roasted butternut squash, forest blend mushrooms, baby spinach, toasted pecans
Laurel's choice. She said the ravioli was okay, but she liked the garlic flavored butternut squash.
I didn't care for this dish. I liked the strong shiitake flavor, but another "plastic" like flavor came through to me. Cole and Kallie both tasted it and said it was probably the goat cheese flavor I was tasting.
Macadamia Nut Crusted Alaskan Halibut brown butter, lemon-chive rice pilaf
This was mine. I loved the firm texture and flavor of the fish. It came with a lot of vegetables, which is a good thing. Although the vegetables were tasty, I'll have to remember next time to ask them not to butter the vegetables and save a few calories.  After all, we have to save some calories for dessert, right?
Dessert Trio:  Triple Chocolate Seduction (port-blackberry coulis, hot ganache);  Crème Brulee;  and Raspberry Jack (double rainbow vanilla ice cream, raspberries in triple sec)
Everyone claimed to be too full for dessert, so I just ordered a mini sized trio to share.
Funny thing though, as soon as I finished taking a picture of this, five spoons immediately shot out to dig in. I had to rush to get my spoon in too. Gone in 5 minutes.
Overall, a lovely meal to share being together. Let's hope it's not another ten years before we take another family portrait.
I'll close with this funny shot of Cole. While we were walking along the river, he spied a stone pit and decided to do a plank.
Oh, to be twenty-something, young and fit…..
Excuse me, I think I have a date with my elliptical.
Happy Thanksgiving everyone, enjoy time with your families!