Tonight's great dinner idea comes straight from Tania, of MauiShopGirl.
It sounded sooo good, I had to try it as soon as possible. There's something about Portuguese sausage that makes anything with it taste delicious.
Fortunately, I just happened to find the Lucini Robust Tomato Gorgonzola Sauce on sale at Bel-Air Market for $7.69. That's right, that's the sale price! I don't think I've ever spent that much on a (19.6 oz) bottle of spaghetti sauce, but it sounded so good, it's made in Italy, and it came highly recommended.
Portuguese sausage, also known as linguica, was easy to find. I used Silva's brand, made in Gilroy. I didn't have time to go to Oto's Marketplace, a local Japanese store with a lot of products from Hawaii, including frozen Portuguese Sausage. When I was in Hawaii recently, I was able to find some lower fat Portuguese sausage, but no luck here.
Couldn't find Maui Onions either, though occasionally I have seen some here over the years. Just used some sweet yellow onions.
Boil 12-16 oz. of whole wheat pasta according to package directions. Drain and keep warm.
Slice 1-2 onions and 1 lb. of Portuguese sausage. Put it all into a non-stick frying pan and let the onions cook in the sausage drippings, and the sausage slices brown, stirring occasionally.
Warm up the bottle of Lucini Tomato Gorgonzola Sauce in a small pot on the side, or just pour it over the softened onions and browned sausage and heat through. I prefer to warm the sauce up on the side, mix it with the pasta, then top with the onions and sausages, just because I think it looks a little nicer.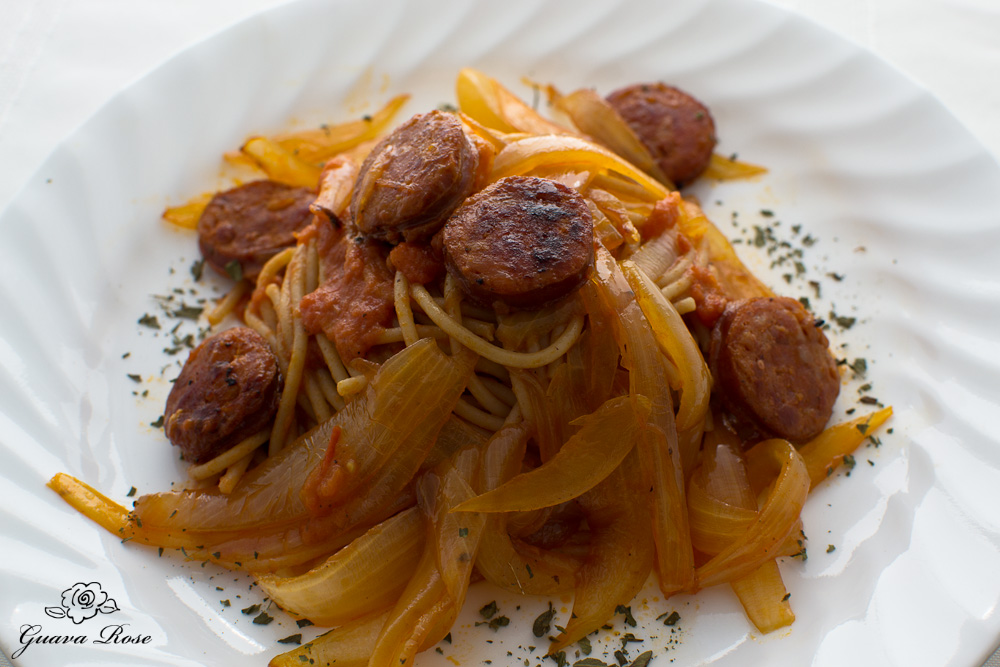 Winner!!!! Soooo good!
The Blue D. sprinkled extra gorgonzola cheese on top of his, and liked it even better.
A quick, lip smacking meal. Thanks for the good idea Tania!
I think that next time I'll experiment with a good bottle of locally produced marinara sauce and melt in some gorgonzola cheese.