Dragonfruit are such unusual and stunning looking fruits.
The red fleshed ones make a beautiful pink colored dragonfruit smoothie.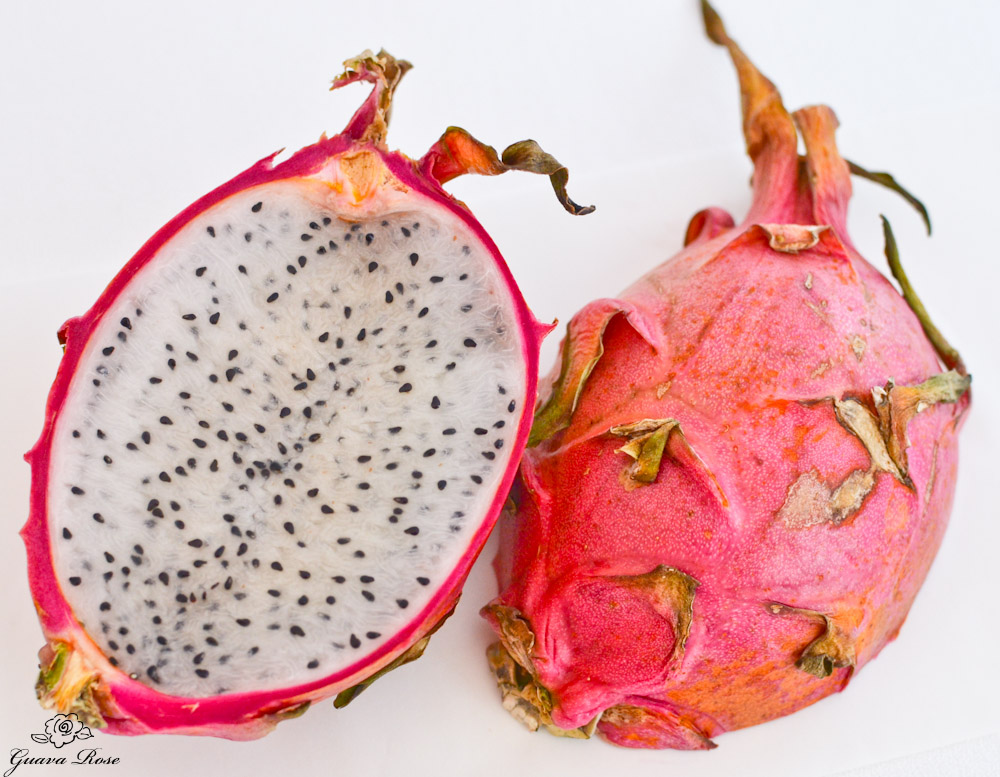 I found some great white fleshed ones here at Grocery Outlet of all places, and they were a steal at only $1.50 each. Normally at other stores they run $4-$6 each.
Couldn't resist such a great deal, so I had to think up of something new to make with these white fleshed ones.

Pretty served in hollowed out dragonfruit halves. Scoop out the flesh, leaving about 1/2″ all around and fill.
We've been suffering through near 100 degree days again for the past week, and this cold soup hit the spot.
Simply frozen strawberries, apple juice, and dragonfruit blended together, with a good dose of vanilla. Yes, vanilla! I always thought dragonfruit was tasty, but missing a little something. A shot of vanilla really complements and brings out the flavor of dragonfruit.
Next time you see dragonfruit, do give this a try– it really is so refreshing!

Strawberry Vanilla Dragonfruit Soup (Cold)
Ingredients
1 dragonfruit (white flesh)
1 c. frozen strawberries
½ c. apple juice (fresh if available)
¼ c. diced fresh strawberries
1 tsp. vanilla extract
Instructions
Slice dragonfruit in half lengthwise. Use a spoon to remove white flesh (Do not scoop the bright pink part around the white flesh--it's pretty tough and inedible). Dice the flesh into small cubes and set aside.
Place frozen strawberries, apple juice, vanilla extract, and about ½ c. diced dragonfruit into a high powered blender. Blend until mixture is smooth. This should yield approximately 1-1/2 cups of soup.
Pour into small bowls and top with the diced dragonfruit and diced fresh strawberries.
The two scooped out dragonfruit halves may also be used as bowls. Just make sure they are sturdy enough by leaving ~1/2" of the white flesh all around. This flesh can be scooped out and eaten along with the soup.