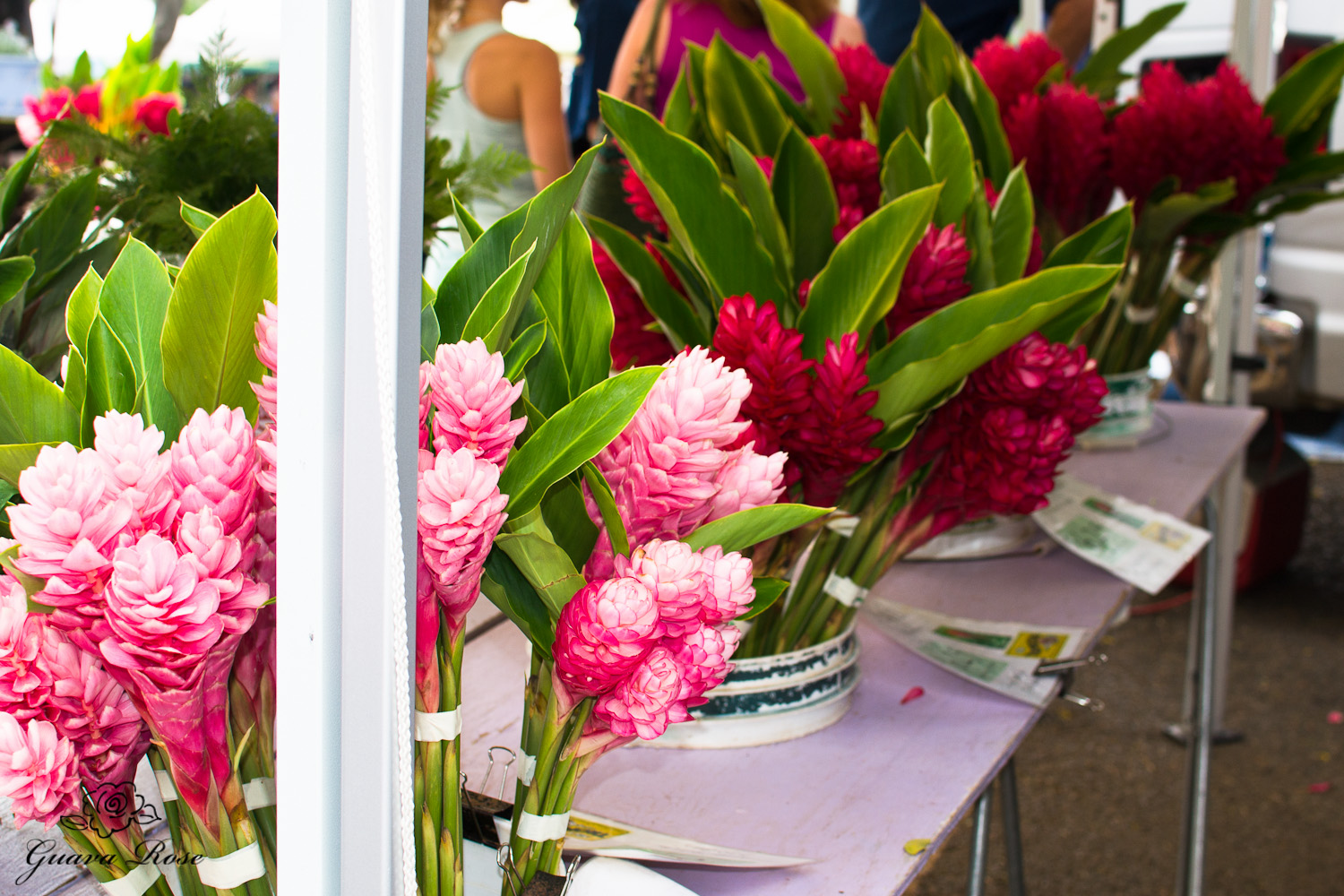 Pink and Red Ginger
Last month I visited the Saturday morning Honolulu Farmer's Market at Kapiolani Community College.
Unfortunately I only had about 30 minutes, so I didn't have time to stop at every booth. I love spending hours at farmer's markets just browsing leisurely, but I didn't have the luxury this time.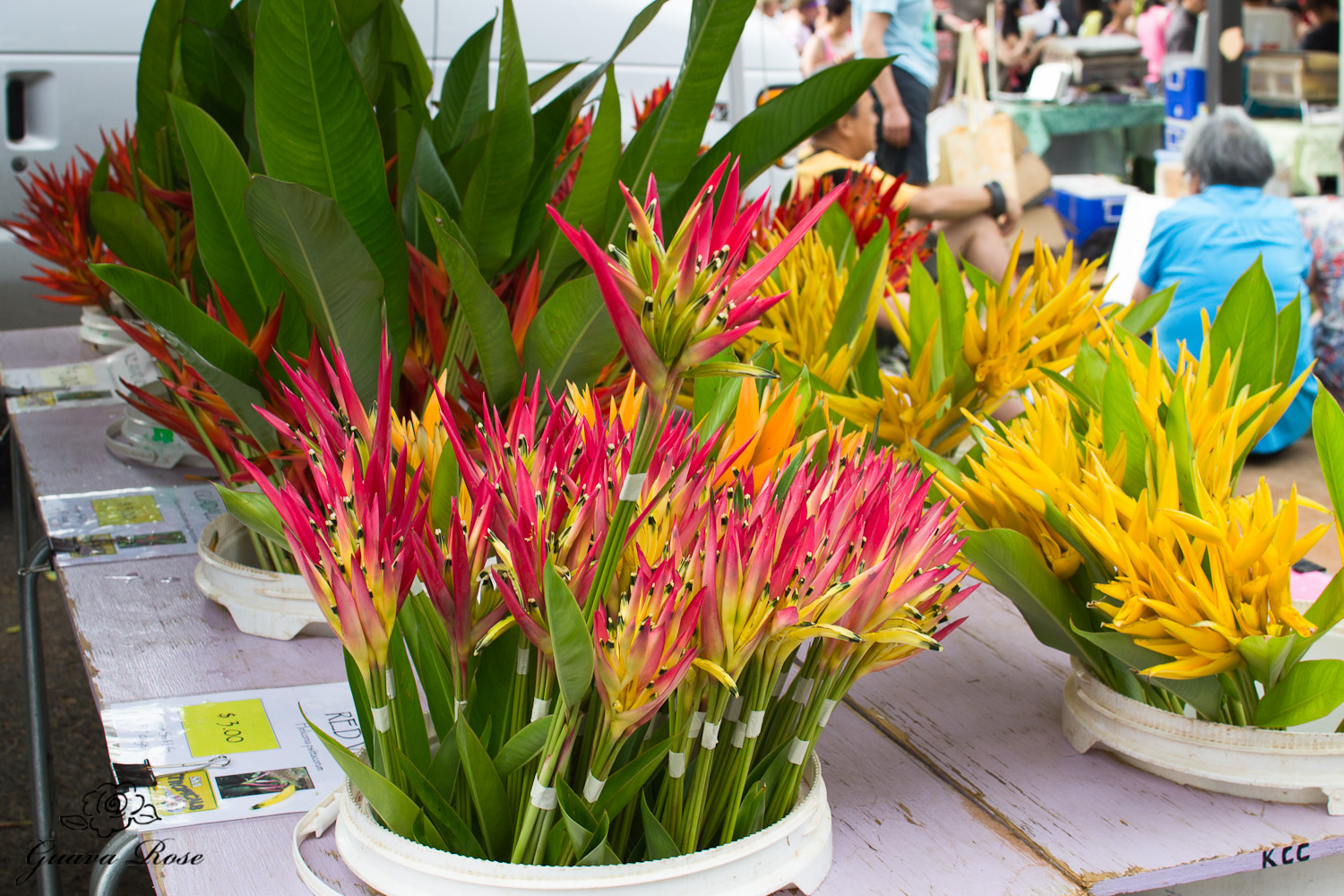 Parrot's Beak
Bright, vibrant tropical flowers called out to me…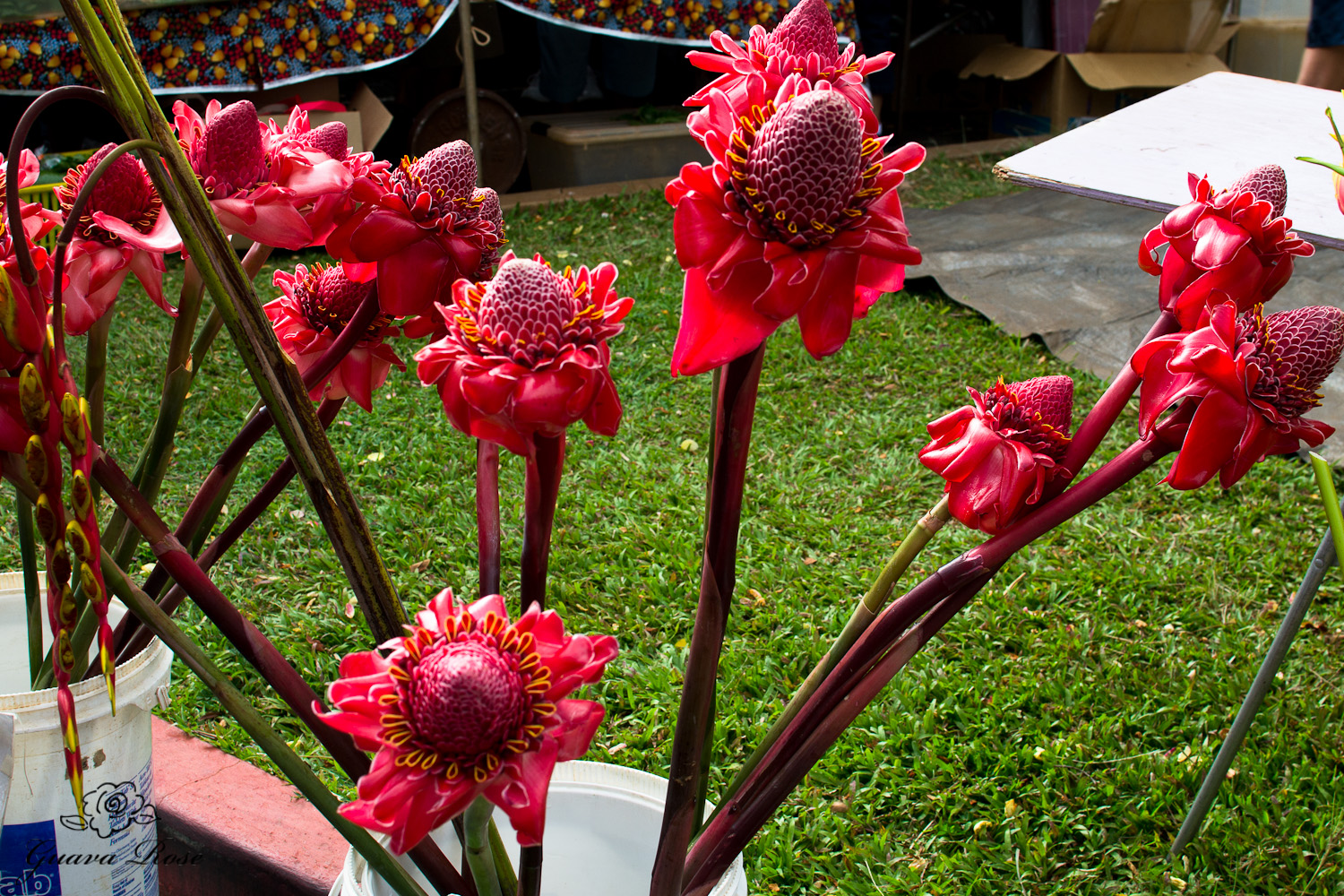 Red Torch Ginger
Yet I could only pause for a moment to snap a quick picture of them.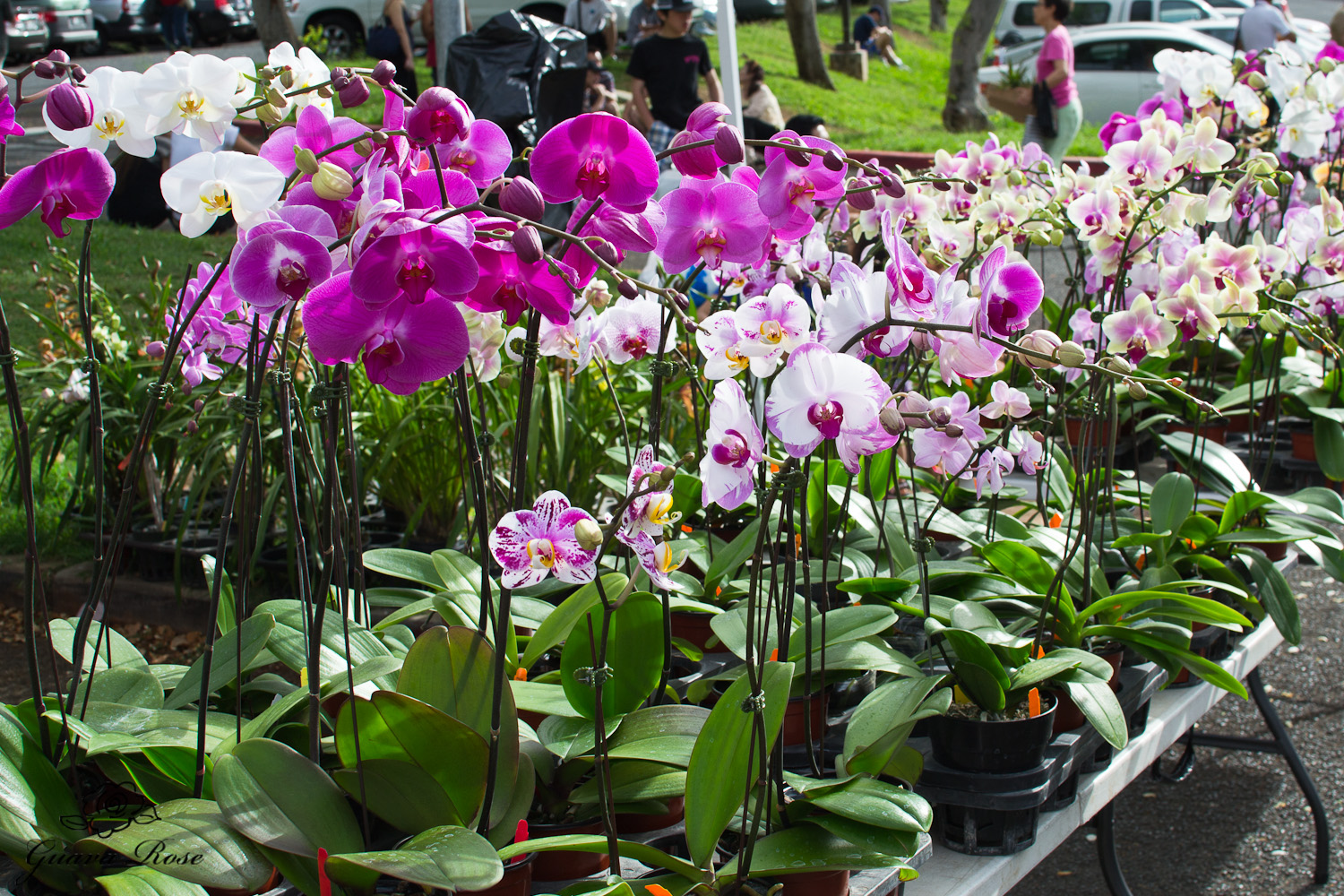 Phalaenopsis (Moth) Orchids
Rows and rows of cheerful potted orchids lined the tables…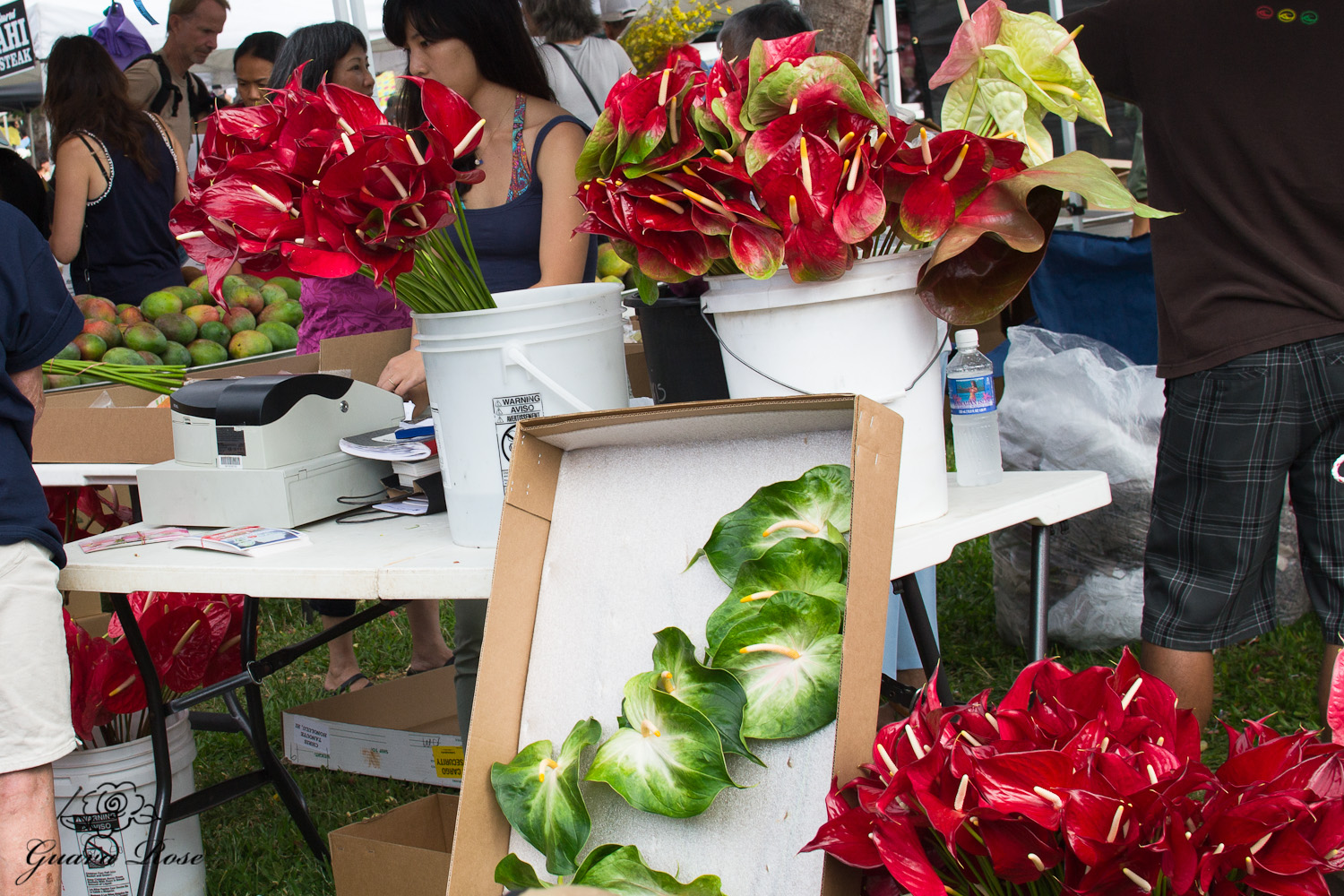 Buckets of glossy anthuriums…crimson red, white, and green, and all kinds of shades in between.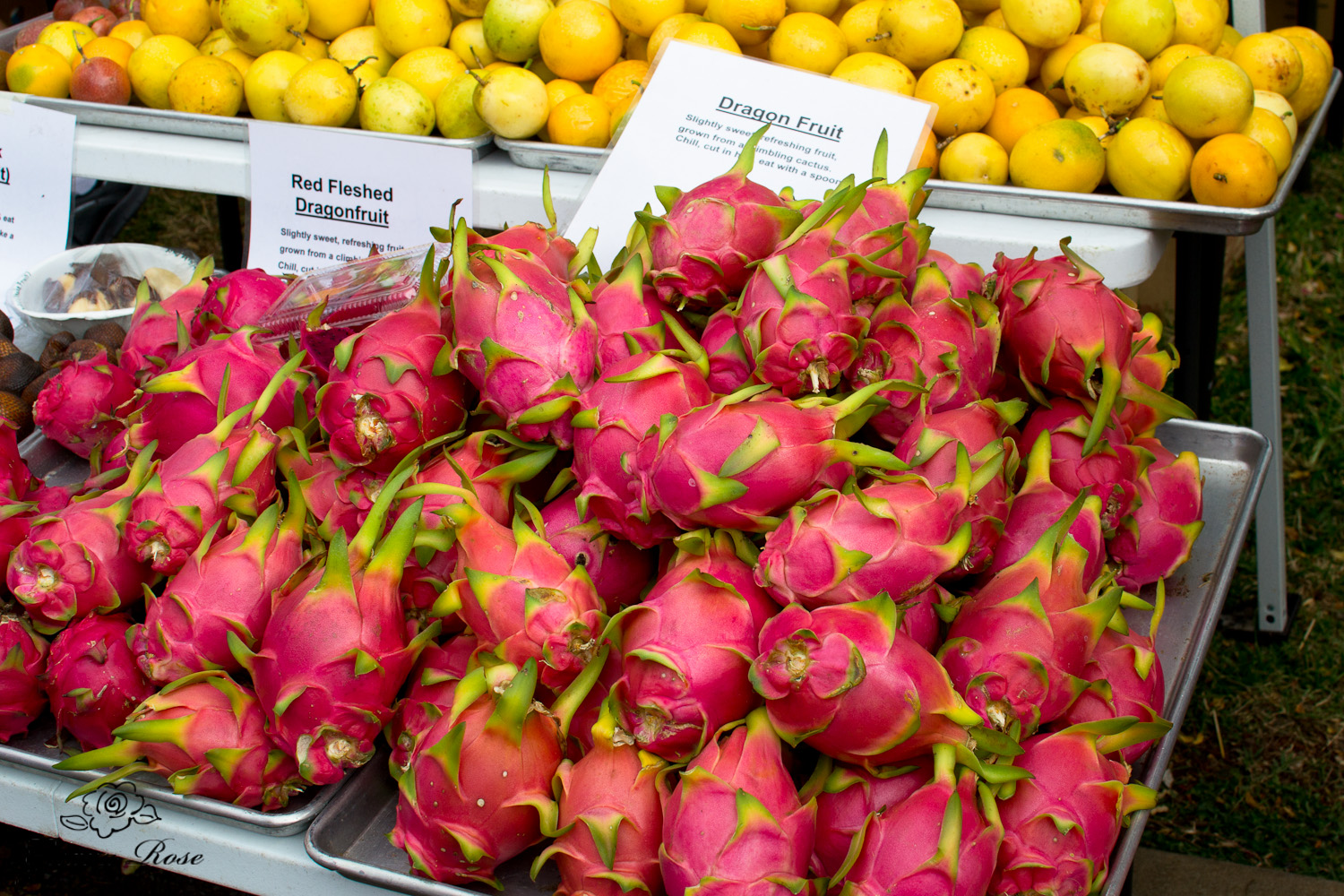 Dragonfruit
A steal at $5.99/lb.
I was surprised recently when I saw some dragonfruit grown somewhere in California for $10.99/lb. here at the Sacramento Natural Food Co-op. They looked a bit dry and shriveled– definitely not as pretty as these. They certainly seem to thrive more in a tropical climate.
Also at our Food Co-op were some Strawberry Sunrise Papayas from Kumu Farms of Molokai!  Too bad they looked a little hard and worn, and at $4.69/lb., they were a bit steep. Made me think about having a Dragonfruit Smoothie though.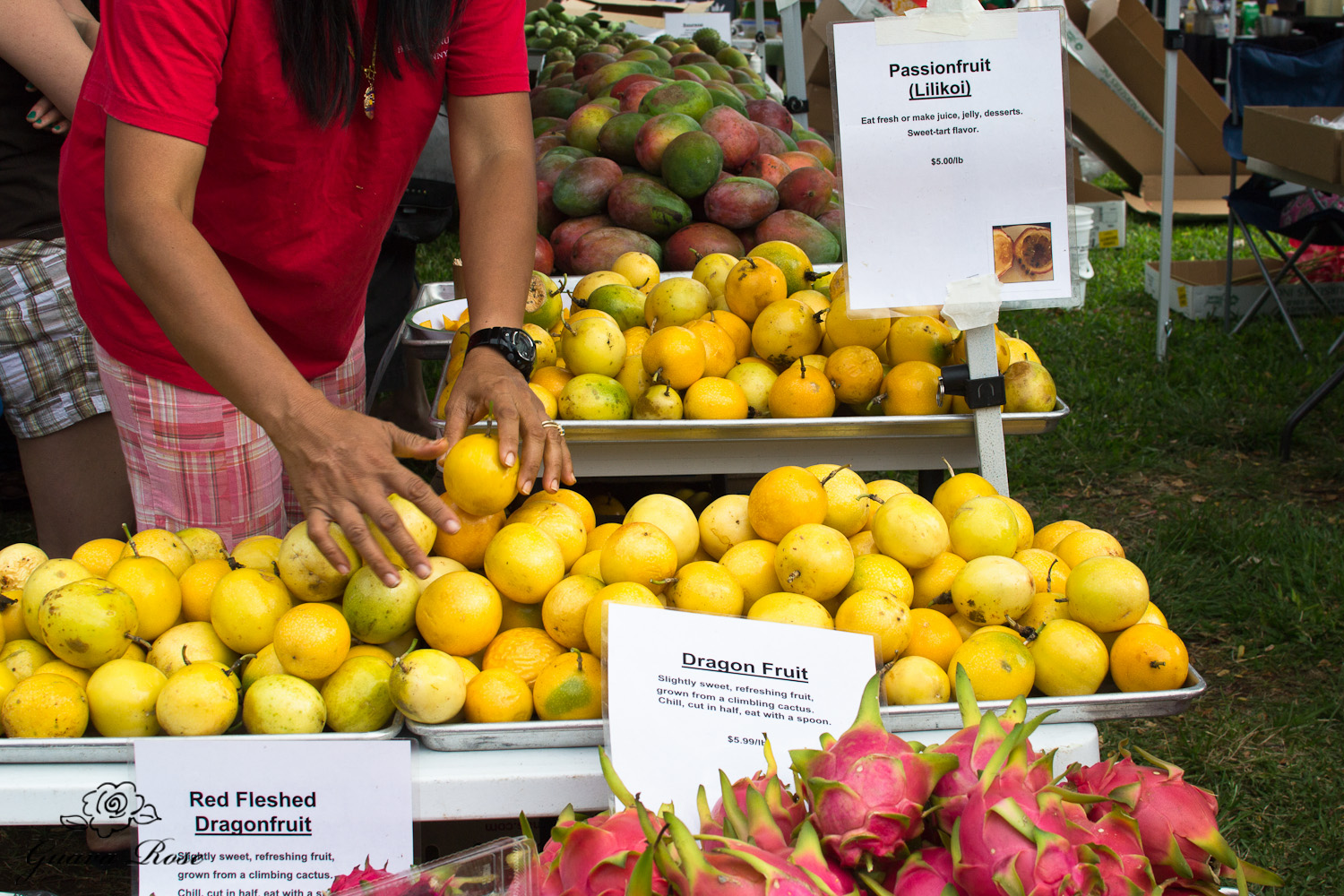 Piles of passionfruit, and stacks of mangoes…
Papayas nestled in boxes, and little round local watermelons.
A special appearance of products from Ali'i Kula Lavender farm of Maui.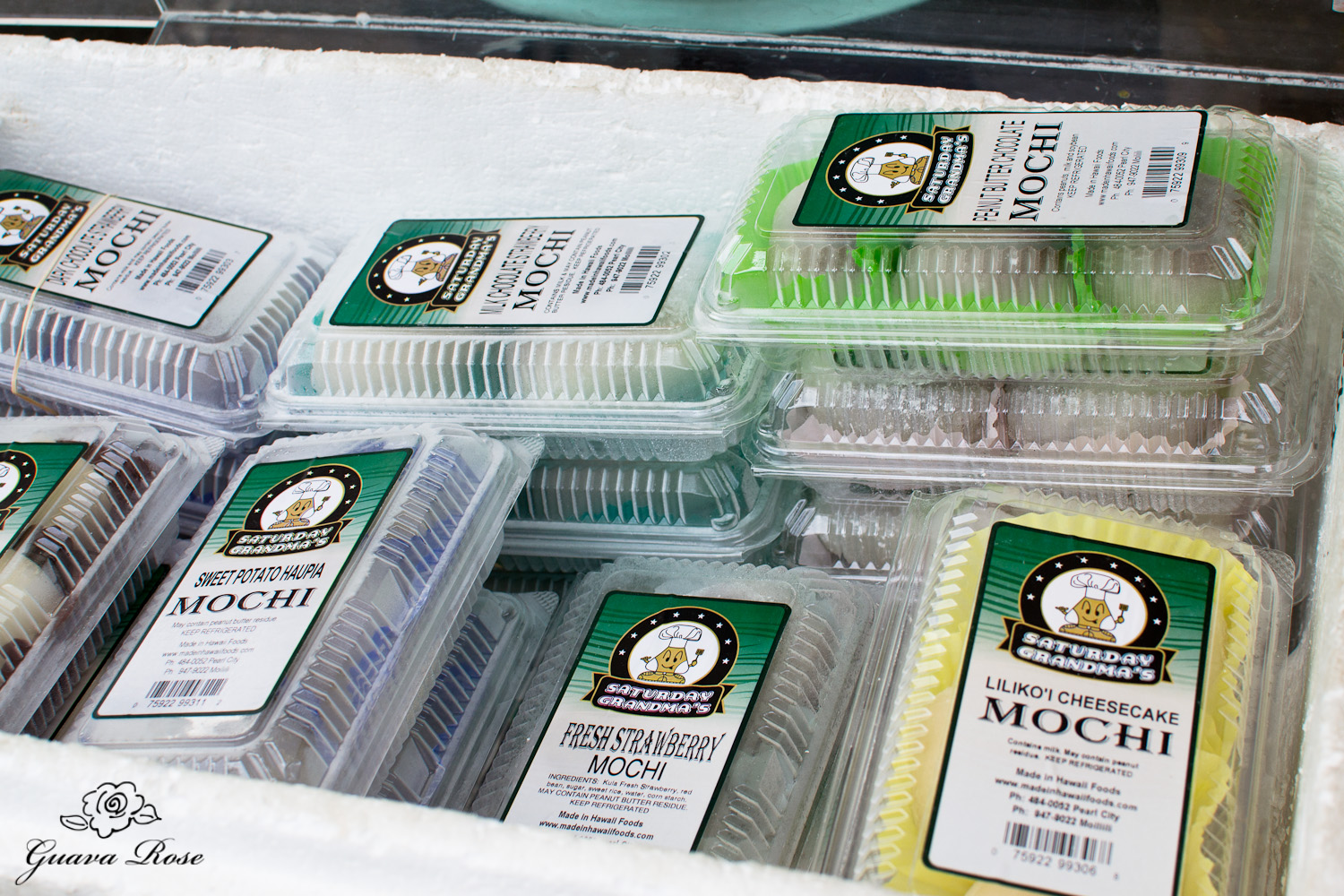 Local style filled mochi from Saturday Grandma's Mochi kept cool in insulated crates.
So many flavors to choose from! Should I get a container of each?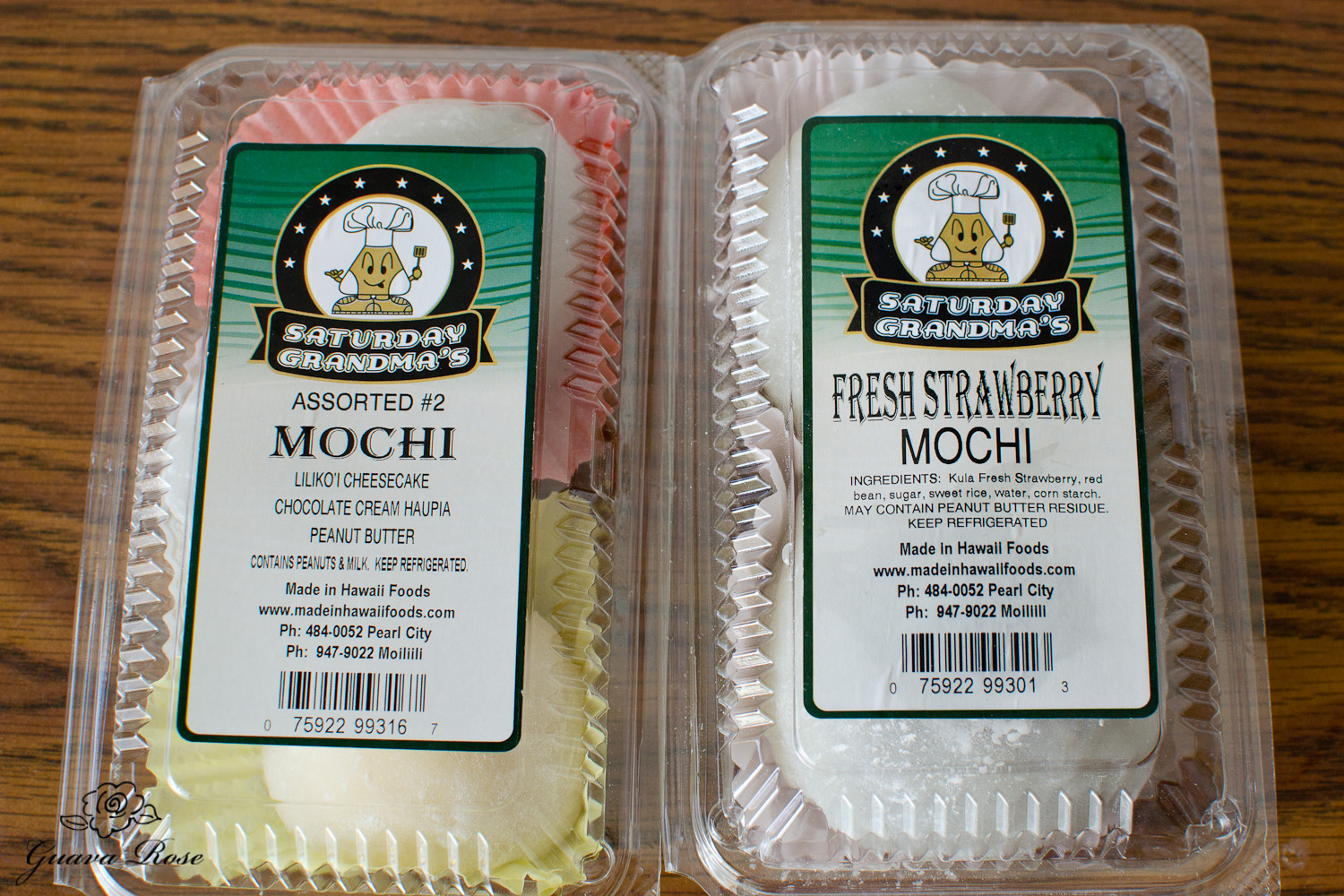 Whew! Good thing there were some assortment packs!
Daifuku: Fresh Whole Strawberries covered in Red Bean An and wrapped in Mochi
Yummy…giant Kula Strawberries…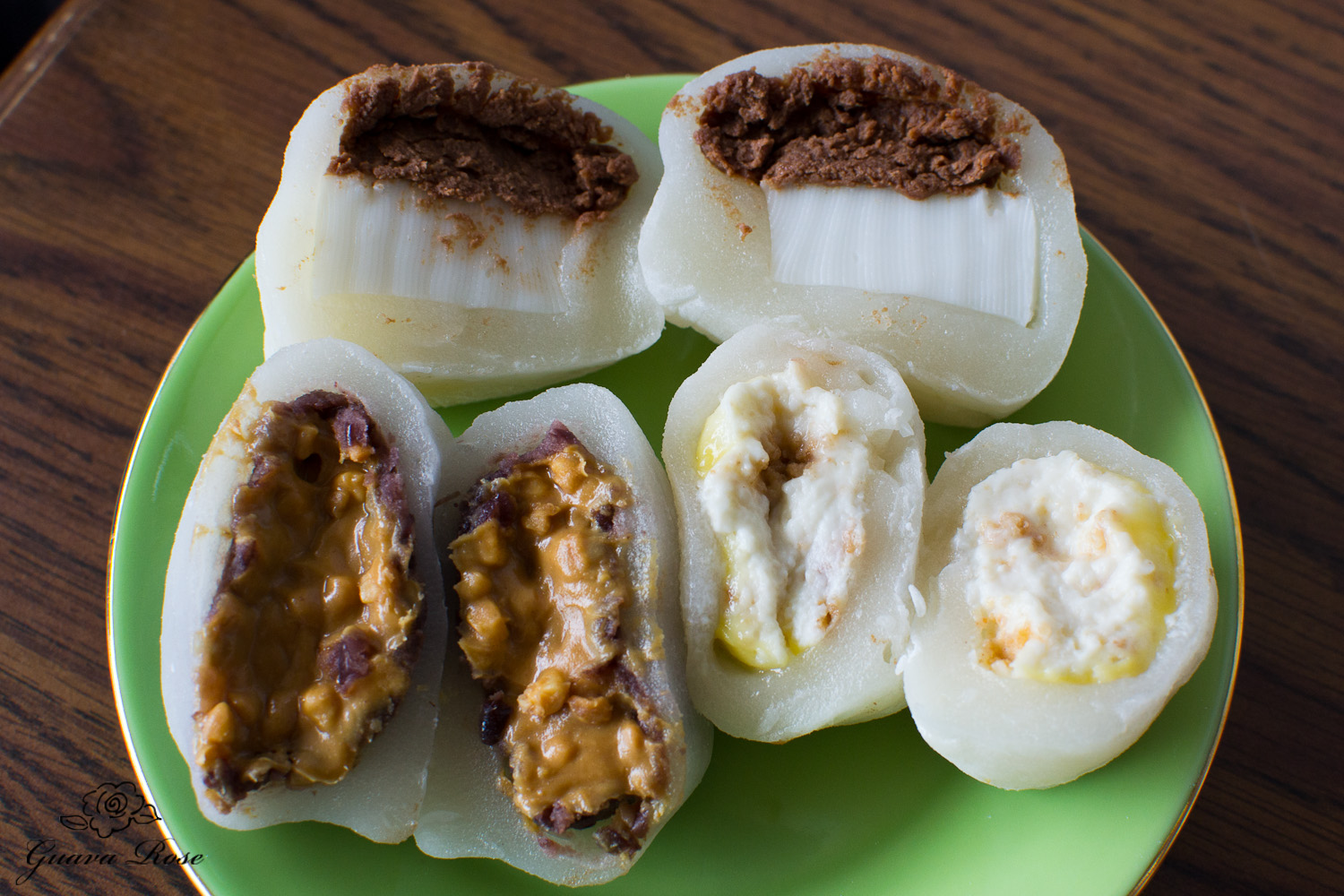 Fillings: Haupia with chocolate; Crunchy Peanut Butter with Red Bean An; and Lilikoi Cheesecake
They were all good, soft and fresh, but the lilikoi cheesecake was by far our favorite.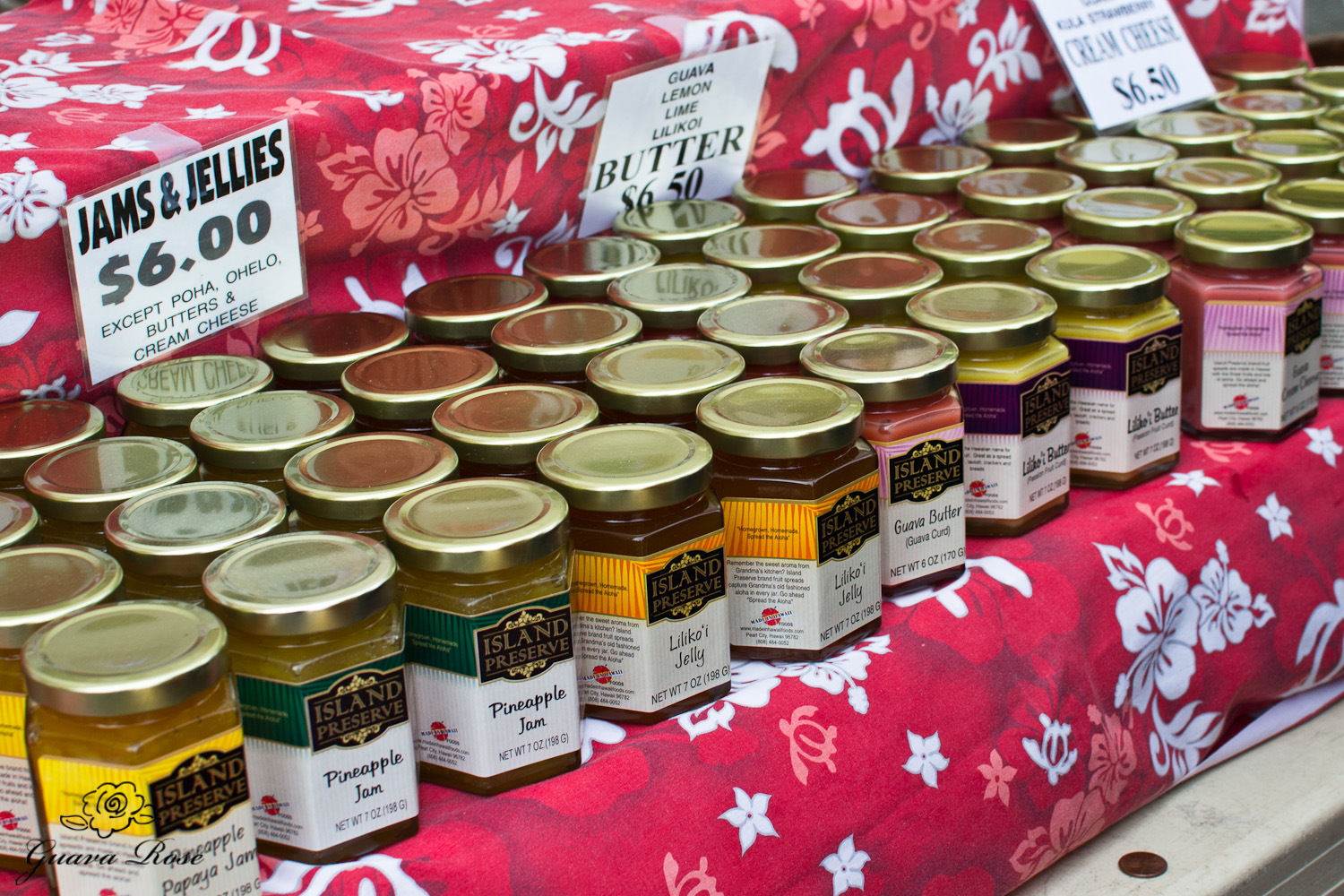 Made in Hawaii jams, jellies and even sugar free spreads.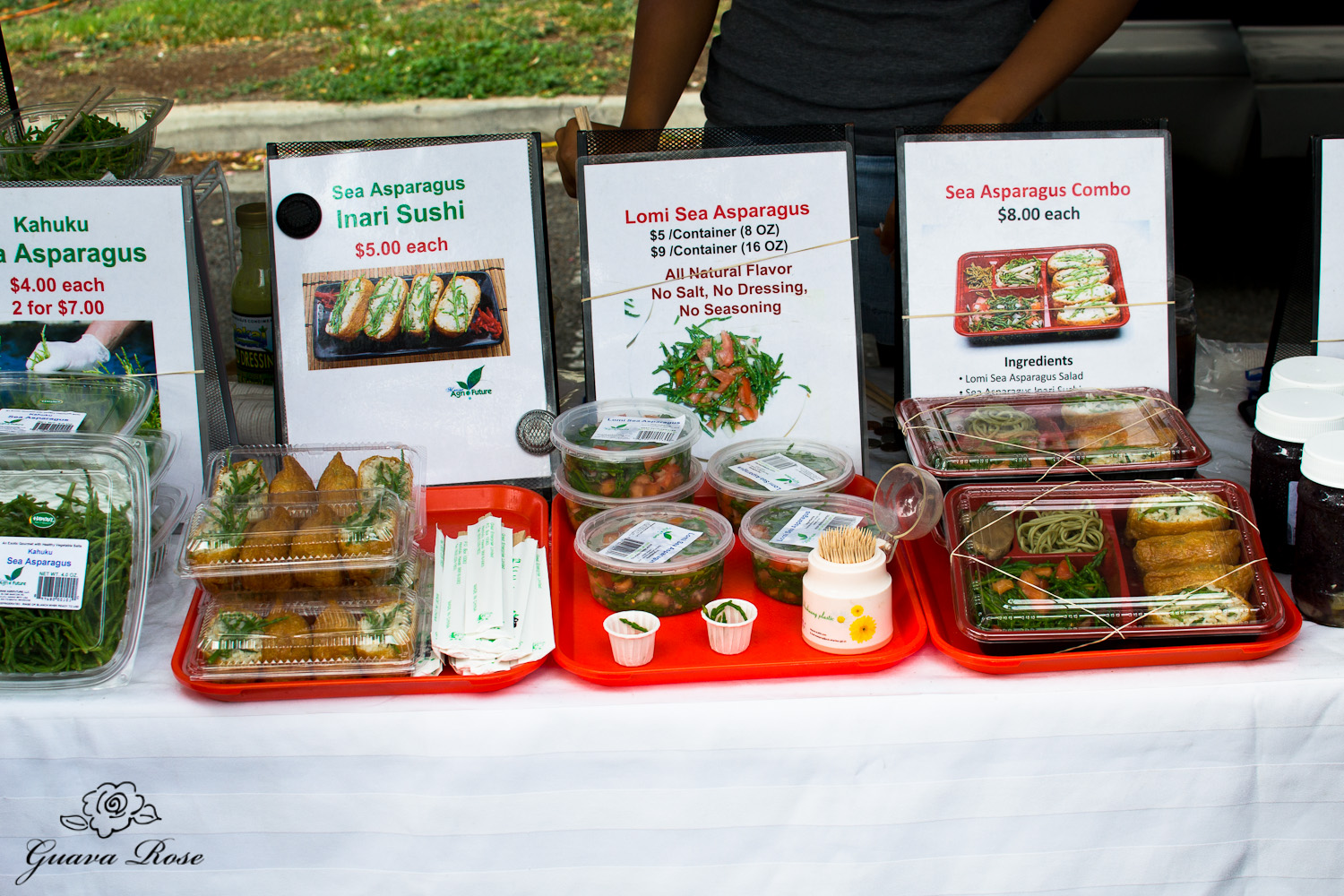 Olokai Sea Asparagus is technically a seaweed, but used as a vegetable.
These sea greens are grown hydroponically in sea water. Definitely need to try some lomi sea asparagus next time.
You can check out Tasty Island's taste review from a while back.

The line for Two Hot Tomatoes was really long. Fried green tomatoes, zucchini and onion rings with wasabi lemon or basil lime sauce.
And how cute are these? The bags for the batter mix are hand painted. Looking at them just makes me want to smile. =)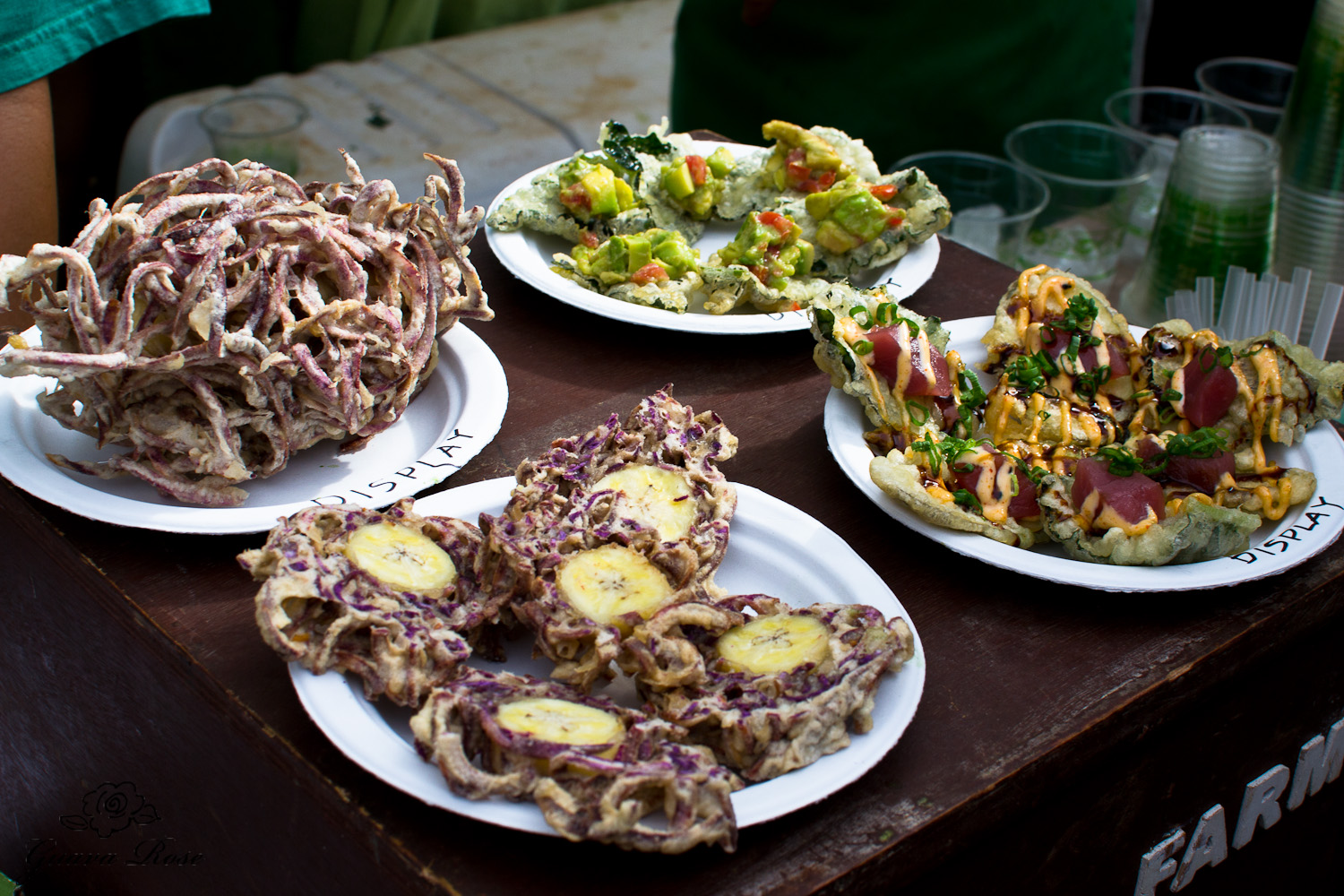 This tempura looked really interesting. The booth was too crowded and busy for me to get more information, so I just stuck my camera through an opening in the crowd and took a shot.
Is that shredded taro tempura on the left? I'm guessing fried zucchini or some kind of greens topped with avocado and sashimi on the right. It looked really good.
I emailed the Honolulu Farmer's Market to find out more information about this, but haven't heard back from them yet. Has anyone tried this before?
Addendum: Thanks to @harrycovair for identifying the mystery plates– from Otsuji Farm: (left) Banana wrapped in shredded Okinawan sweet potato and deep fried ($5), served sliced, with optional toppings of powdered sugar, cinnamon, chocolate syrup or whipped cream from the condiments bar; (right) "Sushi Surfer Sliders," kale and eggplant tempura topped with ahi and a teriyaki drizzle , or avocado($5) .
Living Lasagna: Layers of Zucchini, Tomatoes, Spinach, Pesto, Sundried Tomato Marinara, and Macadamia Nut Ricotta
Raw, living lasagna from Licious Dishes with a sundried tomato heart on top! I've been dying to try this out for so long, and it didn't disappoint.
It tasted so fresh and flavorful, even the Blue D., who is a staunch meat lover, gave his approval.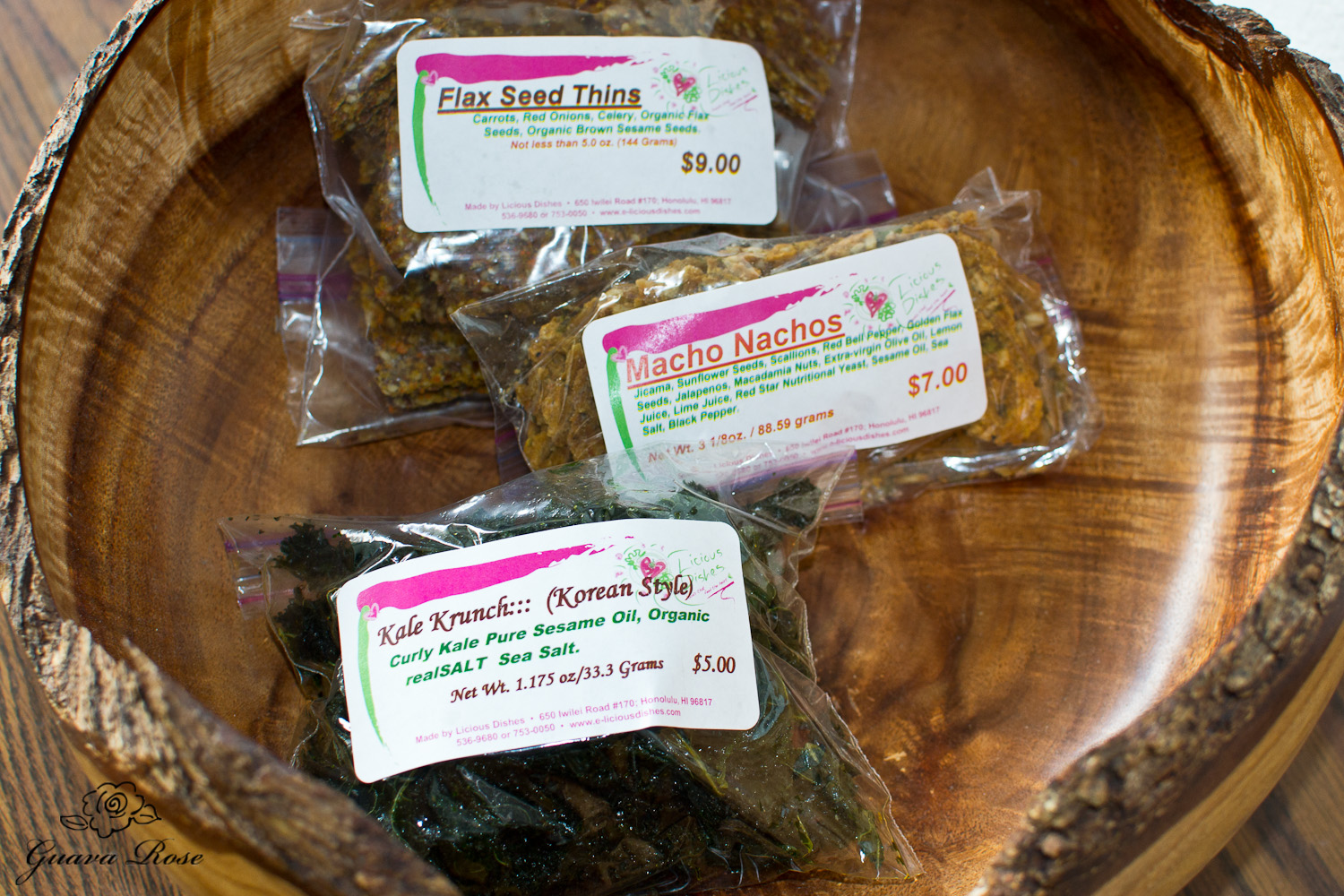 Some healthy dehydrated crackers and kale chips also from Licious Dishes.
Those Macho Nachos are mighty addicting.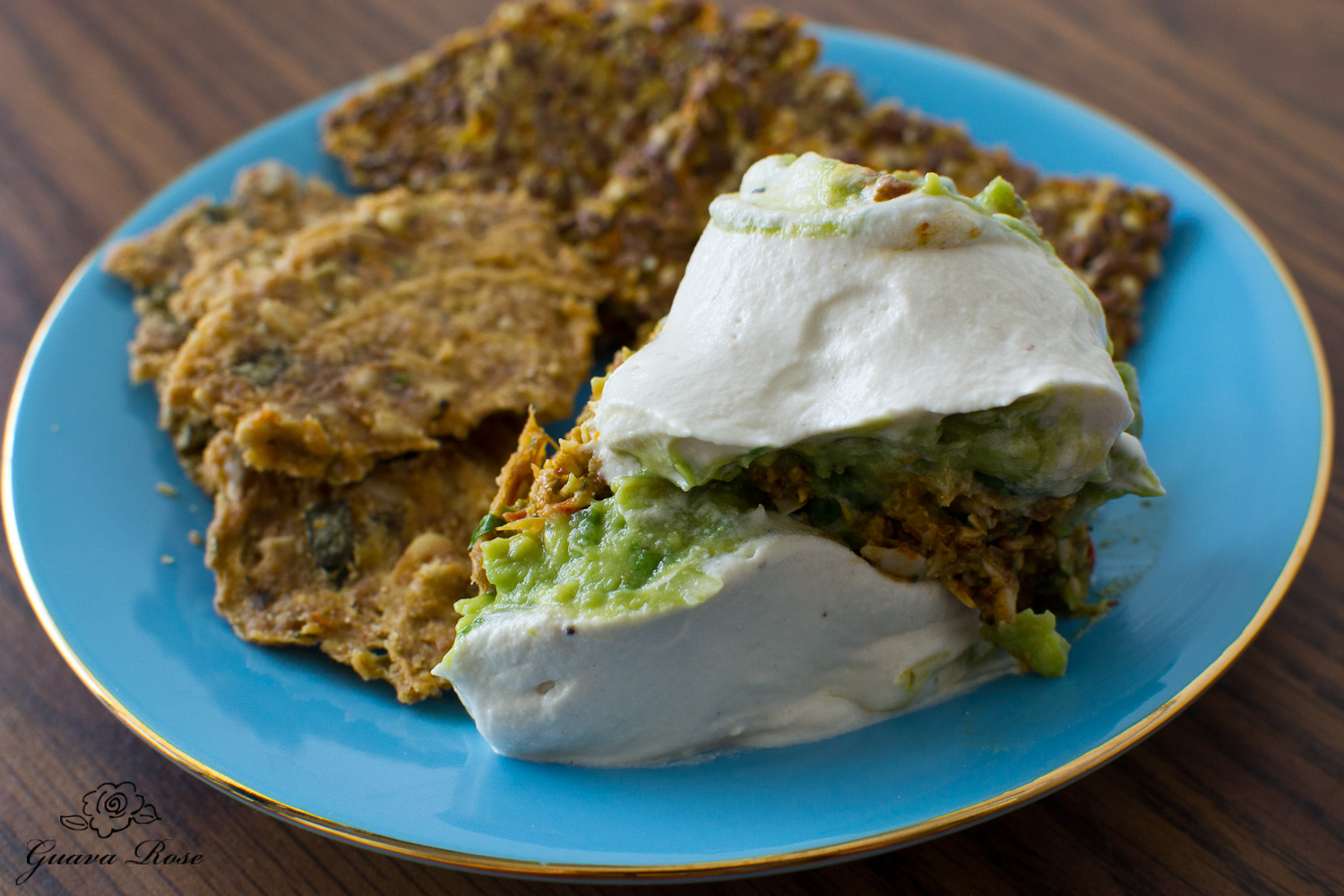 Licious Dishes' Tri-Layer Dip: sunflower seed "refried beans" (no beans), guacamole, and cashew sour kreme; with flaxseed thins and macho nachos 
Yum! Triple yum! Quill totally approved of this snack.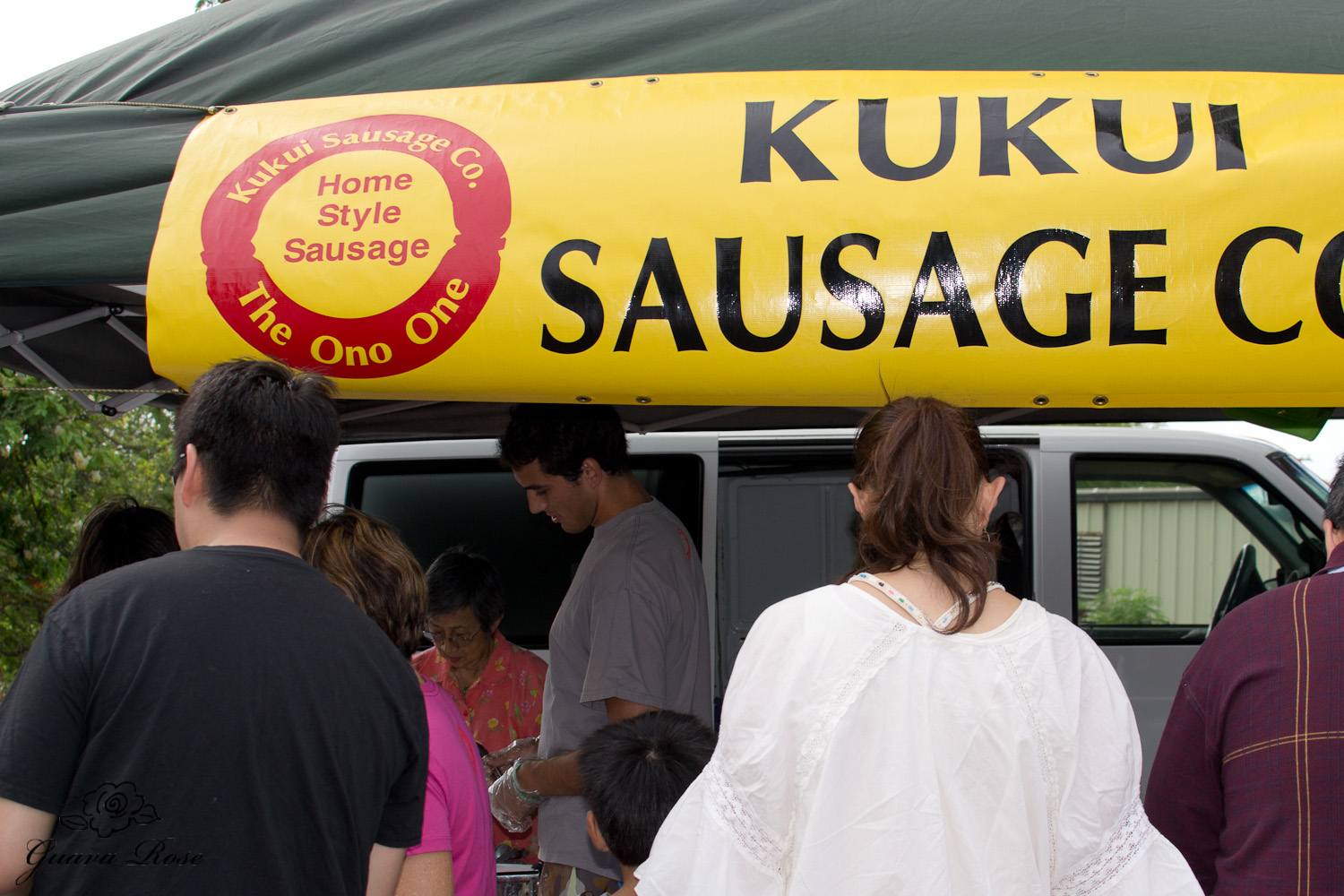 Of course while I was wildly walking around trying to see everything, the Blue D. spent the entire 30 minutes waiting in line at Kukui Sausage Company.
He got a Portuguese Sausage in a bun and devoured it. "Delicious!" he said.
I hear they make a killer kim chee sausage too.

On our way out, we stopped by the Ono Pops stand and picked up Lilikoi Cheesecake, Ume Thai Basil, and Plantation Iced Tea popsicles.
The Lilikoi Cheesecake pop was all mine. It was soooo good that it was gone before I could even take a picture of it.
The other two flavors were unusual, probably for the more adventurous. I did get to take a picture of them though.
I just raised my hand, holding the pops, high above my head, against the clear blue Hawaiian sky and snapped a shot.
What a beautiful day!