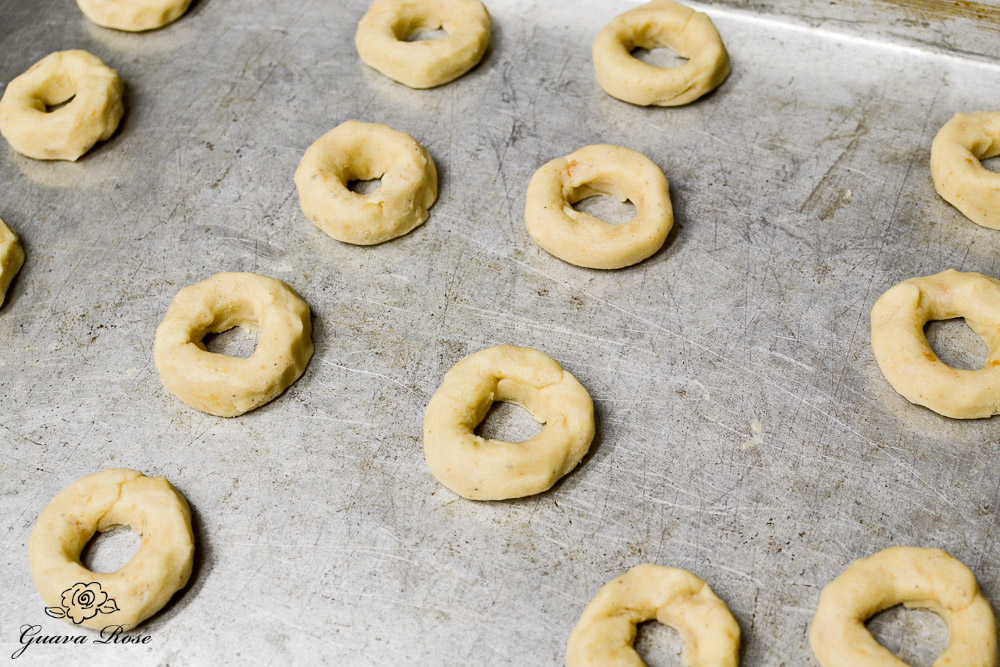 Author: Guava Rose
Prep time: 15 mins
Cook time: 18 mins
Total time: 33 mins
Tiny iced donut shaped cookies
Cookie:
½ c. butter, at room temperature
1 c. all purpose flour
2 T. sugar
2 dashes of nutmeg
1 tsp. vanilla
White Icing:
½ c. powdered sugar
2 tsp. warm water
OR
Chocolate Icing:
6 T. powdered sugar
2 T. unsweetened cocoa powder
1-1/2 tsp. warm water
½ tsp. vanilla
Sprinkles
Preheat oven to 325 degrees. Whisk the sugar and nutmeg into the flour. Add butter and vanilla. Use clean hands to work butter into the flour mixture until a smooth dough forms.
Scoop 1 T. at a time and roll out into a (3-1/2" to 4") rope. Place onto an ungreased baking sheet and coil into a donut shape (1-3/4" to 2") wide. Press ends lightly together to seal ends. Adjust shape to be as round as possible, and neaten up hole in the middle if necessary. Bake for 17 to 19 minutes until lightly browned.
Remove cookies from baking sheet onto a cooling rack. Allow to cool completely.
Stir together icing ingredients until smooth. Spoon over each cookie and top with sprinkles. Allow to air dry on the rack.
Recipe by
Guava Rose
at https://www.guavarose.com/2013/05/mini-donut-cookies-the-coffee-and-donut-lei/