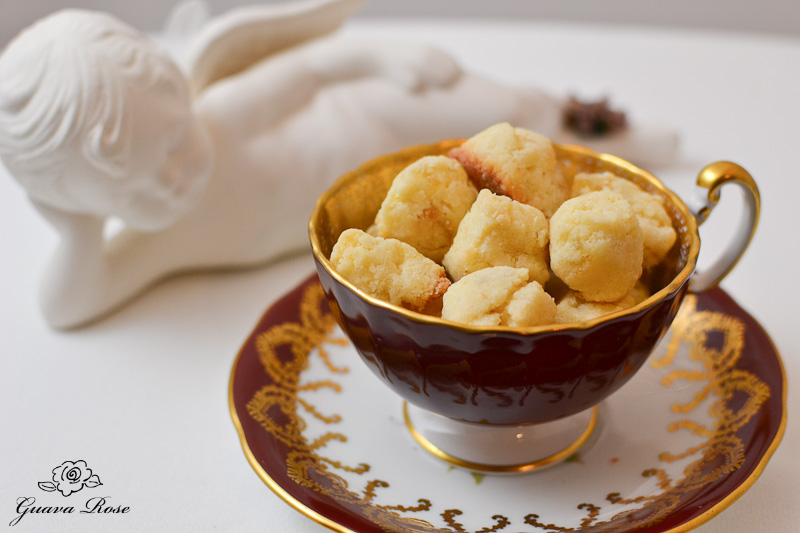 Mini Coconut Pineapple Macaroons
Author: Guava Rose
Sweet little bites of coconut and pineapple.
2 c. unsweetened coconut shreds or flakes
⅓ c. evaporated cane juice
¼ c. coconut oil or butter
1 large egg
dash of sea salt
¼ c. + 3T. unbleached flour, divided
½ c. finely chopped dried pineapple, packed (about 3 whole rings)
Preheat oven to 325 degrees.
Place coconut, sugar and oil/butter into a food processor. Process until mixture looks like sand. Add egg, salt and ¼ c. flour. Process again to blend well. It should now look like wet sand. Remove to a bowl and mix in pineapple.
Use a 2T. cookie scoop to scoop balls of dough. Roll balls one at a time into a small bowl with the remaining 3T. of flour, coating all around. Now divide each flour coated ball into 4 smaller balls and place them evenly spaced apart on cookie sheets.
Bake for 14-16 minutes, until the bottoms are lightly browned. Remove from oven and immediately turn cookies over onto their tops or sides to prevent the bottoms from overbrowning. Cool.
Recipe by
Guava Rose
at http://www.guavarose.com/2012/01/mini-coconut-pineapple-macaroons/